Fishing with Kenny: Questions and Answers Lead to More Questions
By Admin
Nov 3rd, 2016
0 Comments
330 Views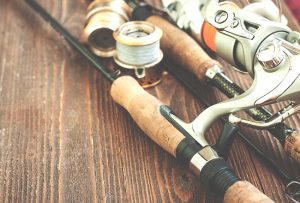 article by Kenny Covington
Fishermen are a curious bunch.  They love to ask questions.  Quite frequently, I am asked about different fishing techniques or other fishing related topics.  Usually one question will lead to even more questions which spills over into much debate and even more conversation.  Fishermen love to talk!
Over the years, I have heard about every question there is about bass fishing, and I am sure I have heard every answer as well. Because I hear them just as much today as I did 25 years ago, they have stood the test of time.  Here are some of my favorites……
"What lure color would you throw?  
Fisherman have always been in love with their lures.  We are addicted to past successes, and there's always room in your tackle box for one more of your favorite crankbait or a pack of your secret soft plastics.  As anglers, we believe that as long as we have our favorite color, lure, worm or topwater tied on, the fish are going to bite!  Oh, if only fishing were that simple.
There are times we have poor outings on the water because we want the fish to bite the things we like to throw instead of throwing what the fish want to bite.  It is very easy to fish past memories and try to pattern the bite by "what the fish should be doing."  In tournament competition or even on a weekend outing, that is a recipe for disaster.
In clearer bodies of water, such as Caney or Claiborne, I need to use more natural looking colors.  Clearer topwater lures seem to work well, as well as natural colors such as shades of watermelon in soft plastics, are good starting points.  Always keep in mind that these fish tend to feed on sight so size, color and presentation can be critical to your success.
If I am fishing more stained waters such as what I would find in the Ouachita River or in the many small bayous in our area, I am more inclined to fish brighter or darker color schemes.  It is an interesting contrast, because I have found that fluorescent chartreuse is a killer color in dark stained or muddy water but I have also found that black is equally as effective.
You may notice I didn't mention the color white.  I have found that white works very well in all water situations but for whatever reason works even better as part of a tandem color combination such as black/white, chartreuse/white and so forth.
"What is your favorite technique?" 
My favorite technique is whatever the one I can use to catch a fish.  That is the honest truth.  While I do have methods I prefer, I try to stay as open minded as possible.  I have been burned before, because I didn't want to use a particular technique.  Such stubbornness is another recipe for disaster!
Seasoned fishermen tend to become set in their ways.  They prefer to fish the way they have most of their lives, and at times they can be just as successful.  However, fish today are more pressured due to the amount of anglers on the water now, and the fish have become used to seeing the older techniques.  Believe it or not, fish have become smarter.
The fish you once caught on a Carolina rig might now bite a shakey head or a drop shot rig even better.  Or the fish you used to catch on a spinnerbait might eagerly strike a well-placed squarebilled crankbait.  It's all about making adjustments and tweaking the things you like to do so that you create a new presentation.
"How do I develop my own style of fishing?"
With all of the new gadgets and fishing technology that is available, I am seeing less and less of the younger generation becoming specialists when it comes to specific techniques or styles of fishing.  If you want to flip and pitch down a bank, they can do it.  Do you need to work a drop shot around docks; that's not a problem.  What about throwing an Alabama rig in 25 feet of water?  Yes, they have mastered that, too.
More experienced fishermen like to rely on a few tried and true techniques, whereas these kids are smart, talented and can do it all.  Their style of fishing is that they have no style, they just catch them.
Invariably all of the "What would you use" questions lead to conversations, ranging from time of year to water conditions all the way to areas of the lake that fish better than others.  Fishing is a game of trial and error, as well as on the water adjustments.  I believe because of this very reason, the thirst for information, from old down to the new, is never ending.
I always try to learn something new each time I am on the water.  My desire to become a better angler is ongoing and with the development of the Internet, I can learn doing my own research, while never leaving my home.  During the late fall and winter, the weather can make going fishing more about wishful thinking than an actual activity, so that is one advantage of technology that I have openly embraced.  And if leads me right back to having more questions.
To all of our readers, we appreciate you!  Please be careful in the woods and on the water, see you next month!