Fishing with Kenny: The Do's and Don'ts of Boat Buying
By Admin
Sep 19th, 2016
0 Comments
331 Views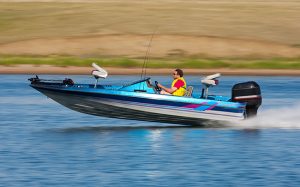 article by Kenny Covington
Every year by this time, much of the local emphasis will have shifted to the various hunting seasons.  While visions of harvesting that monster buck become the backdrop in which dreams are made, this is also a good time of year to check out the local market for both new and used fishing boats.
With the onset of fall/winter, fishermen often pick this time of year to sell their boats.  The reasons for this are quite broad.  Some sell their watercraft to have extra money for the holidays or they may want a smaller boat than what they already have or they may want to upgrade to a bigger or newer model for the upcoming year.
Now is also a great time to look into buying a new boat as well.  It's not unusual for boat dealer's to have boats on the showroom floor that they need to sell before next year's boats can be delivered.  It's a very good opportunity to buy a new boat at a very good price.
So now you have decided you would like to purchase a boat, but you can't afford the price of a new one.  Where do you start your search?  What do you need to look for?  What are some things to ask and what is your price range?  All of these things should and will play a factor in your boat buying process.
Where does the search start?
Finding boats that are for sale is easy.  You will see them while driving around town.  Bait and tackle stores often have flyers taped to their store windows.  Check out your boat dealerships.  Often times, their potential buyers are trying to sell the boats they still own.  There are several websites that list boats for sale, and you can even find listings on eBay.  With today's social media and its outlets, finding boats for sale can be as simple as a click of a button.
What is your price range?
There are many different styles of boats to choose from, and each style of boat/motor combinations will have its own price range.  The actual price of the boat you are wanting to purchase will depend largely on the type of boat and the size of the engine that will power it.  The age of the boat, the appearance, the manufacturer and the history of the craft will also be contributing factors when it comes to cost.
What do you need to look for?
This is where boat buying becomes tricky.  Unless you personally know the owner of the boat you are wanting to buy and know how well the boat was taken care of, it's hard to really know what you are looking at or dealing with.  However, here are a few things to consider that can give you some clues:
•   Check out the lower unit and what shape the prop is in.
•  Crawl under the boat and look to see what shape the bottom of the boat is in.
•  Ask about the electronics and the trolling motor.  Make sure all work properly.
•  Look at the trailer tires.  Are they worn or do they still have good tread on them?  Shake the wheels and check the bearings.
•  Ask when the last time the boat was used and/or when the last time the motor was serviced or in the shop.
After these steps if you feel strongly about buying the boat, ask to run it or take it to a professional mechanic and let them check the engine out for you.  While none of these things will ensure you have a problem-free boat, they will give you a good indication of what you are about to purchase.
What do you need to ask?
When buying anything used, there is always a certain amount of risk involved.  To help avoid these risks here are a few things you can ask the boat owner that should help:
•  When was the last time the boat was used?  One of the worse things for a boat is to let it sit up without being run for a lengthy period of time.
•  Why are you selling the boat?  It's not a personal question at all, it will just allow the seller to give his personal feelings about the boat before you get into the good/bad of it.
•  Has the boat been in the shop recently and what mechanic do you prefer to do your work?  Take the time to talk to the people who work on the boat and its engine.  They can give you a heads up on any issues you may encounter.
•  Is there anything wrong with the boat other when what needs to be cosmetically fixed?  Carpet can be replaced.  Seats can be recovered or replaced. Transoms needing replaced and holes in the hull are costly fixes and need to be known before purchase.
I sure hope we have provided you with some good information that will help you with your next boat purchase.  Be sure to ask a lot of questions, and remember, you can never get too much information on whatever boat you are wanting to buy.
Please be safe on the water and be extra careful in the woods.  See you next month!