Five Great Vegetables to Grow and Grill
By Melanie Moffett
Jun 26th, 2014
0 Comments
533 Views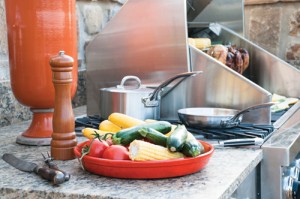 Move Over Burgers for Produce that Dazzles Over the Coals
article by P. Allen Smith | photo by Kelly Quinn
The grill, synonymous with outdoor entertaining, gathers guests together as the epicenter for great fun and great food.
Everywhere you look columns of smokes are reaching over backyard fences as circles of friends gather around to inspect the coals, offer their secret tips and crack open a beer. Yes, grilling season is a good season. Steaks, hot dogs and burgers tend to come to mind when I bring up grilling, but vegetables prepared with the same care can steal the show. If you've ever had a grilled portobello or a head of grilled romaine with creamy herb dressing, you know what I'm talking about.
While all vegetables are delicious when prepared in the right dish, not all vegetables are delicious grilled. To pick vegetables for grilling, consider their consistency and their structure. Sturdy, large veggies like eggplant or squash hold up well over heat while small, fragmented veggies, say green beans or peas, don't tend to do well.  It's about the size of the produce and how it's held together. Robust leafy greens, like a head of romaine lettuce, seem to be made for the grill, compact and almost packaged. Corn, peppers and potatoes are robust and with a solid shape that makes them ideal for the cooking over coals.
The aforementioned vegetables are easy to grow and patio vegetables are immensely popular for myriad reasons, so if you can incorporate homegrown vegetables, even better. Here are some suggestions to get you started.
Summer is the most obvious grill season with hot temps and gardens overflowing with various produce. The trifecta of grow to grill perfection in the summer is peppers, eggplant and zucchini. It's good that there are virtually endless ways to prepare the mass-producing zucchini, in casseroles, breads, cake even and of course on the grill. Plant this summer veggie a week after the average last frost date in your zone, when the soil temperature has reached 60 degrees, in well-drained, compost-amended soil. Plant three feet apart.  Water at the base of the plant frequently as it prefers consistently moist soil.  Lemon juice and garlic are a wonderful marinade for zucchini, but Cajun seasoning or a mix of olives, parsley and lemon zest are worthy marinades too.
Wait a week after the last frost date to plant peppers. Like most summer veggies, they need full sun, well-drained soil and consistent moisture. Feed with an organic fertilizer after the plants begin to flower and set fruit. Keep in mind that peppers planted in hot climates may not begin to produce until weather cools slightly in late Summer. Try a marinade of thyme, garlic, olive oil and vinegar.
Eggplants require plenty of sunshine and warm, well-drained soil. Plants should be set out about 3 weeks after the last Spring frost.  Once in the garden, eggplants like cool, moist roots so water at the plant base consistently. Mulch the ground with straw to retain moisture without letting the ground get soggy. Combine red wine vinegar, lemon juice, olive oil, parsley, mint, red pepper flakes and garlic for a marinade with a kick.
Now, I bet you didn't think the vegetable grilling season could extend into Spring and Fall. Cool-season crops, which grow in fall and spring, should grace the grill a plenty. Personally, I love grilling romaine lettuce. The leaves have a stout center rib that helps this delicate vegetable hold up over the heat. Toss a whole or half head of romaine on the grill and pair it with a creamy dressing. I use one with dill, nonfat yogurt and tarragon vinegar.
Brussels sprouts, the ubiquitous nightmare of children, are wonderful grilled. I confess that I didn't care much for them as a child. Steamed or roasted, it didn't matter; I avoided them with fervor. However, like most people, my taste buds changed as I grew up and when I had them grilled, I scolded my second-grade self for writing them off. Now I grill them frequently. I've found that the grill brings out smokiness and wakes up the flavor. You can't go wrong dressing up grilled Brussels sprouts with balsamic vinegar, bacon or dried cranberries. Plant Brussels sprouts in late Summer for a crop that matures in the Fall. While their ideal climate is the fog belt of the Pacific Northwest, they will grow in fertile, well-drained soil, with six hours of sun daily.  Give them plenty of space, planting at least 18 inches apart.
Grab yourself a grill basket to facilitate grilling vegetables. It'll simplify the task immensely. You can also get a basting brush to help spread marinades over the vegetables as they cook to maximize flavor.  Long-handled metal tongs are a must-have. Now that you have all the information you need, I wish you a happy grow and grill adventure!
P. Allen Smith is an award-winning designer, gardening and lifestyle expert and host of two public television programs, Garden Home and Garden to Table, and the syndicated 30-minute show P. Allen Smith's Garden Style. Smith is one of America's most recognized and respected design experts, providing ideas and inspiration through multiple media venues. He is the author of the best-selling Garden Home series of books. Allen is also very active on social media such as Twitter, Facebook and Instagram. Learn more at www.pallensmith.com.