Five Rules to Fight January's Feast or Famine
By Melanie Moffett
Jan 4th, 2016
0 Comments
374 Views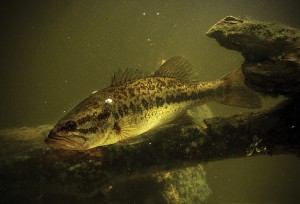 article by Kenny Covington
If you asked me to tell you the hardest month of the year to catch bass I would tell you without hesitation it is the month of January.  I have believed this to be true since I first started fishing tournaments at the age of 13 and even now, I will still admit Januarys can be brutal.
In the world of humans, January is kind of an in between state.  It's no longer Fall, but many times we tend to have warming trends that fool us into thinking that Spring is just around the corner.  Our mindset says, "It's supposed to be cold and here it is 70 degrees outside."  Bass tend to have the same idea, and often times, just like humans, will act accordingly.
January can be a very productive for bass fishing if you are aware of certain clues to make your trips more productive.  Timing is critical.  A couple of warm days can trigger a wave of feeding activity that a keen fisherperson can capitalize on.  The fish will take advantage of an increase in water temperature, even if it's just a few degrees, to seek out an easy meal.  This aggressive nature, while short lived, makes them much easier to locate, pattern and catch.
My number one rule when fishing in January is to find clearer or cleaner water.  I avoid muddy water at all costs and if the lake I am wanting to fish has an overabundance of water that resembles chocolate milk, I will simply find another lake with better water quality to fish.  Cold water fish tend to feed better in water that is clear, because the clearer water tends to warm up faster.
My number two rule when fishing in January is to fish any aquatic vegetation I can find.  It can be coontail moss, dying lily pads or even Asian milfoil.  If I can find water with some clarity and also have vegetation mixed in with it, you can bet there will be some fish in the area.  One of my rules in tournament fishing over the years has always been to fish whatever vegetation a lake has to offer.  If you do, you will eventually find fish.
My number three rule in January bass fishing is to keep my lure choices simple.  As my tournament partner Lee King says, "Make it a five rod fishing trip" and he is right.  I can use a jig, a chatterbait, a Rat L Trap, a crankbait and a shakey head and have the potential to catch fish on any given body of water.  All of these lures will allow you to cover the shallowest of water to the deepest depths effectively.
My number four rule is to keep my lure colors and sizes as simple as my lure choices.  I prefer a small profile 3/8 ounce jig, black/blue with a matching black/blue crawfish trailer.  I like a half ounce chatter bait as well, but I will use either a sapphire blue or a black with blue fleck Zoom speed craw as a trailer.  When throwing a Rat L Trap, I like red or a crawfish color.  The only time I deviate from that is if there is heavy cloud cover and then I like to throw a gold pattern.  When it comes to cold water crankbaits, it is hard to beat a firetiger colored Model 6A bomber.  This color is equally effective in stained or clear water and just flat out catches fish.
I have never been one to call myself a guru at fishing finesse style presentations, but I have done well enough to develop my own set of guidelines.  First and foremost when shakey head fishing in colder water, if the wind will allow, use a 1/16th ounce shakey head.  The lighter head will actually allow you to slow down and fish the lure more effectively.  You can control the fall rate even more by pairing the shakey head with a Zoom trick worm or a finesse worm in either a Candybug or a Green pumpkin/blue color.  I have been successful using both size worm sizes, but I have had better luck in clearer water using the finesse worm.
And finally rule number five is to search for bodies of water with good water clarity and to help you out with this here are a few suggestions: Claiborne Lake, Caney Lake, Bayou Bartholomew, Lake Bruin and sections of Bayou Desiard are all good choices and have good populations of bass in them.
One of the biggest keys to successful fishing in January is to take advantage of the good weather when it happens.  Don't go expecting to fill up your live well, but rather in hopes of catching few nice fish or maybe even the fish of a lifetime.  Patience is key and be deliberate with your presentations.  Your moving baits will perform better with slow and steady retrieves and the same goes with your bottom bouncing jig and shakey head.
Until next month, be careful in the woods and on the water and catch one for me!