Flower Girl
By Melanie Moffett
Jun 3rd, 2016
0 Comments
380 Views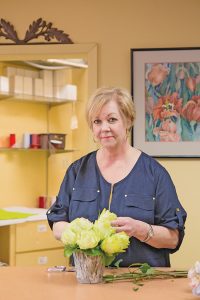 article by BARBARA LEADER | photographs by BRAD ARENDER
In the back room of a flower shop on Roselawn Avenue in Monroe, three ladies are carefully gathering up tiny roses and greenery and cleaning up from a long day's work.  They've spent hours preparing for a weekend wedding. Banquet tables in the front lobby hold the fruits of their labor – nearly 20 clear containers with 4 lemons in the bottom of each. But that's only the beginning.  Each container will eventually have a bouquet of flowers, tied together and carefully leaned slightly to the side, to create a unique table decoration indicative of a style that comes from a local artist who creates magic with flowers.
The shop, Vee's Flowers, got its start in a garage with a floral order for a wedding in 1995.  At the time, Vyvian Allyne Marshall Hollis was a divorced single mother reentering the workforce and a bit unsure about the world of business. Before her children were born, Vee was in advertising, but she felt returning to that world wouldn't be a possibility.
"It was all computerized, and I didn't know so much about computers, but I knew flowers," she said. "It was just by the grace of God that I got started.  I knew I had a talent, and I knew I had a lot of friends and connections. Vee now calls the leap of faith that it took to open her own business "very scary."
Vee grew up around flowers, watching her mother, Joy Marshall, working in their garage to create arrangements and bouquets for church services, weddings and special occasions.  Vee carried buckets and ladders and watched her mother design her arrangements.
"So, I said, 'Let me try this,' and I liked it," she said. "In my business most people are happy to give flowers and happy to receive flowers."  But, she approached it from a different point of view than her mom.
All of her mother's floral work was as a volunteer, so she didn't charge for her work. "I saw how hard she worked," she said. "And I said, 'I'm not going to work that hard for free."
Today, Vee's Flowers, in Monroe is known for its unique artistic arrangements and for Vee's flair for design.
Weddings Are Changing
Weddings are still a substantial part of her business, but Vee says much has changed since she began.
Brides are more likely to take an active role in the floral design decisions.  Many have strong ideas about what they want and some reference designs they found on the website Pinterest.  Vee spends time with each bride, getting to know her and her style.
"I try to get the basic information — when and where the wedding will be and the image that the bride wants to see on that day," she said. "I try to determine how formal or funky she wants to be and if she's a glitzy girl or a bohemian type."
And sometimes Vee finds herself functioning as a mediator between mothers and daughters with differing opinions of what the wedding should look like.
"Sometimes the mother comes in with them, and she thinks the wedding is going to be all white flowers and greenery and then the bride says, 'No, Mother, you know I want purple and chartreuse," she said laughing. "I try to keep them focused on the fact that it's a wedding – a religious service and a celebration of the union of God bringing the couple together."
She guides brides toward seasonal flowers for their arrangements and suggests classic and traditional floral designs for the ceremony.
"Many brides come in with a very specific budget set for flowers," she said. "And that's a good way to start.  If they are really set on a budget, I tell them what they absolutely have to have and then we can fluff up the rest to what it needs to be."
The bride usually pays for the groom's boutonniere, her attendants' flowers and the decorations.  Tradition suggests that the groom's family pays for the bride's bouquet, the mother's and grandmother's flowers and the groomsmen's boutonnieres.  "But many brides are pretty timid to talk to their mother-in-law to-be about that," she said with a smile.
A Wedding Vee Won't Do
Vee will find herself in a very different role for a July wedding.  She won't be the florist; she'll be the mother of the bride at her daughter Allie's wedding in Jackson Hole, Wyoming.
"All I do is sign contracts and write checks," she said. "It's going to be fun, but it's going to be hard in that I've lost control in a situation where I'm usually directing people what to do."
In Vee's business one of her unique touches is the use of lots of greenery and unusual elements found in nature, like sticks and twigs and unusual roots.
"I love arrangements that are completely greenery," she said. "I've requested that the florist for Allie's wedding use a lot of greenery, but I know that will be difficult because there's not that much greenery available up there."
"It will be fine.  It will be just fine," sounding a little like she's convincing herself. "And I'll be rested."
Meanwhile, business will continue for Vee's Flowers back in Monroe. "I've got to pay the bills," she laughed. "But I told them, 'don't take any big projects from the end of June through July, because I'll be in Wyoming.
Growing Her Business
Vee's mom and her dad, Ben, were a big part of her business until about 4 years ago when health conditions prevented them from continuing to work.
"My mom didn't arrange flowers in the shop, but it was good for her to be there, so I could pick her brain about mechanics– how to get something to work," Vee said. "My dad was a retired banker, and he helped me with thinking through things and making business decisions.  He kept a ledger sheet, all in pencil.  I looked at it just recently.  He kept what we billed out every month since 1995."
But occasionally, her dad's business sense and Vee's vision for her business were at odds with each other.
"Daddy was like, 'Do more; do more," she said "And Mother would say; 'now Ben, these are creative people.  They can't just produce like an assembly line."
To maintain her high quality and respect her staff's ability to produce, throughout her career, Vee has often stopped taking orders on special occasions.  "I'd say, 'We can't physically do it.  I'd have a walk-out."
"The hardest part of the business is the money," she said. "I like to collect it, but I hate to charge it."
Vee graduated from Louisiana State University in Fine Arts and developed her floral skills by watching her mother and other ladies in the community, the Monroe Garden Study League and her church, Covenant Presbyterian.
Learning And Developing Her Style
"They taught me the love and passion for flowers.  Dot Breard taught me the basics of design. Georgie Touchstone loved the yard flowers.  With Carol McDonald, I learned to love interesting containers, and Mother taught me the appropriateness for the event."  Another of Vee's mentors is Gail Thompson, the former owner of Lane Wilson Flowers and a kindergarten classmate of her mom's. Thompson is in her late 80's now, but she still arranges flowers in Vee's shop.
To develop confidence, Vee attended continuing education classes at the University of Louisiana Monroe early in her career and still goes to workshops locally and out of town.
In her business, Vee has developed her own style. "I like more of a traditional classic look – loose and airy and looking like they've just been picked," she said. "We also love to do contemporary – that's really challenging."
She prefers to create her own designs, using found items, seasonal flowers and lots of greenery.
"I usually start with the greenery," she said. "Many of the girls start with the flowers first, but I think the greenery is like a blank canvas.  I start with the greenery, I try to use at least three different kinds in each arrangement, and then I work in the flowers and the design."
She says her work has evolved over the years in addition to following current design trends.
"I used to think it had to be perfect, and now I know that it doesn't," she said. "It's the overall impact that the arrangement makes. And sometimes the stems might cross and that's not a good thing in flower arranging, but you have to know the rules, and then you can break them."
Dumpster Diving For Treasures
"I love to use the freshest flowers that I can get along with something out of the yard," she said.  There's no limit to where she will source her supplies including "dumpster diving."  "I find it in my yard and other people's trash piles. I like things right out of nature that you might see on a little trail or a hike – interesting roots and sticks.  Sometimes you pick it up and keep it for a while and then end up tossing it, but I've gotten lots of positive feedback for our use of unusual things."
We make our arrangements, when we get the order.  We don't make them ahead of time or mass produce.  I like to personalize them."
And that personal touch extends from weddings to funerals.
"I have a friend whose daughter got married in November.   The grandmother was my sixth-grade teacher, and I wanted it to be extra special for her because she was dying of cancer.  I just knew she always loved me and appreciated me since sixth- grade.   I wanted that one to be extra special for her.  But when the wedding came, she was too sick to attend, but I guess she saw the pictures.  She loved garden flowers."
Vee says that her spiritual belief system gets her through the more difficult emotional challenges of preparing flowers for funerals.  "Mostly a funeral is a celebration of life," she said. "I try to make it really personalized.  When people come in and talk to me while I'm doing funeral work, I don't like it, because I'm having my alone time with the deceased and their spirit."
The Scent Of Success
Her floral design work is in demand for special occasions like weddings, births, birthdays, proms, homecomings and corporate openings by customers across northeastern Louisiana and western Mississippi. She also receives orders from a floral vendor online.
If you ask Vee how long it took for her to realize that she was running a very successful floral business, she'll give you a quizzical look and say, "Did I make it? I still don't believe it.  I have to say what we have is because of my parent's help, faithful and loyal customers, talented staff and lots of prayer. But I still worry that one day another florist will move in just down the street. I think I'll always be nervous about that. "
But regardless of competition, Vee's Flowers will always be distinctive because of her unique style, high standards and her passion for her work.
"My favorite flowers are anything in season," she said. "I like blue hyacinths in the spring, red roses at Christmas, lilies in spring and fruit and berries in the fall."
"I love that flowers are pretty hardy. You think of where they are grown and then they're shipped all this way and they're still beautiful.  I know that man grows them and harvests them, but God made a great creation when he added flowers to our world.  That's why I don't like blue carnations.  God didn't make blue carnations."