For His Temple Family Foods
By Admin
Nov 3rd, 2016
0 Comments
378 Views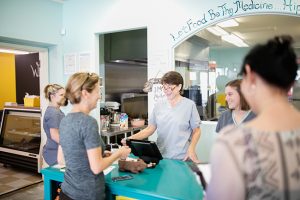 article by Claire Shepard  |  photos by Martin G Meyers
If you have recently visited Antique Alley in West Monroe during your lunch hour, you have likely noticed the car-filled parking spots on Wood Street, the sign displaying lunch specials outside a once sparsely traveled block and the influx of people lining up inside Dana Milford's year old market and café for her hot lunch specials or to grab a prepared meal from her refrigerated case. For His Temple Family Foods is not only the go-to place for skillfully-prepared, healthy, clean eating options, which are all gluten free, it also doubles as a small market, stocking grass fed Kingsland Ranch beef, Mahaffey Farms pastured meats, local eggs and milk, tasty homemade gluten and dairy free desserts, organic grocery staples, various gluten free items and nutritious drink options to round out your meal.
When your first meet Dana, and you will if you set foot in her business as she makes a point to know her customers by name, you would never guess she spent 30 years as a mortgage banker before beginning her second career. You would also never guess she has seven grandchildren, but can easily see why she quickly grew tired of retirement as she is full of energy and exudes passion for her newfound profession.
Dana's transition from banking to cooking came shortly after she retired when she and her husband embarked on a 30-day detox eliminating gluten, dairy and sugar from their diets. While the main focus was to lose weight and explore a "clean eating journey," explained Dana, she found she not only "lost weight" but also "felt amazing." This began Dana's research of food and the effects of nutritious, clean eating on your body. "Healthy food doesn't have to be tofu and salad," Dana cheerfully clarifies with her obvious passion for her new craft.
However, while Dana may be new to the food industry as a way to earn a living she reminisces that she "always loved cooking" and recounts the stories of her once a month family supper clubs, where she would "cook all weekend" to prepare a Sunday dinner for thirty or more family members. In fact, Dana gets teary eyed when explaining how special she felt when her grandmother "passed the family cooking wand" to her when giving Dana a cookbook filled with family recipes and such an inscription. It is almost as if she is just realizing this was her destiny all along, as like many cooks Dana learned the art from her grandmother and eventually turned what she loved into a business.
As a corporate America ex pat, it is not surprising Dana approached her new journey with meticulousness, planning and forethought. Like any business minded individual Dana began For His Temple with what she calls a "90 day pilot with 10 families." For three months, the families purchased only the ingredients while Dana "cooked all the meals" while also "testing containers and portion sizes" she explains. Obviously, the pilot was successful, which led her to approach her friend Kayla Bird, owner of Kayla's Kitchen, to lease her restaurant kitchen on weekends. It was there that Dana continued to cook all weekend, but this time for customers who would pick up their weekly meals each Monday. This phase of research and development lasted four months until she was able to lease her own business, ironically enough next to Kayla's Kitchen. Within three months of signing the lease, Dana opened For His Temple Family Foods in September 2015 and has not stopped growing since.
In the beginning, Dana stuck with what she tested and admits she simply offered "take-out meals." After a while she realized she had enough space to have a small market and purchased a few refrigerated cases and shelving units to add items for her health conscious customers to grab and go when they came to purchase their meals. However, it was not long before Dana again got "bored after making the meals," because she would simply "sit all day" while waiting for her customers. Knowing Dana this had to be the most trying part of the day as she is certainly not a sit-all-day type of person. Therefore, to combat the boredom, she begin offering lunch a few days a week and eventually every day. It wasn't long before her customers suggested adding a dining room and as Dana, put it, "We've 'organically, pun intended, grown' into a sit-down café."
Like many small business Dana started the pilot with family and close friends, then began grass roots advertising through Facebook and Instagram, where you will find her daily specials and information about the Community Supported Agriculture boxes (CSA) through Inglewood Farms she offers her customers. And it is truly the customer that Dana values as she explains "our customers are not like other customers." Whether they have dietary needs, are celiac, gluten intolerant, dairy free or paleo they have "a need or desire" for clean eating. "We have amazing customers," Dana excitedly announces, as we lament about the lack of customer service in many businesses. Dana not only knows her customers by name, she knows their dietary needs and trains her two employees to do the same. "We know our customers, we interact with them and we know their names," Dana explains. The customer interaction is one of the best parts of her business. One cannot be in her presence long before realizing she is not kidding when she says she "likes the people."
During an already busy weekday lunch where Dana is offering one of her most popular items, oven fried chicken with organic green beans and cabbage, Dana wonders aloud, "How much can I take on at once," as she is also getting ready for her dining room expansion by moving refrigerators, greeting a new egg vendor, preparing for a photo shoot, assisting customers and launching her newest item which is her take on Lunchables, called Little Temples. While many may think Dana is nuts to open a new dining room and launch the Little Temples on the same day, her mother acknowledges, "That is how you roll."
And roll with it is just what Dana does, as her business has continued to expand in the short time it has been open. While she humbly explains "I don't know what I'm doing," it is clear she does and has found a following of customers who value clean, healthy eating and supporting local "farms and food artisans" as does she. By traveling to the farms and doing her "best to use and sell local products," Dana explains she has been to the farms, met and talked to the farmers and knows how they do what they do. The farmers she selects care about what they are doing, and it is clear Dana does as well, when explaining how much thought and research has gone into her business. Resembling the initial pilot, Dana also piloted the Little Temples before settling on recyclable and reusable interchangeable containers of healthy kid friendly foods, which contain items such as corn dog muffins, pizza bites and carrot sticks, all of which are either organic or non-GMO.
While you'll see advertisements for gluten free, dairy free, vegetarian and organic items, don't think for a minute that the food at For His Temple is the typical attempt at cleaning up the chemical laced processed foods many Americans are accustomed to eating. On any given day you can find a variety of meals in the refrigerated case that range from Mama's Meatloaf to Cindy's Lasagna and Ramen Bowls or Cabo Verde Chicken or Pork. Whether it is Southern comfort food, Mexican, Asian or Italian, Dana has you covered. One of her most popular Mexican dishes is her Cabo Verde Pork, which uses salsa made by a local food artisan that is addicting on its own but even more so when Dana turns it into a tasty gravy for local organic pork and brown rice. The slightly spicy thick and flavorful sauce is perfectly complemented by cheesy scalloped cauliflower which is Dana's grandmother's recipe. The fork tender cauliflower is every bit as pleasing as Dana said it would be as I quizzically ask how she made a gluten free béchamel.  While you may think you have to give up cheesy creamy sauces to eat healthy, you certainly do not at For His Temple.
As Dana attests, healthy food is not boring food, and her lasagna is anything but. The layers of Italian sausage, cheese and tomato sauce between gluten free noodles make for a fully organic meal you can feel good about eating. The cheese is perfectly browned on top indicating it was cooked to perfection and the noodles still have a bite to them, allowing the cooked lasagna to retain its shape and have the perfect pull of cheesy goodness in every bite. While the portion size is filling and certainly enough for a meal, you don't end up feeling bloated or with a food baby after you are done, because there are no processed ingredients here.
Speaking of, fried chicken is certainly a Southern staple, and fried foods are difficult for many Southerners to give up when changing their eating habits. However Dana's oven fried chicken is so crispy, crunchy and delicious I had to be convinced it was baked.  The organic chicken gets its crust from crispy non-GMO, gluten free hummus chips, making the meal organic, gluten free, dairy free and proving it's a customer favorite it sold out, while customers were still waiting in line. It is no wonder as the chicken is tender, juicy, perfectly cooked and is clearly real chicken. The organic cabbage and green beans she serves on the side round out the Southern meal and are fresh, flavorful and are expertly cooked to retain the texture of the vegetable, as well as their natural flavor. The green beans are cooked with a Mahaffey Farms ham hock and organic onions, celery and seasonings. Therefore, if you think you are going to have to skip out on pork being used to flavor your vegetables because you are at a restaurant that champions healthy eating, you are wrong. It is simply that Dana's vegetables are 100% organic while still being 100% flavorful. Yes, even Dana's aromatics and seasonings are organic, and she makes her own seasoning blends for tacos, vegetables, chili and curry. She admits to using seasonings sparingly as to not cover up the food as "it's about the food" after all and is also cognizant of the low sodium meals required by many of her customers.
She also knows when people eliminate gluten, dairy, sugar or processed foods from their diets eating a variety of food can initially be a struggle, which is why you'll find a vegetarian ramen bowl next to the brisket enchiladas, curried chicken and beef stir fry in the cooler. Not only is Dana keeping with food trends as ramen all the rage in many cities, her ramen bowl, made with rice noodles, is satisfying, flavorful, organic and perfect for fall when your soup craving kicks in. By adding mushrooms, diced kale, crunchy broccoli florets and corn to her homemade vegetable stock and topping it with a perfectly cooked soft boiled egg Dana has created a gluten free, dairy free, ramen bowl that could compete with any trendy restaurant while also allowing you to feel good about what you are eating and having it taste delicious too.
Finally, if you think healthy or gluten free eating means no more desserts, check out the dessert case before you give up. Stocked with goodies, such as lemon coconut bars, German chocolate cake, pecan cookies, cupcakes and blueberry muffins, there is something to satisfy your sweet tooth, too. When Dana offers me the bestselling CB cupcake I'm a tad apprehensive when I find out it is a chocolate beet cupcake. However, Dana assures me "it tastes like fudge" and it does. The cake is moist and does not look any different than your typical cupcake, yet it contains a "heart and kidney healthy beet puree," Dana explains. The icing is so addicting, dense and fudgy I can't imagine it is healthy. But with organic powdered sugar, organic vanilla and dairy free/soy free buttercream, a dessert does not have to be a guilty pleasure. If you served these at your next birthday party, I doubt you'd have any complaints. In fact, the German chocolate quinoa cake may be just the thing for my German chocolate cake loving Dad's next birthday. I know, beets in cupcakes- quinoa in German chocolate- just try it. This German chocolate cake is rich, dense yet moist is topped with pecans and coconut sweetened condensed milk, and there is no evidence of quinoa other than the benefits to your body, if that had you worried.
All in all, there is no way to leave For His Temple without feeling energized, healthy and happy. From the moment the cheerful, energetic and caring Dana greets you, to the excitement you get finding just the food you've been looking for but cannot find anywhere else, to the satisfaction you get from eating a clean, healthy, organic meal specific to your dietary needs or desires you simply cannot leave without a smile on your face, in your heart and in your belly.  As the only restaurant in the area certified gluten free by Beyond Celiac, For His Temple is the "go-to" place for anyone who is gluten intolerant. However, it is not only a gluten free club. Mainly, it is a place for people who care about what they put into their bodies and know how food can affect your overall health. Even if you are nothing free, give For His Temple Family Foods a try and you may find what clean healthy eating can do for your health, skin, attitude and energy level. If nothing else, you'll be happy you met Dana.