For the Love of the Game
By Melanie Moffett
Jul 6th, 2017
0 Comments
283 Views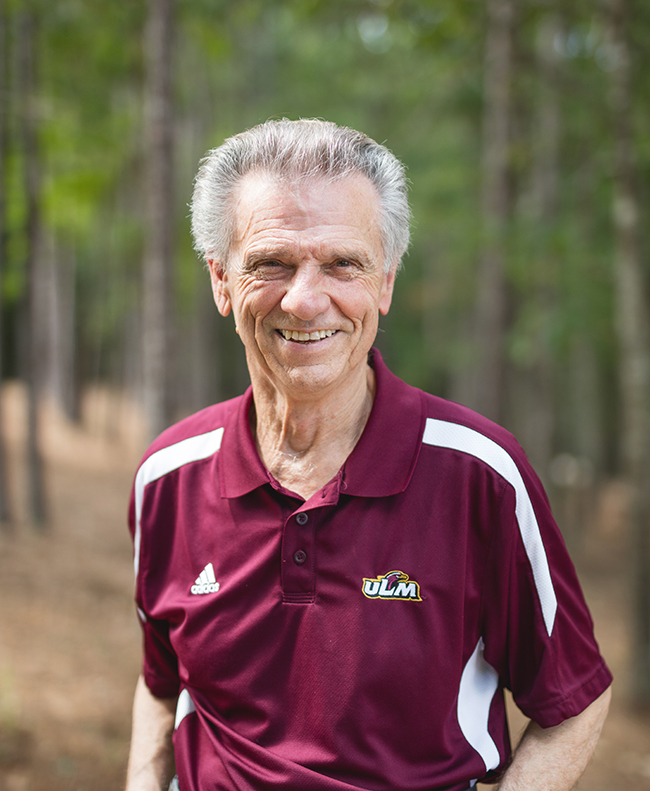 ARTICLE BY SUSAN SMALLING  |  PHOTOGRAPHY BY MARTIN G MEYERS
As American as baseball and apple pie, the game of football ranks at the top of the list of most beloved spectator sports in the United States.  College football, in particular, is steeped in tradition and rivalry, an experience as much as a game. High school football gets top billing in some parts of the country, with Friday nights devoted to the pageantry of game time. Then there is the multi-billion dollar enterprise that is the National Football League.
While football players are revered and lauded, the orchestrator behind every game is the man they all call "Coach."  From recruiting the necessary talent to calling the winning plays, it is the coach's responsibility to make the experience happen and, above all, to win.
Pat Collins is a man who knows how to win. Although it has been thirty years since he led Northeast Louisiana University to the pinnacle of college football, he still remembers every detail of the game, and the season, that earned the Northeast Louisiana Indians the title of National Champion.  It was 1987, and Collins was in his seventh year as the leader of the NLU football program, guiding a team loaded with athletic talent.
Led by senior quarterback Stan Humphries, the Indians finished the regular season with a record of 9-2 and entered the playoffs.  After winning the Southland Conference championship, the Indians headed to Pocatello, Idaho, where NLU defeated Marshall University of Huntington, West Virginia to become the Division I-AA National Champions.
"Football is kind of like playing cards," says Collins. "You've got four aces in a card deck. And in football you have four aces—your quarterback, your kicker, your big play guy on offense, and your big play guy on defense.  If you have those four aces, you've got a chance to win it all."  In the fall of 1987, Collins had all aces.  "We had what it took to put it all together and make it happen," Collins recalls.  He says the combination of talent on that 1987 team was unprecedented.  Stan Humphries, Teddy Garcia, Jackie Harris, Pat Mitchell, and a list of others too lengthy to recite.  He also credits the talented coaches that worked under him for their successful run. "We had some outstanding coaches on our staff who did a great job of preparing the kids," insists Collins.
A question he is often asked is how it felt to win the national championship. "I felt like we had really accomplished something great," recalls Collins. "We were a true team of destiny.  It was wonderful."  He insists that Nick Saban could not have felt any better about his national championship wins then Collins did on the night of the Indians' big win.  It was a moment that, as a teenager who decided to play football in order to land a college scholarship, he never dreamed he would experience.
Collins and his wife of 57 years, Bonnie, both grew up in Shreveport and attended Fair Park High School, where Collins signed up to play football. High school sweethearts, their families lived just a few houses apart on the same street. They married during their first year as students at Louisiana Tech, where Collins was recruited to play as an offensive lineman for the Bulldogs.
Collins began his coaching career as a graduate assistant at Louisiana Tech, under the tutelage of Joe Aillet. Following graduate school, Collins landed his first full-time job as an assistant to football coach John Ropp at Airline High School in Bossier City.  After three years at Airline, Collins received an offer from Louisiana Tech coach Maxie Lambright to return to his alma mater. Pat and Bonnie spent twelve years in Ruston, where Collins served as an assistant coach and Bonnie concentrated on caring for their three young children.
Thirty miles to the east, Heisman Trophy winner John David Crow was busy shoring up the football program of Louisiana Tech's rival, Northeast Louisiana University. "John David and I had become real friends," says Collins. "He had tried to hire me a year before, but I turned the job down to stay at Tech with Coach Lambright." After Lambright resigned the head position at Tech due to illness, Collins was passed over for the job as his replacement.  Disappointed, Collins resigned from Tech's coaching staff.  Head Coach John David Crow and NLU President Dwight Vines seized that opportunity to hire Collins, who would eventually lead the Indians to a National Championship and would also prevail over Louisiana Tech in six out of eight games over the course of the next eight years.
Less than two seasons into Collins' transition from Tech to NLU, John David Crow resigned to begin a career in business, and Collins suddenly found himself in the position of head coach. Collins modestly insists that it took him about three years to learn how to really be a good head coach. Ultimately, Collins attributes his success to the many great coaches he was fortunate to learn from, among them Joe Aillet, John Ropp and John David Crow.  Collins claims that his coaching philosophy and ideas have all come from those who taught him the game and taught him the art of coaching. "You steal some of the ideas of these great coaches that you've had the privilege to play for or work with, and then you put all of it together to create your own deal," says Collins. "Very few things are original with me. I have just taken the good that was out there for me and pieced it all together to produce that finished product on the field."
Collins' mentors were many, and the wisdom they imparted important in differing ways. "I learned toughness from Roy Wilson," notes Collins of his high school coach at Fair Park. "He was just downright tough."  At Louisiana Tech, Collins had the honor of being coached by and working under Joe Aillet. "Coach Aillet had such great organizational skills," Collins recalls. "John Ropp was a terrific motivator.  He was so good at being able to communicate with his players. And Coach Lambright, who was like a second father to me, was a great mentor."  Finally, he attributes his success in large part to John David Crow. "He is the one that made it possible for me to become the head football coach at NLU," Collins says of Crow. "He made that happen."
Shortly after leaving NLU, Collins served briefly as the Undersecretary of State during Fox McKeithen's term as Louisiana's Secretary of State.  However, Collins says that he never developed much of a passion for politics and missed coaching tremendously. Larry Lacewell came to Collins' rescue and put him to work as his assistant at Arkansas State, where Collins stayed on as the Defensive Coordinator for a year following Lacewell's departure.  He eventually made his way back home to Monroe, where he headed up the football programs at West Ouachita High School and then Ouachita High School, until a fateful telephone call led him to Longview, TX.
Collins was trying to confirm his upcoming game schedule for the Ouachita Lions when he spoke to the athletic trainer at Longview High School. Coincidentally, Longview's head football coach had just been fired and the Athletic Director had resigned.  After confirming that Longview was in fact scheduled to play Ouachita, the trainer put Collins in touch with the school's superintendent, who wanted to know if Collins would be interested in coaching at Longview. "He asked me to send them my resume, and to consider talking to them about the job at Longview," recalls Collins. "I was just trying to confirm my game," Collins says.  "The next thing I know, Bonnie and I are loading up and moving to Texas."
"We had great success at Longview," Collins says of the years he spent coaching there. "We won everything but a state championship." It was, he says, an extremely positive experience working in a wonderful environment with really great people. "We had excellent leadership in that school district, and so many great athletes and so many outstanding coaches," Collins says.  After four years as head coach, Collins retired, but stayed on as the school's Athletic Director for another three years before finally giving up that job and returning to Northeast Louisiana to fully enjoy his retirement.
Collins' son, Mike, is now the Assistant Head Coach and Defensive Coordinator at the University of Louisiana Monroe, formerly NLU. Mike says that following in his father's professional footsteps was a natural choice for him. "I started out in commercial banking and finance, but I hated every second of it," Mike says. He realized very quickly that he was not interested in sitting behind a desk all day wearing a coat and tie.  What he wanted to do was coach football.  "My mom cried," he laughs, recalling that Bonnie Collins was less than thrilled initially about his change in career choice. His father, however, was not upset. "He didn't push me toward coaching," Mike says of his father's influence, "but he has always been encouraging."
These days, whenever Mike Collins is on the field coaching, it is likely that Pat Collins is sitting somewhere in the stands nearby.  "He is there for almost every practice," Mike says, "and he never misses a game." Mike says that he tries to emulate his father's work ethic and appreciates his advice. Not surprisingly, though, comparisons are common. "You can't spend too much time constantly worrying about what he did and making comparisons," says Mike of those glory days and his father's success at the helm of the NLU team in the 1980s. "As coaches here at ULM, we embrace it as an important part of our team's history.  Our objective here is to bring back some of that excitement to the university and the community and to realize that kind of success."
It has been a long time since those halcyon days at NLU.  Collins has overcome personal obstacles and weathered more than a few storms, but his passion for the game of football and love for the players he coached remain.  On June 27, 2015, Collins was inducted into the Louisiana Sports Hall of Fame.  In attendance at his induction ceremony in Natchitoches were a number of his former players, who praised his coaching skills as well as his role as a teacher and mentor.
Mike Collins recalls that his father's relationships with his players were always very important to him.  "He was interested in, and instrumental in, their success not only as football players but as men.," says Mike.  Bonnie agrees, pointing out that student success in the classroom was of paramount concern to Collins in his jobs at the college and the high school level, and a huge part of his mission as head coach.  During his tenure at Longview High School, Collins implemented a "no pass, no play" program, holding players accountable for their grades and making sure they were progressing academically.
Collins leaves a legacy not just of winning games, but of encouraging his players to be the best that they can be in everything they do. "Don't ever let anyone tell you that you can't do something," Collins recalls telling his players. "And be on time," he chuckles, recalling one of his favorite mantras: "Where time is involved, be on time."  When they gather this fall to celebrate the thirtieth anniversary of their championship season, Collins' former NLU players are likely to remember that advice and many other pearls of wisdom that Collins imparted during their college football careers.  They will also recall that he taught them how to win.
Save