Four Rivers Designs: It's All in the Bag
By Admin
Aug 29th, 2016
0 Comments
309 Views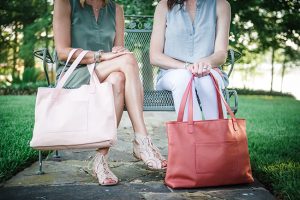 Two small town girls are making a big splash in the fashion industry. Cassie Condrey and Beth Nettles have launched a succesful handbag business.
article by Kelsey Bohl
Natives of Lake Providence, Beth and Cassie are two best friends that grew up together that are now designing beautiful, simple, and lasting handbags out of New Orleans, Louisiana. Beth and Cassie are the founders of Four Rivers Designs. Crafted from the highest quality Italian leather and genuine cotton fabrics, Four Rivers totes and bags are the epitome of classic style. With simple designs that feature no excessive hardware or logos, these handbags are timeless and chic designs. Inspired by the pairs' travels around the world and childhoods in Lake Providence, the name Four Rivers pays tribute to the circle of the friends' lives from living around the world to ending back in their native state of Louisiana. Beth and Cassie are both farmers' daughters that are no strangers to canoeing, waterskiing and mud riding; they each lived in cities that have access to rivers, specifically four rivers each. Beth has lived in Atlanta on the Chattahoochee, Nashville on the Cumberland, Italy on the Arno, and back to New Orleans on the Mississippi. Cassie has lived in Boston on the Charles, Argentina on the Rio de la Plata, Singapore on the Singapore River, and back to the Mississippi. Their lives inside and outside of the Bayou State has inspired their handbag designs that showcase well-made materials, timeless and simple silhouettes, and functional practicality. Four Rivers Designs has recently celebrated their one year anniversary. Cassie and Beth released their inaugural collection in summer 2015; the collection showcased their signature bag The Magnolia named after Louisiana's state flower.
Cassie Condrey and Beth Nettles have both lived abroad, and through their travels discovered the need for bags that were functional, practical, durable, and beautiful. While Beth was living in Italy, she started experimenting with Italian leather and discovered she was interested in handbag design as a career. Cassie and Beth knew from young ages that they wanted to end up living and working close to each other. After Beth returned from Italy and Cassie returned from living in Singapore, they found themselves in New Orleans at the same time. The two friends got together and started brainstorming about starting a business together, and through that chance reunion in New Orleans, Four Rivers Designs was born. Together, Beth and Cassie have created a collection of handbags that are versatile, elegant, long-lasting, and stylish.
Through inspiration from her travels, Cassie Condrey shows her creativity through her designs. She has lived four years abroad, two in Argentina and two in Singapore, and has travelled all around the world. Some of her favorite countries she has travelled are Japan, New Zealand, and Cambodia. From her travels and life abroad, Cassie learned that bags which are high quality and durable are essential. Those exact characteristics are trademarks of all Four Rivers Designs handbags. Cassie loves the feel and smell of the leather bags, "You just know you are carrying something high quality," and she loves incorporating fun and playful lining fabric to keep the feel of the bags young and fresh with functional pockets on the outside.
A mother of two vivacious sons, Beth Nettles' designs to fit her busy lifestyle. She loves their signature Magnolia bag because of its perfect size, incredible colors and unique lining fabrics.  A graduate of Millsaps College with a degree in business, Beth started designing bags while she was living in Italy and was inspired by luxurious leathers that were available. After experiencing the luxury materials that were central to many Italian designs, Beth knew she had to bring that aesthetic back to her home state.
"People often advise not to go into business with a friend," says Cassie Condrey, "but in our case, we can't imagine it any other way." Cassie and Beth's partnership works so well, because their skillsets are so compatible. Cassie does the majority of the media relations by serving as photographer, web designer and social media mogul. With Beth's educational background, she handles the business side of the company, while the designs of the bags are a collaborative effort. The design process starts with Beth and Cassie designing a prototype, then testing the handbag by carrying it to see how the materials feel and function. All the while, the pair is tweaking the design to make the perfect handbag. They both will select the final leather and linings for the bags creating the stunningly well-designed, handmade final creation. "The whole process is very organic for us and a lot of fun," says Condrey, "We each have different strengths; therefore, we are able to do most things ourselves and not have to outsource much.  We grew up together and know each other well, so we feel comfortable stating our opinions and discussing things without worrying about it getting in the way of our personal friendship. It is also a lot of fun to have business meetings with a lifelong friend over a glass of wine or at the newest neighborhood hot spot!"
These north Louisiana women have established a company that is creating handmade, high-quality products in a market that is saturated with mass produced goods. These women are incorporating inspiration from their experiences living abroad, their lifestyles and their childhoods in north Louisiana into their designs that translates into the hallmark design that is Four Rivers. Beth and Cassie put a lot of love into their design process and that shows in the final product. To learn more about Four Rivers Designs, be sure to check out their website at http://www.fourriversdesigns.com.