Garden Party
By Melanie Moffett
Jun 26th, 2014
0 Comments
1029 Views
A Gathering of Friends and Recipes
article by Michael DeVault | photos by Joli Livaudais
White linens on the table waft in a cool breeze. Ice tinkles as it melts in glasses. It's Summer in Louisiana, and that means it's time for a garden party.
Garden parties are a time-honored southern tradition dating back to a time before air conditioners, when friends would gather outside to share a meal, have a drink or two, and enjoy the company of their neighbors. In the fast-paced world governed by iPhones and calendar apps, throwing a garden party offers a brief respite from the hectic pace of today's modern world. And, it doesn't have to be a particularly difficult or challenging affair.
Instead, planning the perfect garden party is as simple as inviting the right guests, planning an easy menu, and getting together at the right time. In fact, you can throw a successful, fun garden party with very little effort. BayouLife joined forces with entertaining maven Dianne Cage to host a garden party–potluck style. And the results were stunning.
Dianne Cage
Dianne Cage is no stranger to audiences throughout northern Louisiana. For more than twenty years, Dianne hosted "Cooking and Gardening with Dianne," on KNOE TV-8's Good Morning Ark-La-Miss. She is also the author of two cookbooks and gardening guides, Cooking and Gardening with Dianne and Dianne II: Cook and Tell.
For Dianne, the hostess is key to the perfect garden party. "The hostess has to be totally relaxed and just thrilled that the guests are there," Dianne says. "If she's done her homework and everything's finished, she'll be able to kick back and relax with her friends."
For this garden party, Dianne chose to prepare two dishes–traditional deviled eggs, which she says are "an absolute must" for any party, and a watermelon dish inspired by Seattle chef Monique Barbeau. The original dish prepared by Barbeau featured watermelon with French dressing and fried capers. But at a garden party, simplicity rules. So Dianne tweaked the recipe.
She placed chunks of watermelon on skewers with small slices of feta cheese and a leaf of fresh basil. She then drizzled the concoction with a savory balsamic vinaigrette dressing and chilled the dish before serving. Dianne suggests watermelon for every garden party because the fruit is a staple of southern culture. "What's better than good ol' fashioned watermelon?"
Watermelon Skewers
12-18 1-inch cubes of watermelon
Sliced feta cheese
Fresh basil leaves, de-stemmed
Homemade Vinaigrette dressing, to taste.

Place cubes of watermelon onto a serving platter. Top with slice of feta cheese and a single leaf of basil. Skewer using party picks or fancy skewers, chill and serve. For a tangy variation, drizzle homemade vinaigrette dressing to taste.
Gabriella Armstrong
Gabriella Armstrong spends her days managing the office and billing at her husband Ralph's thriving medical practice. But she is no stranger to the garden party or to good food. Italian by birth, food and entertaining are a part of her blood. So it's no surprise that Gabriella was among the first to accept an invitation to the garden party. And she knew just what dish she would bring: a puff pastry caprese tart.
Right off the bat, Gabriella's suggestion of a dish highlighted the importance of coordinating a menu. Not only should the hostess know what she's going to cook, but she also needs to know what everyone else is going to bring, too. Garden parties are about variety, and the last thing a hostess wants is duplication of dishes. Gabriella's puff pastry caprese was a delicious addition to the garden table and it highlighted the season quite well. Also, the basil in the dish complimented Dianne's watermelon dish quite well.
The pastry is baked first, and then the basil, tomatoes and cheese are added "right at the end," brushed with olive oil, and then baked again for just a moment. "It's a good combination of flavors," Gabriella says. The dish can be served warm or cool, and it weathers well on a picnic table as the party progresses.
And about that party, Gabriella says it's just as important to consider the recipe of people as it is the recipes of food. "Invite the right people, people who like to be around one another, and have a healthy dose of good summer foods–lots of fruits and vegetables."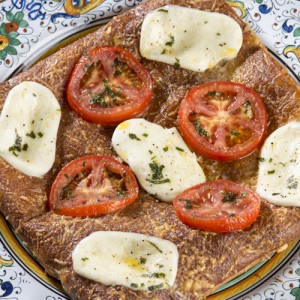 Tomato and Mozzarella Tart
White Wheat Flour (for work surface)
1 box Puff Pastry Shells, thawed in box in refrigerator
1 large egg, beaten
1 cup grated parmesan cheese
1 garlic clove, pressed through press
3-4 fresh Italian plum tomatoes, cored and cut crosswise into 1/4 in. slices
Salt
1/4 cup Olive Oil
Ground Black Pepper
1 fresh Mozzarella cheese roll, sliced
2 Tbsp, coarsely chopped basil, fresh
Cavenders
    Place tomato slices in a single layer on a double layer of paper towels and sprinkle evenly with salt. Let stand thirty minutes. Place a second double layer of paper towels on top of tomatoes and press firmly to dry tomatoes. Combine pressed garlic, olive oil, salt and pepper with the chopped basil in a small bowl. Set aside.
    Heat oven to 400ºF. Dust work surface with flour and unfold both pieces of pastry dough. Brush egg along the short edge of one sheet of puff pastry. Overlap with second sheet of dough by 1 inch and press pieces together. With rolling pin, smooth out the seem, and lightly roll the dough. Dough should measure about 18″x19″. Brush the entire surface of dough with beaten egg. Sprinkle parmesan cheese generously but evenly over shell and bake about 10-15 minutes, until golden brown and crisp.
    Increase oven temperature to 425ºF.
    Place mozzarella slices evenly over warm baked shell, alternating with tomato slices. Brush tomato and mozzarella slices with the basil garlic oil. Sprinkle lightly with Cavenders. Bake until shell is deep golden brown and cheese has melted about 10 to 15 minutes. Cool on wire rack 5 minutes. Slide onto cutting board or serving platter, cut into pieces, and serve. A pizza cutter is the best tool to slice the tart.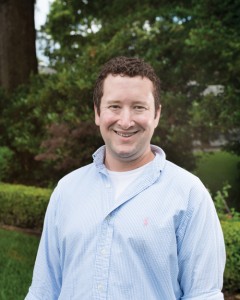 Will Copeland
A teacher from Rayville, Will looks forward to summers as a time to relax, to visit, and a garden party seemed like just the perfect time to him. So when Will accepted the invitation, he wanted to make sure his companions enjoyed the party, too. What better way to make sure everyone has a good time than to prepare a dish he knows people will like–a flavorful pasta salad adapted from one of the hostess's own cookbooks.
Will began with a pasta salad recipe from Dianne's Cooking and Gardening, a dish he says has become "a family tradition" among the Copeland clan. Like any good tradition, Will's family has adjusted the recipe over the years to include a few signature flavors. The basic recipe calls for penne pasta, artichokes, mushrooms and capers. Will adds a healthy dash of pickapeppa sauce for some kick. "It's kind of tangy," he says.
Dressed in a comfortable pair of colorful shorts and a muted, blue button down, Will came prepared to relax. He enjoyed a cold drink from the bar while visiting with Gabriella about a number of topics, ranging from the weather to the food. Kicked back in a chair with a drink, Will enjoyed a few moments to just take a load off, part of his secret to the perfect garden party experience. "Keep things casual," he says. "Just have a good time, and keep plenty of cold drinks and food."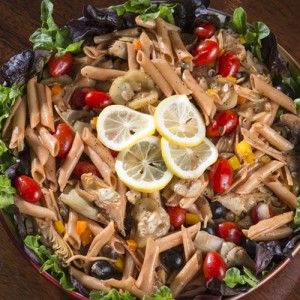 Marinated Vegetable and Pasta (A Family Variation)
16 oz sliced mushrooms
10.5 oz cherry tomatoes
4 green onions, sliced
1 yellow bell pepper, sliced
1 red bell pepper, sliced
1 cucumber, peeled and sliced
3.25 oz capers, drained
2 14-oz cans of artichoke hearts, drained and quartered.
1 6oz-can, Black olives, drained
1 lb, penne pasta, cooked.
For the marinade:
1 cup, tarragon vinegar
1/2 cup vegetable oil
1 tsp minced garlic
2 Tbsp Worcestershire sauce
1/2 cup Catalina or French dressing
1/3 cup Pickapeppa Sauce
1/2 cup sugar, dissolved in
1/2 cup hot water
1 tsp salt
1 tsp curry powder
2 Tbsp lemon juice
    Combine all ingredients in a large bowl. Mix marinade in another small bowl and whisk together. Gently stir marinade over other ingredients, and mix completely. Make one day ahead of time so that the marinade has time to work. For a tasty variation, add boiled shrimp and this becomes a main course.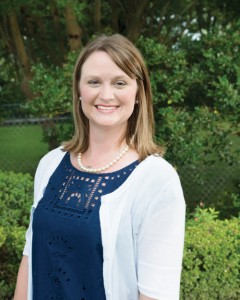 Sarah Heatherly
As a director of sales at Mariott Hotels in Monroe, Sarah knows a lot about hospitality. Part of the secret to successful hospitality is keeping things simple and laid back. For her dish, Sarah decided to prepare something so simple she eats it herself every week: a summer salad of spinach and strawberries with a picante feta cheese and homemade balsamic vinaigrette dressing. "It's a summer staple for me. I eat it once or twice a week," Sarah says. Onions and pecans offer a fun twist, bringing both a little spice and a hearty flavor to the dish.
In any hospitality endeavor, one of the key considerations is setting, choosing the right area and furniture with which to frame your garden party. For this particular garden party, Dianne suggested an inviting stretch of grass in the back yard, beneath the sweeping arms of a 100-year-old oak tree. Seating areas and blankets offered guests a variety of conversational areas where friends could gather, which Sarah says are important considerations. "Good friends make for good conversation and a good time," Sarah says.
She was impressed, too, with Dianne's watermelon skewers, and by the end of the gathering had developed a plan to try her own variation. "I have watermelon and mint in my garden at home," Sarah says.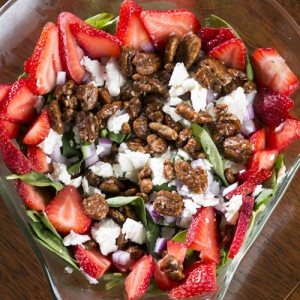 Strawbery Salad
8 cups, chopped baby spinach
1/2 cup, feta cheese crumbles
2 cups, strawberries sliced
1/4 cup, pecans
1/2 chopped onion
Homemade Balsamic Vinaigrette dressing to taste
Place spinach in a large serving bowl. Toss in feta cheese crumbles and pecans. Then, sprinkle the onions and strawberries over the top. When time to serve, top with a homemade balsamic vinaigrette dressing to taste.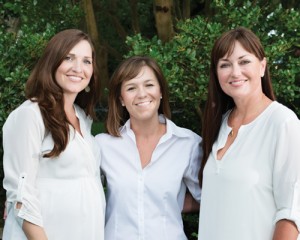 Leigh Liles, Jaclyn Hall and Therese Nagem
With the grand (re)opening of Vieux Carré Market right around the corner for Leigh, Therese and Jaclyn, a garden party sounded like the perfect time to take a break and to try out one of the tasty recipes from the upcoming Vieux Carré Market menu. Since they were coming to a garden party, they decided to try out the chicken salad.
"You've got to have chicken salad at a garden party," says Leigh. Therese quickly chimes in, adding, "Everybody loves chicken salad!"
The Vieux Carré Chicken Salad is special, because it's all natural. "It's organic, even the homemade mayonnaise," says Jaclyn. The chicken salad is a smooth, pleasantly neutral flavor and rounded out our garden party table well. Serviced on crackers or toast points, the salad provides a filling main course or even a hearty side. If your summer diet has you avoiding breads and crackers, consider just eating it off a fork and chasing it with a refreshing glass of crisp, white wine.
And, when it comes to the secret to the perfect garden party, these three ladies all agree, answering in unison, "Friends, food, and wine." Therese laughs at their answer, and quickly says, "That's how we roll."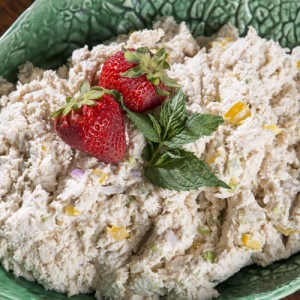 Vieux Carré Market Chicken Salad
5 lbs. Chicken Breast
1/2 cup Yellow Bell Pepper, Diced
1/2 cup diced water chestnuts
1/2 of a diced purple onion
2 green onions, diced
1 cup, diced celery
1 Tbsp fresh lemon juice
1 1/2 tsp kosher or sea salt
1 1/2 tsp white pepper
1 1/2 tsp Creole seasoning
4 cups mayonnaise
Boil chicken breasts in chicken broth. Shred or cube chicken to preference. Combine with mayonnaise and other ingredients, stirring until well blended. Chill and serve.