Bayou Artist: Gary Ratcliff
By Katie Sloan
Sep 25th, 2017
0 Comments
4702 Views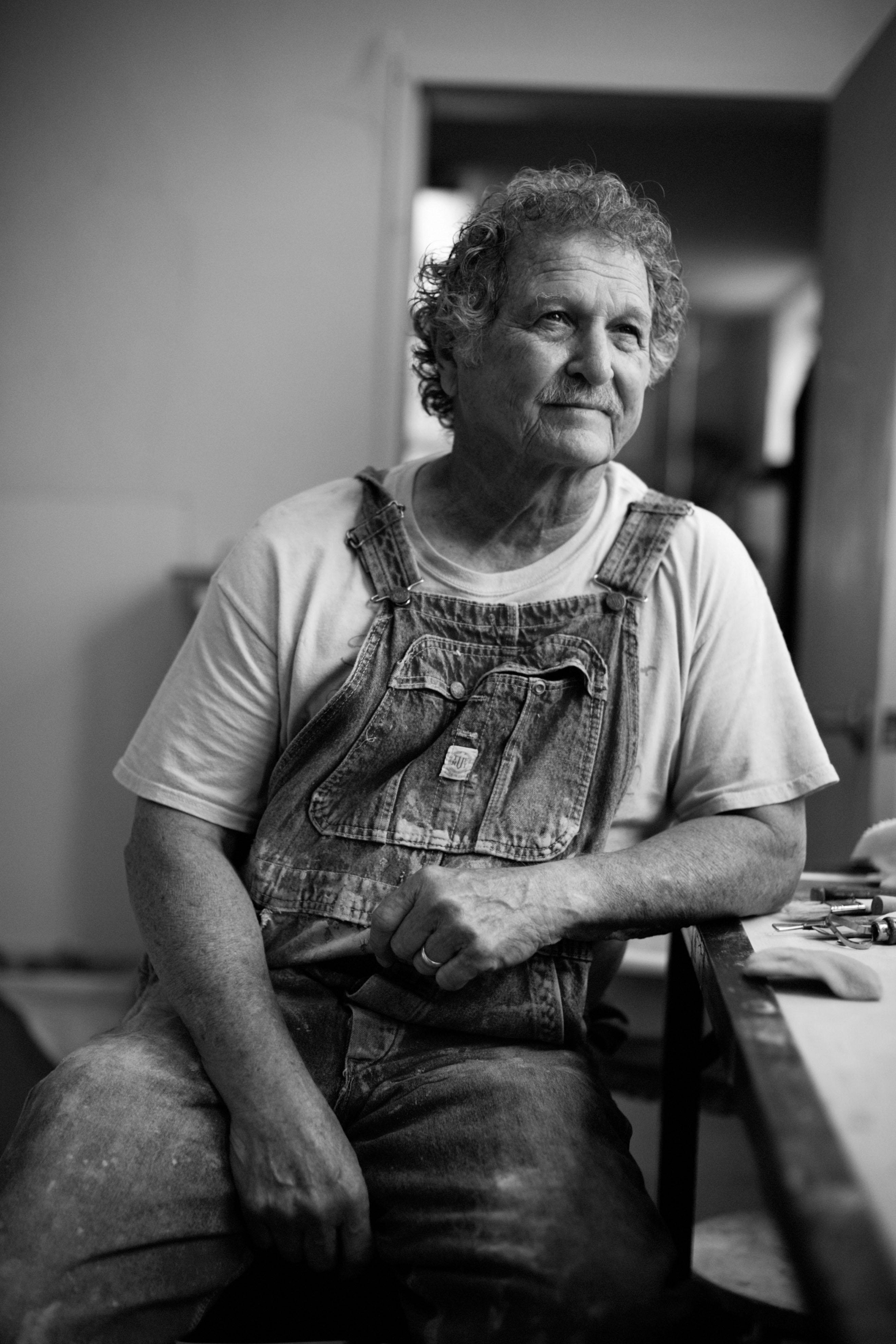 Article by April Honaker, Photography by Kelly Moore Clark
Ratcliff is a potter, painter and professor who has spent a career teaching others his craft. Now retired, Gary looks to nature to inspire him and hopes to produce work that is uplifting and positive.
When Gary Ratcliff left his hometown of Dallas, Texas, to attend Central College in McPherson, Kansas, the thought of being an artist had never crossed his mind. "The only thing I was good at in school was math," he said. Gary struggled with dyslexia, which made subjects that involved reading and writing more difficult, but he had always been drawn to things that allowed him to use his hands.
In grade school, Gary recalls picking up a chalk rock and carving it with a piece of broken glass. Afterward, he was able to trade the carving for a pen. Although this moment didn't seem significant then, it was the first time Gary's creativity had proven its value.
Growing up, Gary continued to use his hands to help his family build an addition to their house, and he learned the basics of carpentry from his grandfather. He also enjoyed the shop programs in school, such as plastics shop and power mechanics. As a teenager, Gary continued to build things, including walkie talkies, transistor radios and even a crossbow pistol from a diagram in Popular Mechanics.
For a time, Gary thought he might become an engineer, but he continued to struggle with academics, and during his sophomore year, he started to feel lost. He was unsure what to do with his life and felt so discouraged at one point that he wanted to give up on college. In that moment, he asked God to help him find something he was good at, and next semester, God answered his prayer with an introductory painting class that changed his perspective on life. "I took oil painting and fell in love with it," he said. "I learned art was about design and philosophy, and I threw myself into it." Given his history with dyslexia, Gary was especially drawn to art's ability to communicate without words on both conscious and subconscious levels. He loved the painting class so much that he found himself painting for 12-hour stretches on Sunday afternoons.
During this time, he started to consider pursuing art more seriously and decided to tell his parents about his newfound passion. Fortunately, they were supportive and asked only that he really think through the decision before committing. So Gary made a list of pros and cons, and in the end, he decided to transfer to Greenville College in Illinois, where he earned his Bachelor of Fine Arts with a focus on painting and ceramics.
In his years at Greenville, Gary went from being a novice painter to being selected art student of the year and winning the undergraduate art competition. A pivotal moment came during his junior year. "For my undergraduate show as a junior, I knew I had to come up with a series of paintings my professor couldn't point to in a magazine," Gary said. In the search for an original idea, Gary found himself drawn to sidewalks, especially their cracks and the way they become records of the events in their environment. "It made me see the world as a tremendous chain reaction of cause and effect," he said. "It really opened my eyes to how what I did affected other people and how what they did affected me. I began to see this connection between things and how we all touch each other's lives." Just as sidewalks are records of their environment, people are records of their experiences. According to Gary, "There were some really beautiful moments in that discovery." In one of those moments, Gary found himself watching three men as a jackhammer broke up concrete nearby. As he processed the scene, the jackhammer's approach became a metaphor for death. It was a moment of realization and acceptance of mortality for him.
As he prepared to create his first series of paintings inspired by these meditations, Gary realized that even the smallest moments touch and shape us. Looking at our relationships to one another and our environment, as well as our relationship to time, Gary said, "It makes all of our activity more valuable and more important. Our daily activities leave a mark."
In pop culture, this concept was famously illustrated in the 2004 movie The Butterfly Effect, in which Evan Treborn (Ashton Kutcher) travels back in time to prevent several traumatic events only to discover that the slightest change to the past could have dramatic consequences on the present. Gary's earliest paintings and his newest works reflect this interconnectedness. According to Gary, the process of creating art reflects it as well. A single brush stroke or the slightest movement on the wheel can change everything.
Completing his junior-year painting series changed Gary's life, and afterward, he continued to define himself as an artist. Aesthetically, his work is very textural, both visually and tactilely. Although the meaning of his work goes beyond the surface, Gary has always been drawn to surfaces and textures. "It's just part of who I am," he said.
During his senior year, Gary added another type of art to his repertoire. While passing through the halls of the art building, he caught a glimpse of one of the ceramics professors demonstrating on the wheel and he stood in the doorway mesmerized. The next semester he decided to take that class and said, "I found that clay was the perfect material for me because with clay I got to be the artist and the technician." According to Gary, making ceramics requires a bit engineering, chemistry and physics in addition to creativity. Wheel throwing also brought Gary back to the hands-on projects he'd done as a kid and presented a new challenge. "If I was going to work with clay," he said, "I needed to find something not done in the last 6,000 years." Creating truly original work is always a challenge, but it's one artists continually face.
Gary was able to find ways to make his work distinctive while continuing to emphasize surface and texture. For Gary, creating unique work is one of the many problems artists must solve. Figuring out what message to communicate and how best to communicate it are other problems. According to Gary, "Art is a problem that is never quite fully solved." Fortunately, Gary likes solving problems and said, "There's excitement in it."
When a problem can't be solved in the first attempt, it may take several tries, but Gary said, "Art teaches you to risk and take chances." If something doesn't work, you try something else. "Without the struggle," he said, "it doesn't mean as much." And once you solve the problem, you always find a new one, which keeps things interesting.
Because artists are often taught to work in series, when they solve a problem and create something they're proud of, they must then ask the question, "How many different ways can I do this?" Gary said he likes to think of the way God approached creation when dealing with this question. "In the beginning, God created, and his creations reflect his identity," Gary said. "Things I create reflect my identity." God also created everything in series, so we have all kinds of fish, birds, trees, and people.
As a child of God, Gary said, "I'm programmed to find different solutions to problems. I think it goes back to being dyslexic and trying to find a different way to say something. It's part of my nature to be a little different in some ways."
In addition to approaching artistic problems in unique ways, Gary has always focused on honing his skills. As a student, he felt encouraged after reading bios of famous artists who produced their best works later in life. "I liked the idea that I could get better at it," he said, "and the pots I make now are better than the ones I made 20 years ago." Over the years, he has emphasized craftsmanship and pushed himself to improve, but a lot of special people and opportunities have helped him grow as an artist.
Shortly after Gary first discovered his love of ceramics, he was offered a life-changing opportunity from Nelson Yoder, one of his pottery professors at Greenville. Yoder invited Gary to help him open an arts and crafts store in an old sportsmen's hotel in northern Michigan. The opportunity required that Gary help with the labor, and in exchange, he was able to practice throwing pots on a daily basis. During that summer, Gary learned rapidly and improved his craft immensely. He was also able to travel all over Michigan selling his work at various festivals. He said, "It made me realize I could sit and make money every day and enjoy doing it."
After that summer, Gary returned to Texas and worked as a dot etcher performing color corrections for a business specializing in offset lithography. He worked 60 hours a week and was on call seven days a week, but he was able to add his earnings to the savings he'd started in Michigan. Soon, he was able to attend graduate school at East Texas State University (now Texas A&M, Commerce) and earn his Master of Fine Arts. While in school, Gary also continued to sell his pottery. With these earnings, his savings, an assistantship, and a scholarship, he was able to finish his degree with very little debt.
After graduating in 1977, Gary secured a position at the University of Louisiana in Monroe. Although he and his wife Sharon had initially planned to remain in Monroe for only a few years, it quickly became home, and after 39 years of teaching ceramics at ULM, Gary retired last year with professor emeritus status. He said, "I feel really blessed that I had a career all those years doing something I love doing."
Although he's officially retired from teaching, he certainly hasn't retired as an artist. He continues to use the ceramics studio at ULM and has a home studio in the works. In the last year, Gary has also returned to painting for the first time since 1970. He attributes the decision in part to the encouragement of Jared Stokes, curator of The Palace Gallery, where his work will be on exhibition during the October Downtown Gallery Crawl.
Gary said he's energized by spending time alone creating art, so he plans to keep moving and producing for as long as he can. Of course, one of the best perks of this alone time is that it gives him something to share with others, which has always been important to him.
"I hope they enjoy it," he said. "I think that's really the whole purpose—to bring peace and comfort, to do what beauty does." Gary looks to nature and the things around him for inspiration and tries to reproduce the beauty he sees there. "Things I perceive as beautiful are good, positive and truthful," he said. "I think beauty has a role to play in bringing peace to our lives. We all have enough struggles and trials. We need something uplifting, positive, comforting." Gary hopes others can look at his work in the same way they might look at nature's wonders and find some peace or comfort there.