Geno's Italian Restaurant
By Melanie Moffett
Oct 26th, 2015
0 Comments
836 Views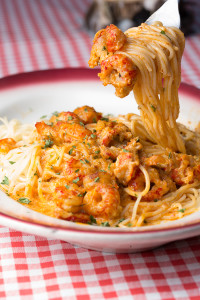 Old World Charm In Your Own Hometown
article by Mary Napoli  | photography by Martin G Meyers
The two white-haired men are bent over a map of Sicily that is spread over a table in Geno's Italian Restaurant.  Their fingers trace over areas of the island where their grandparents once lived, as they share memories of the "old neighborhood" where they spent their younger days.  The streets surrounding the restaurant, located at 705 North 8th Street in Monroe, were once a thriving neighborhood filled with Italian families.  Family owned grocery stores and other small businesses once held every corner storefront, and small children once filled the streets.  Today, Geno's is what remains of a bygone era.  Since 1964, the Bruscato family have kept the traditions of their family and culture alive within the walls of their beloved restaurant.
Frank and Phyllis Jean Bruscato are the brother and sister co-owners of the restaurant, which was started by their parents, Gene and Rosalie, when they were teenagers.  Frank and Phyllis have literally grown up in the family business—the dining room where they now serve guests dishes that have been handed down for generations used to be their childhood playroom.  The family home where Gene and Rosalie raised their children now hosts large dining parties, and the yard where neighborhood children would play with Frank and Phyllis has now been transformed into a quaint, lush courtyard dining space.  Just like home, family photographs dating back for several decades are framed and displayed along the walls and shelves, along with countless articles of memorabilia.  For every photo there is a memory and a story.  Geno's not only serves traditional Italian dishes that generations of Monroe locals love to enjoy, it also offers a glimpse into history and a time where the family dinner table was the heart of the home.
Geno Bruscato once supported his family by running this own Italian grocery store on Desiard Street, several blocks from the family home.  He was known throughout the community for his incredible talent in the kitchen, but surprisingly, it was barbeque he enjoyed cooking the most.
"Daddy cooked all the barbeque for the Knights of Columbus events," recalls Frank Bruscato.  "They had barbeque fundraisers to support all the Catholic churches and schools here.  He even bottled his own barbeque sauce at one point."
Gene and Rosalie opened Geno's at the urging of the community who adored the family and their food.  However, the first menu was actually centered on Gene's famous barbeque.  Italian dishes were added to the menu simply because of family tradition, and soon became the most popular items.  Over time, the menu transformed to Italian food exclusively, and the Geno's that is known and loved today took shape.
Frank and Phyllis Jean learned every aspect of the family business from their parents.  As teenagers, they waited tables, sat guests, helped with the financial aspects and even learned how to maintain the property themselves.  Eventually, Phyllis Jean settled in to running the front of the house, greeting guests, taking orders and charming each customer with her friendly demeanor.  After a lengthy career in the military as an Army Colonel, Frank settled into the kitchen, although he wears many hats in the business.  However, he is the vault that holds all the secret family recipes that Geno's the cherished institution that it is.
Italians have nearly as many names as recipes for the delicious red sauce that is the cornerstone of Italian cooking. What most civilians refer to as spaghetti sauce, goes by countless other names:  marinara, red gravy, spaghetti gravy, tomato gravy, Sunday sauce, red sauce…the list goes on.  In many Italian circles, a person's ability to "make a good gravy" defines them as marriage material.  This is a culture that takes food seriously, and with good reason.  Italians prepare the food they love for the people they love.  Food is an expression of affection, a sign of goodwill and a way to celebrate the great pleasures of life.
Geno's red sauce is as rich as the restaurant's history, and every dish this hearty sauce is ladled over, practically sings with delight.  While the aromatic herbs used to flavor this sauce are a closely guarded secret, their mouthwatering fragrance is impossible to hide.  The crushed tomatoes have been stewed for hours with savory seasonings to create a robust flavor that is a delight to the taste buds.  Full of tangy, tomato-ey goodness, this traditional sauce is thick, rich and delicious.  Diners will savor every drop and wipe their plates clean with Geno's toasty garlic bread.
The restaurant is known for its classic Italian dishes, of which lasagna and spaghetti and meatballs are the most often requested.  Bruscato prepares the meatballs with freshly ground meat, which he seasons to perfection.  He hand rolls them to a generous size each day, the way he was taught as a youngster.  The meat remains amazingly tender and moist, a testament to Bruscato's years of knowledge.  Meatballs of this size are often dense and packed heavily to retain their shape, but these are almost cake-like.  With pasta cooked to the perfect al dente, Geno's spaghetti and meatballs is a truly classical Italian meal.
The lasagna is a house specialty for good reason.  It is nothing like the store-bought, frozen creations you have previously suffered through.  This layered dish is complex and strikes the perfect balance of meat, cheeses, and tender sheets of pasta.
"We use five different cheeses in the lasagna," Bruscato explains.  Parmesan? Ricotta? The palate tries to pinpoint which cheeses are included. "It's all a secret," says Bruscato. "People have tried to trick me into giving them an answer for years and years, but no one know the recipe."
Bruscato has also mastered the art of preparing his own Italian sausage—from scratch.  He grinds his own selection of high-quality meats in house, mixes in seasoning, and cases each sausage by hand.  Italian sausage is prepared a multitude of ways in Italian kitchens, and what arrives on the plate from Geno's is nothing short of amazing.  Fork tender and fragrant of anise, this choice sausage can be enjoyed with pasta and the chunky, bold red sauce that it pairs so well with.  It took years of experimentation for Bruscato to perfect his own version.
"Everyone makes Italian sausage a different way.  My daddy had a great recipe, but my Aunt Katie's…hers was the best.  She took that one to the grave, though, and would never tell anyone how she did it!  I think I've come pretty close," explains Bruscato.  Geno's Italian sausage is so well loved, devoted customers often by it frozen by the case to enjoy throughout the season.
The perfect pairing, other than the delightful list of wines that the restaurant offers, with any of the delectable dishes at Geno's is their classic Italian salad.  Crisp lettuce, olives and peppers are lightly tossed with house made creamy Italian dressing, a recipe that was originally created by Mama Bruscato decades ago.  The dressing is flavorful, but not overpowering and heavy.  Impossible to emulate and loved by many, Geno's sells jars of the delicious dressing to the many locals who can't do without it.
To end dinner on a sweet note, there is a selection of scrumptious desserts to choose from.  The restaurant makes their own tiramisu and Italian crème cakes, and acquires spumoni and cannoli from the famous New Orleans ice creamery, Angelo Brocato's.  Although flavors of spumoni can vary, Geno's offers a "tutti frutti" version, consisting of lemon, pistachio and almond gelato served in colorful slices.  Cannoli, a traditional Sicilian treat, consist of a round pastry shell rolled into a tube shape that is stuffed with ricotta-based, sweetened creamy mixture.  Usually, cannoli are filled with half chocolate, half vanilla cannoli crème, dipped in crushed pistachio nuts and rolled in powdered sugar and cinnamon.  Any of the divine desserts from Geno's menu provide the perfectly scrumptious ending to an incredibly savory meal.
Geno's has a special place in the hearts of locals, current and past.  Bruscato notes that he often hears guests comment that they have driven for miles—even from other states–for a plate of lasagna.  He has packed frozen pans of the delicious pasta dishes to travel on flights to beloved customers and has had offers to bottle his mother's salad dressing.  Families have formed many memories within the walls of Geno's and love the comfort of the consistency they find here.  To some, the décor may seem outdated, but those who have a history of delicious meals here, they implore the Bruscatos not to change a thing.  It is the spot of many family dinners, prom dates and first dates.  Incalculable couples have fallen in love over pasta and even planned for the next step of their relationships over the red checkered table cloths.
"I can't tell you how many proposals we have had here," recalls Phyllis Jean Bruscato.  "Young men love to propose on the patio by candlelight.  And we love to provide them with the romantic setting."
In the 52 years that Geno's has treated guests to delectable, authentic Italian dishes, they have become an icon in the community.  The restaurant is known not only for the large menu of incredibly delicious food, but for the long-standing relationships it had formed in the community.
"Daddy used to stay open late after the NLU (now ULM) football games back in the 1970's so that the football players would have somewhere to take their dates after the games.  He would stay open well past midnight just so they could celebrate and have a good time.  He would also feed all the nuns at St. Vincent's any time they would come in.  He loved Monroe, and he loved contributing (to the community) that way," Frank Bruscato recalls.  The community reciprocates their loyalty by remaining dedicated customers to the family business.  "We have been trading with families here so long, their grandchildren are at the table now."
Geno's longevity is not only a testament to the quality of exquisite dishes it serves, but also evidence that our region values family, tradition, and the Bruscato family's contribution to the Monroe area.
    Geno's Italian Restaurant is located at 705 North 8th Street in Monroe.  Make reservations by calling 318-325-5098.