Get in Gear
By Melanie Moffett
Aug 25th, 2014
0 Comments
983 Views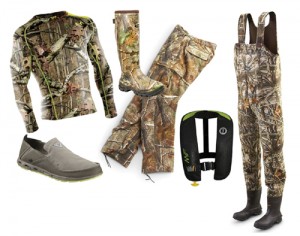 Wearing the Appropriate Hunting and Fishing Gear
article by Dan Chason
When your publisher emails you and says that the next issue will be "style" related, it can be a stretch to stay on subject when you are an outdoor writer.  It took a couple of weeks of hard thought but after thinking about it, I realized that there is some style to hunting and fishing.  With hunting season approaching, I figured I would see just how "stylish" I can be in relation to the great outdoors.
Every good hunter knows that being comfortable has a lot to do with what you are wearing.  We are blessed in Louisiana with balmy or hot temperatures which can stretch into the winter months.  If you are not properly clothed, it can bring a swift end to the hunt.
Such was the case on my first duck hunt.  I had a good friend who was a little older than me who was an avid duck hunter.  Doug had all the latest and greatest gear, including neoprene waders, waterfowl jackets and head wear.  I, on the other hand, had little to nothing.  I pretty much hunted in blue jeans and put on coveralls when the weather got nippy.  That was the extent of my hunting gear, save one ragged orange vest for deer hunting.  Doug called me the week before the opening day of the second split and invited me to go duck hunting with him on Corney Lake.  I had never been there and had no idea what to expect.  The weather had been unseasonably cold and an arctic cold front was expected that day.  I made the trip to the local big box store and shopped for a set of chest waders.  The waders at the time were close to $100, and the selection was not very good.  I then spied a pair of rain bottoms.  "Bingo!"  And they were only $10.  I reasoned that if I was going to wade, I could take my knee boots and duct tape the boots to the rain bottoms and I would be in business.
We arrived the night before, as we planned on camping out.  The temperature was hovering around freezing, and it was cold beyond belief.  We spent the night in the boat ramp bath house as the tent was not sufficient to keep us warm.  I got up the next morning, donned my rain pant/boot combination and off we went.  I had no sooner waded into the edge of the trees when I felt the cold rush of freezing water.  Miserable does not describe my feeling.  After about 30 minutes, I could not feel my feet.  At the urging of Doug, we CUT the boots off of my feet and built a fire.  It is a miracle I didn't have frost bite.  At that moment, I would have paid $500 for a good pair of waders.
I have said all that to say this:  When going afield, do not cut corners on gear.  Good, dry clothing is a necessity not only for comfort, but for safety.  On the other end of the spectrum is the issue of staying cool during the early days of hunting season.  I opt for Under Armour shirts, light camo pants, dry wick socks and comfortable boots.  The only option for getting away from scent issues is the Scentlock brand of clothing.  I have used them for years, and I can attest that they do indeed work.  They are also great when it is cold, as moisture is the enemy when it comes to staying dry and warm.  Your inner clothing should pull moisture away from your body and feet, which helps with scent control and staying comfortable.
On the fishing side, anyone who knows me will tell you that I fish rain or shine, hot or cold.  I always wear slip-on shoes when fishing.  This is important if you have ever taken a swim when it is cold.  Being able to slip out of shoes allows you to slip out of clothing.  Remember that your pants can be utilized as a flotation device as well.  If you fall overboard without a PFD (personal flotation device), simply tie the bottoms of your jeans in a knot, exhale air into the pants' legs and they will float and possibly save your life.  The air gets trapped in the legs and all it takes is holding the waist closed and in the water to float freely.
I never wade in unfamiliar areas while duck hunting without a PFD.  I use a Mustang inflatable vest that automatically inflates if you hit a hole.  Waders are hard to shuck if you go over your head and this device is a life saver.  In the heat, it is very important to stay hydrated but more important to protect exposed skin from the sun and stay cool.  The trick to this is to keep your head cool.  I use various head wraps or a wet towel to accomplish this task.  However, the signs of heat exhaustion aren't always apparent until it is too late.  Hydration, even if you are not necessarily thirsty, is the most important thing.  A good head cover is a must to stay cool.  Your body loses or gains temperature via your head and feet.  If you keep your head cool in the heat and warm in the cold, you have half the battle won.
The last thing I will cover is how to fight the sweats when deer hunting.  I utilize a gallon Ziploc bag for scent control.  First, I don a pair of shorts and a t-shirt for my walk to the stand (with snake boots).  Just prior to reaching my hunting area, I take off the shorts, shirt and socks and put them in the Ziploc and leave the bag hanging for my exit.  I then put on my Scentlock hunting clothes and ease to my stand.  This changes if I am using a climbing stand.  I change my shorts and put on my Scentlock once I am in the tree.  This eliminates odor, as I am not wearing sweaty clothes.
I hope that you, too, can be "stylish" this season. Remember, don't cut corners.  Control your body temperature and you can enjoy your venture at a higher level.