Getting Started… The Right Way
By Melanie Moffett
Jan 27th, 2015
0 Comments
401 Views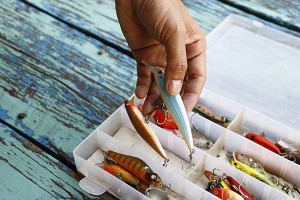 by Kenny Covington
Like a bar would be to someone who likes to drink and socialize, a tackle shop is such to a fisherperson. A common occurrence when frequenting sporting goods or tackle stores is the person, usually someone who isn't familiar with fishing, trying to buy tackle or equipment for someone who is just getting into the sport. The rage now is to buy someone a gift card and let them pick out their own stuff. However, why resort to that when just a little knowledge will go a long way?
First of all, let's talk about fishing lures. The choices are endless, and the colors cover the spectrum like no other. When buying lures for someone who is just starting out, the last thing you want to do is overcomplicate things. We want to purchase lures that will cover the three dynamics of the water column.
Let's break a body of water down into three sections; shallow meaning from the surface down to about 3 feet, mid-range from 3 feet down to about 7 feet and anything below an 8 foot depth is considered deeper water. With a few basic choices, we can catch bass on any body of water we go to.
When targeting shallow water, I generally will throw topwater lures. Over the years, I have narrowed down my choices for topwater fishing to a select few lures. To the beginning fisherperson, I would suggest three lures: a shad colored Pop R, a white ¼ Buzzbait and a bream colored Devils Horse prop bait. With these three lures I can cover most topwater situations. I use the Pop R and Devils Horse when fishing specific targets and the Buzzbait to cover water flats or fishing down bank edges. The size of lure and the manner in which it is fished is more important than the color scheme of the topwater you are throwing.
When fishing the mid-range water column I generally find crankbaits and spinnerbaits to be most effective. I like Luck E Strike's RC 1.5 in a green minnow pattern, a 3/8 ounce double willowleaf spinnerbait in chartreuse/blue/ white color and a 200 series parrot colored Bandit. The RC 1.5 I would use in depths of 3-5 feet. It is a square billed crankbait that comes through and around wood cover very well. The 200 series Bandit I would use in depths from 5-8 feet and where cover is minimal. The spinnerbait can be used in all depths of the water column, but it is especially effective when used in the 3-5 foot range. It's not commonly thrown at this depth, so the fish don't see it as much, making it an effective fish catcher.
When fishing water that is 8 foot or deeper, there are two tried and true techniques. One is the Texas rigged soft plastic, and the other is a Carolina rig. There are many lures and colors that are effective when fished with both techniques, but I have found that a Zoom Baby Brush Hog, a Zoom straight tail finesse worm and a longer snake tail plastic worm to be most effective.
I can honestly say I have yet to find a body of water where the fish will not bite a watermelon/red colored Zoom Baby Brush Hog. Another great choice is a green pumpkin/blue colored Zoom 4 inch finesse worm or Trick Worm. If I had to choose just one plastic worm to use on our local waters, it would be a redshad 7 ½ inch Culprit worm. When it comes to soft plastics, I have found that shades of purple and shades of green, such as watermelon, tend to work best.
I also want to warn the beginning angler to not get caught up in the "it has to be this color" trap. I have always found it interesting after a tournament listening to people talk about their days and how often the colors used are so different. One boat might say they could only catch them on black and blue, while another boat might say it had to have orange in it. The possibilities are endless, but that doesn't mean we have to be complicated about it. The easier your approach to fishing, the better your chances of success will be.
Hopefully the information I provided you this month will make your beginning choices easier when getting started in this great sport. I would like to add that there is no substitute for experience and time on the water. Over time, you will develop confidence in lures, presentations and colors, but the key thing is to never stop learning.
Be careful in the woods and on the water! Catch one for me, and I'll see you next month!