Giving to Living
By Katie Sloan
Jan 31st, 2018
0 Comments
665 Views
Each year, BayouLife is proud to support the St. Jude's Dream Home program to support the efforts of the world's premier childhood cancer center. For 2018, we decided to give you a glimpse of how your contributions help people right here at home. These are just a few stories of northern Louisiana families impacted by the work at St. Jude's Children's Research Hospital.
For each one of these families, there are thousands more just like them…right here. 
"No child should die in the dawn of life."
– Danny Thomas, founder – St. Jude's Children's Research Hospital
Thanks to these photographers for donating their time to photograph these special families: Annie Barnett, Angela Groce, Molly Hill, Brice Jones, Martin G Meyers and Staci Albritton Mitchell.
Sam
Jennifer Routon was five months pregnant with her daughter when she first noticed something amiss with her son, Sam. Barely a toddler, Sam spent time with doctors and within the span of a week, the Routan family was turned upside down.
Sam was diagnosed with Stage IV high risk neuroblastoma—an aggressive cancer that forms early, usually when the victim is still a fetus. Doctors at home told Jennifer, and her husband, Drew, that their child's only hope would require them to go to St. Jude's. Within hours, Drew was on a life flight, with Jennifer trailing behind in a family member's car.
"Sam was airlifted from Monroe to Memphis on Wednesday, Nov. 12, and he began chemo on Sunday," Jennifer tells BayouLife. From the moment the Routons arrived in Memphis, they knew they were in the right place. "St. Jude's met all of our needs, provided housing, food, travel and care for 13 months for Sam – and us."
Doctors at St. Jude's pegged Sam's odds at 50/50, and survival would require aggressive treatment. That meant chemotherapy, radiation and two tumor resection surgeries. Sam would also undergo intensive immunotherapy and an experimental stem-cell transplant. Throughout their ordeal, Jennifer knew Sam's odds were getting better every day.
"I've never felt more at peace when walking through the doors. I also attribute that to God hearing prayers!" she says. "I think all the staff are special, because they all give the same sense of hope for all patients no matter the diagnosis."
For parents like the Routons, in their darkest hours, they find hope and peace in the most unlikely of places. Jennifer recounts how St. Jude's walked them through each step of Sam's treatment with complete transparency. It's the same transparency with which the hospital approaches its fundraising efforts.
"They tell you what they are spending their money on, and they follow through with it," she says. The money not only pays for treatments for children, it also pays for inventing new treatments, and the doctors and staff exist on the cutting edge of innovation. "They are also working to research and do what's best for their patients."
Today, Sam's in complete remission. He returns to St. Jude's every six months for a checkup. In almost four years of treatments and visits, the Routon family has never seen a hospital bill or borne the expense of travel for their son's treatment. And progress is being made. During Sam's 13 months of treatments, the survivability of his particular cancer improved from 50 percent to 75 percent.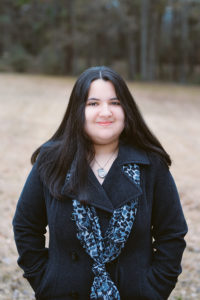 Hannah Grace
Catrina Jones isn't your typical mother, whose medical experience has been limited to doctoring scraped knees and making emergency room visits for broken arms. For Catrina, providing medical care to her daughter, Hannah Grace, is one of her primary missions in life.
Hannah Grace was born with a rare genetic condition called Tuberous Sclerosis Complex, or TSC. A multi-system disorder, individuals born with TSC can develop benign tumors on the brain and other vital organs. To say that Hannah Grace had grown up with doctors would be an understatement. But one of those doctors saved her life.
"When she was 10 years old, we went to her local pediatric neurologist here in town for a routine followup," Catrina says. "She had been on several seizure medicines over the years, and they were weening her off of one."
Between the doctor's office and the drive home, doctors determined something was wrong. Her labs came back abnormal, and Catrina arrived at the house to two messages from the neurologist and Hannah Grace's pediatrician. Both messages were the same. Something's wrong. Get her back immediately.
One month to the day after those first abnormal labs, Hannah Grace was in the back of an ambulance, en route to St. Jude's with a diagnosis: acute lymphoblastic leukemia.
"I've been dealing with doctors all of her life, so when she got that diagnosis, I knew that look," she says. "When we got to St. Jude's, I was overwhelmed. Just the sight of this facility and how huge it is, I was flabbergasted. I couldn't believe my child was here."
With care and compassion, St. Jude's staff helped walk Catrina and Hannah Grace through the intake process, introduced them to her care team, and began assessing what her needs would be – and what the needs of her family were. Moreover, Hannah Grace's case was particularly challenging in light of her TSC.
"When Hannah first got there, they didn't know how to treat her," Catrina says. "They'd never had a patient with Tumorous Sclerosis. She had tumors on her brains and kidneys."
Hannah Grace's treatment was delayed by two weeks. Her doctors had to develop a novel approach to treating her ALL, and then they had to present her case to the medical board, who would ultimately give the thumps up or down on treating her. They developed a coordinated plan between St. Jude's and Le Bonheur Children's Hospital, their sister organization.
"Luckily, they said yes," Catrina says. Two months later, her daughter was in remission. For her treatment at St. Jude's and Le Bonheur, the Jones family never received a bill. And they never will. Hannah Grace turned 16 in January.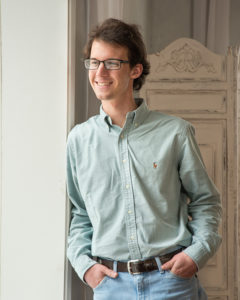 Dylan
Dylan McElduff was a junior in high school and a standout baseball player when he began to notice his game was off. Though he knew the cause, he didn't bother to tell his parents.
"He started experiencing double vision while playing baseball," Cindy says of those earliest days of symptoms. "He didn't tell me or my husband. Instead, he just wrote it off."
Within months, though, the double vision turned into headaches. By September, Dylan was in St. Francis for an MRI. Doctors found fluid on his brain, which increased intracranial pressure – the source of the headaches. But the fluid was due to a far more insidious cause. Dylan had a germinoma tumor on his brain.
"When we found out in Monroe that he had a brain cancer, I immediately started praying 'Please get him to St. Jude's. Please let them take him,'" Cindy says. "You hear how wonderful it is, and to get him there, in the best place possible to save his life, it was an answer to that prayer."
Thursday afternoon, Dylan was diagnosed. Friday morning, he was in Memphis. Dylan went from St. Francis to Le Bonheur, where doctors installed a shunt to alleviate the pressure – and much of the pain of the headaches. Then, it was across the road to St. Jude's for cancer treatment. For more than forty years, Le Bonheur and St. Jude's have been partners in the fight against juvenile cancer.
Patients in need of non-cancer treatments are shuttled to Le Bonheur, and after treatment at Le Bonheur, they're returned to St. Jude's. The facilities are even connected by a subterranean tunnel equipped with the infrastructure necessary to transport ambulatory patients, emergent case, and even children who are enclosed in isolation tents. As is the case with all St. Jude's patients, parents are never presented with a bill from Le Bonheur for the treatment their children receive there.
She notes St. Jude's staff strives to provide patients and their families excellent medical and psychological care, but they don't stop there. They do everything in their power to make sure the kids live as normal a life as possible while their there.
Cindy and Dylan spent time with doctors, who assured them his condition was treatable. Though rare, germinomas are treatable with chemotherapy and radiation, and the cancer responds well to those treatments. Roughly 90 percent of germinoma diagnoses end in full remission. Two years later, Dylan is working at UPS and looking forward to a full life. Cindy puts it another way.
"They saved my son's life, and they save others," Cindy says.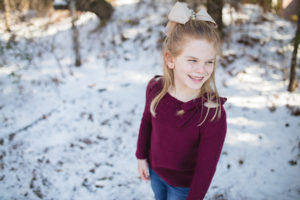 Ava
Jennifer Leoty was pregnant and doing housework one morning when she overheard a story on The Today Show about how social media had saved a child's life. While perusing pictures of a friend's children, a user noticed a white reflection in one of the kids' eyes. That child was later diagnosed with retinoblastoma, a cancer that affects the nerves and tissues in the eyes.
The Today Show and retinoblastoma were the farthest things from her mind a year later, when Ava was six months old and cooing for the camera, Jennifer recalls.
"I didn't think anything of the story," she says. "But when Ava was six months old, I was taking pictures of her in our house, in low light, and I saw those white reflects."
She immediately took her daughter to the pediatrician for a referral to Haik Humble, where Dr. Haik confirmed the diagnosis. Ava had bilateral retinoblastoma – tumors on both eyes. Dr. Haik told Jennifer that St. Jude's wanted to see Ava immediately. Within a week of noticing the white haze in her daughter's eyes, Jennifer walked through the doors of St. Jude's.
"We didn't get there until about 1 a.m.," she says. "We were overwhelmed, but we were brought in and got to talk to some of the overnight doctors who evaluated her."
Case workers also provided Jennifer with keys to their room on campus, a list of appointments the next morning with oncologists and eye doctors and social workers, and they assured her they would do everything they could for Ava.
With retinoblastoma, tumors are typically situated in one eye or the other. In such cases, doctors simply remove the eye, leaving the patient with a single, but healthy and fully-functioning eye. For bilateral retinoblastoma, the treatment isn't nearly that simple. Doctors must treat the tumors and save both eyes, lest they lose both and render the patient blind.
Ava  underwent a diagnostic exam under general anesthesia, conducted by an oncologist and an ophthalmologist. Together, they presented Jennifer with Ava's treatment protocol. They would do chemotherapy every three weeks, coupled with an exam – always under general anesthesia – during which they would also administer chryotherapy to help freeze any new growths they discovered.
On her first birthday, Ava received her final chemotherapy treatment. Further exams followed every six to eight weeks for several years. As time passed, the time between exams also increased.
"It's a relief to know when I have a question, I can immediately call her doctor – and he'll answer," Jennifer says. Today, Ava visits St. Jude's once a year, and her medical team is always on vigilant standby.
If ever Ava's cancer returns, no matter how old she is, for the rest of her life, she will return to St. Jude's for treatment.
And she'll never, ever receive a bill.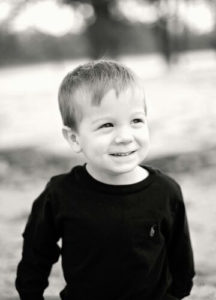 Cason
On the morning of July 4, 2015, Caitlin Crow awoke as she did every morning. She went to the crib, where her son, Cason, was sleeping. Just 18 months old, Cason had had a big night the evening before, with a barbecue and fireworks, the typical southern Independence Day.
"He woke up and his left eye was swollen and kind of sluggish and droopy," she says. "He had several mosquito bites from the 4th of July, but we took him to the doctor."
His pediatrician wasn't sure what was happening with the infant, but he knew he needed another set of eyes to provide an assessment. They called in Haik Humble, where Dr. Gregorian immediately realized something wasn't right. A doctor in Shreveport diagnosed Cason with Horner's Syndrome and ordered an MRI. That's when radiologists found it: a tumor in his neck, wrapped around a bundle of nerves.
Two days later, the family was walking into St. Jude's.
"I looked at my husband and said, 'We're going to be okay,'" Caitlin recalls. "It was a sense of relief. It was nothing short of amazing, how well we were treated and the sense of urgency with them, as they tried to figure out what was going on."
They still didn't know what the tumor was, but doctors assured her they'd do everything they could to first find out what was wrong and then to find a solution. Even though they were still largely in the dark, Caitlin had hope.
"At that time, we didn't know what it was," she says. "We knew it was a tumor, but we still had to figure out what kind."
After a biopsy, doctors determined the tumor was a neuroblastoma. A second surgery to remove the tumor was not fully successful. The disease was wrapped around Cason's carotid artery, which meant a complete excision was impossible. Chemotherapy followed. All the while, Caitlin's and Cason's needs were met.
"When people help and donate, they're giving a family the ability to stay together," she says. "They don't have to worry about a bill. They don't have to worry about money. Parents can focus on their child and helping make them better."
Though he was diagnosed with a Stage 2B tumor, doctors gave Cason a good prognosis.  After chemo and surgery, the tumor was less than half its size. More importantly, it showed no signs of growth. That was March of 2016. Today, he and his mother make trips to St. Jude's every four months to make sure the tumor doesn't recur. Eventually, they'll move to six months, then a year. Caitlin not only encourages others to contribute, she supports the hospital herself.
"We will give every last penny we have to this place," she says.
Tickets are now available for the 2018 Monroe St. Jude Dream Home Giveaway located in Monroe's beautiful Bayou Trace subdivision. Tickets are $100 each and are available now at stjude.org/give/dream-home/monroe.html, as well as Regions Bank and D&D Cleaners. Open house tours will begin on March 17th. The winning ticket will be drawn on April 22nd.