Golfing for a Great Cause
By Melanie Moffett
May 8th, 2017
0 Comments
292 Views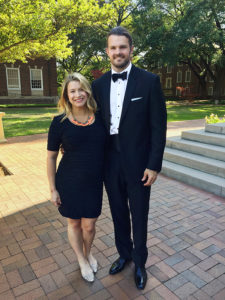 ST. FRANCIS FOUNDATION 6TH ANNUAL GOLF CLASSIC PRESENTED BY WHAT YOU GIVE WILL GROW FOUNDATION – INSPIRED BY THOMAS MORSTEAD
Article By Maré Brennan & Photography by Martin G Meyers
If golfing for a great cause sounds like a winner, then get your team together for next year's event because this year's tournament on Friday, April 28th at Bayou Desiard Country Club is sold out.  For the third year in a row, the St. Francis Foundation Annual Golf Classic is once again presented by What You Give Will Grow, the foundation started by New Orleans Saints punter Thomas Morstead and his wife, Lauren. The night prior to the tournament, a reception for sponsors, teams and donors is held at the home of Dr. and Mrs. Rolf Morstead which includes cocktails, hors d'oeuvres, live music and a silent auction. Proceeds from the reception and Golf Classic will go toward the St. Francis Foundation's mission to care for those most in a need with a focus on strengthening the overall health and wellness of those throughout our region. This year St. Francis Foundation donations will benefit the women and children the hospital serves.
According to Thomas Morstead, the mission of the foundation he and his wife founded dovetails completely with that of the St. Francis Foundation, making the foundations' pairing a win-win for the community and the women and children who will benefit from the technology and services that will be funded by this and future fundraisers. "We are proud to continue the tradition of raising funds for the St. Francis Foundation," says the pro player with the big heart to serve. "It's a privilege to be able to give back."
Morstead's involvement with St. Francis Foundation through his own What You Give Will Grow foundation has given an even bigger presence to the annual tournament. The mission of Morstead's foundation is to improve the lives of those in need through support of local causes and organizations in the New Orleans and Gulf South communities, with a strong focus on children's charities and cancer initiatives. The Morsteads hope to inspire others to join them in spreading a spirit of giving, because giving back at any level makes a difference!
While Morstead is in town, he plans to speak to area junior high and high school students, emphasizing the need to make academics, not extra-curricular commitments a priority. His own story began as a scholar, winning an academic scholarship to Southern Methodist University, where he walked on as a kicker for their football team. Drafted to the NFL by the New Orleans Saints, Morstead has continued to pursue excellence on and off the field through his charitable works for women and children.
Generous sponsorships and donations to St. Francis Foundation will allow students in areas of need to access quality healthcare options at a school-based health clinic, which is located at Carroll Junior High School. Funds raised will also go toward purchasing a 3-D Tomography mammogram machine made by Hologic for the Kitty DeGree Breast Health Center and to maintaining the highest level of care given at St. Francis' Level III OB/Labor and Delivery and Level III Neonatal Intensive Care Unit (NICU), along with supporting the pediatric partnership with Our Lady of the Lake Children's Hospital (OLOLCH). Every week, specialists in neonatology and pediatrics from OLOLCH take up residency at St. Francis in Monroe to care for our area's patients in need. In addition, a dedicated transport team for pediatric patients and their parents allows for the kind of care you'd expect when the tiniest patients need to travel to Baton Rouge for even more intensive treatment at OLOLCH.
President of the St. Francis Foundation, Aimee Kane, says, "Our goal is to ensure that the mission of the hospital is carried out, whether it's the latest diagnostic and advanced technology, maintaining our designation as a Level III NICU and Level III OB/L&D, or assisting children through services at our school-based clinic at Carroll Junior High. Decreased reimbursements continue to be an uphill battle for us.  That's where the Foundation steps in to help St. Francis Medical Center continue to prove a higher level of care to our community. It's not about making money. It's about caring for people."
DR. AMBER SHEMWELL, a practicing obstetrician and gynecologist, has been at The Woman's Clinic since July 2008 and proudly serves on the St. Francis Foundation Board of Directors. "The Foundation is important because we've made services for women and children our main fundraising priority. I'm passionate about the 3-D mammography because it directly impacts my job and my patients as it enables patients to be diagnosed on imaging very early, before cancer is palpable. In addition, this new technology will reduce the need for unnecessary biopsies and decrease the scare factor that comes from having to do additional tests." Shemwell adds that her work with the Foundation is deeply connected with her job and is a way to help and give back to the community.
HOW YOUR DONATIONS TO ST. FRANCIS FOUNDATION BENEFIT
OUR COMMUNITIES:
Improved Breast Health with 3D Digital Breast Tomosynthesis
Radiologist Dr. John Davis describes the new technology of digital breast tomosynthesis as a game changer. "We have digital mammography now, but this technology allows us to evaluate dense breasts better by taking multiple digital 'slices' or pictures then synthesizing them to give us better cancer detection rates." Because dense breasts have a slightly higher rate of breast cancer, improving detection with a better visual will result in fewer call backs, less anxiety for patients and a decrease in costs.  This new innovation in digital mammography will give radiologist a new tool in the fight against breast cancer, allowing them to see micro-calcifications and giving patients very early detection. In his 19 years as a radiologist at St. Francis, Davis says technology has changed rapidly and credits the St. Francis Foundation for helping to keep state of the art diagnostic technology a priority for our area's healthcare. The new 3-D Tomography will be located at the St. Francis Community Health Center on Tower Drive in Monroe.
Pam Bratton, APRN, BSN – manager of the Kitty Degree Breast Health Center. The addition of 3-D Tomography mammograms at the Kitty Degree Breast Health Center should help relieve fears when a patient's breast tissue is dense, especially. "We try to reach out to the community through our walk-in services for mammograms, bringing the barriers down so that we get earlier detection," says Bratton.
Both Bratton and Davis stress the importance of the St. Francis Foundation and thank people in our community for supporting the hospital and its vital services. "Technology that is great is very expensive," explains Davis. "We take care of a lot of people in our region, many who can't pay and we need to stay at the forefront of technology. The St. Francis Foundation steps in and bridges the gap."
HELPING THE TINIEST FIGHTERS THROUGH INNOVATIONS IN THE NICU
A tour of the St. Francis Level III NICU on any given day is like a nail-biting, gut-wrenching, fourth quarter goal line stand. The team of dedicated NICU skilled nurses, five neonatal nurse practitioners, respiratory therapists, case managers, lactation consultants along with physical and occupational therapists and an in-house pediatric pharmacy, are led by formidable captains, neonatologists Dr. Marc de Soler and Dr. Carmen Payne, who are well trained in the art of keeping babies the size of your hand alive and helping them get on their feet after a difficult entry into the world. The NICU opened in 1978 under the leadership of Dr. Terry King, Pediatric Cardiologist. Dr. de Soler has been with St. Francis NICU since 1989, building it's capacity from only 4 beds to its present size of 35 beds.
As a Level III NICU, St. Francis Medical Center is designated to do everything for these tiny patients, including neurosurgery in house. The NICU can accommodate up to 35 very sick babies, and the average number of babies tends to stay around 25 babies. As the only Level III NICU in northeast Louisiana, patients are transported in from University Health, Glenwood, Ruston, Bastrop and as far as Minden, Natchez, MS and Arkansas. Transportation of critically ill newborns is expensive and dangerous as the slightest bump or disruption can result in undue stress on such a delicate and sensitive patient. The isolets used to transport these babies can cost upwards of $100,000. Luckily, St. Francis is affiliated with Baton Rouge's Our Lady of the Lake Children's Hospital who maintains a Level IV transport team to transfer extremely sick babies to their facility.
OUR COMMUNITY
The St. Francis NICU underwent a renovation around seven years ago, but the desire to improve the level of care never wavers. Babies are separated on the NICU hall according to their level of needs with the sickest of the babies on the left side of the unit. Dr. Marc de Soler explains in a perfect world he would build a big NICU with private rooms for the sickest of babies. "When a baby this tiny is really sick, anything can rattle them as they are extremely sensitive to stimulation. A tiny baby needs lots of space and anything that can trigger a change in their blood pressure can potentially cause a brain bleed," he explains. Pointing to what he calls the "Cadillac of isolets," de Soler says the technology is essential to keeping very sick babies in optimum surroundings. These $40-50,000 machines are literally lifesavers, providing humidified air, open from the top for ease of access to the patient and help minimize over stimulation from noise.
The golf tournament and fundraiser for St. Francis Foundation will help fund new technology and improvements for the St. Francis NICU, including new bilirubin lights and transcutaneous CO2 monitoring. Dr. de Soler explains that unchecked high levels of bilirubin can go to a newborn's brain and create irreversible damage, such as learning and hearing defects. With even the tiniest of babies, the treatment can be as simple as time spent under bililights or atop biliblankets, which cost around $5,000 each. "Lights are the medicine," says de Soler, "and the new LED lights are the best." What NICU doctors do not want to do is to have to replace a preemie's blood completely, which is an aggressive treatment to prevent brain damage from occurring from severe jaundice. Premature, sick babies often have multiple kinds of monitoring systems, as their caregivers need to have a way to monitor oxygenation of their blood. Transcutaneous CO2 monitoring eliminates the need for arterial lines into these tiny babies, which can lead to an increased chance for infection. This innovative and ultimately life and cost saving technology initially costs around $12-13,000 for each device. Says Dr. de Soler, "You can only put arterial lines in so many places on these babies. We welcome any technology that is less invasive and creates less chance for infection. We need at least five transcutaneous CO2 monitors for the NICU, which will be on our wish-list for the St. Francis Foundation next year."
"The Foundation supports the work we do here in the NICU 100 percent," says de Soler. "Having a Level III NICU in our community is critical. Sick babies need to be treated on the spot, right away. Having to transfer a very sick baby from another facility puts the baby at an increased risk with a negative impact on mortality rates. The movement and noise during transfer can put a baby at risk for bleeds and complications. If we didn't have the NICU here we would have to transport babies over 100 miles away, resulting in delay of care with the further result of less positive outcomes." The doctor adds that premature, sick babies create social, economic and emotional hardships on families and in turn our communities. When babies are transported out of the community, the toll on the family is immeasurable, as families are unable to bond with their baby, especially if the family is economically disadvantaged and cannot travel or afford to leave work to be with their baby. Giving to the St. Francis Foundation has a direct impact for parents, babies and our community, says de Soler. The average cost per day in the NICU is $5,000, and medicine for babies is so expensive, he adds. "It is important for these very sick babies to be with their families and having a Level III NICU in our community makes that possible."
Jodi Phillips, RN – NICU Manager, reiterates that "the smaller the baby, the bigger the equipment." And with that comes more expensive equipment. Each Giraffe incubator costs around $40,000. During the tour she points to incubators which have served the NICU for over 20 years, some of which were donated by grateful parents whose babies made their journey through the NICU. "Most last a really long time. We repair what we can, but some get to the point that we can't find parts for them anymore," she adds. "We get a lot of help from the community with donations from great partners like Threads of Love, which supply us with things like handmade baby positioners and gel pillow covers or from individuals like Cathy Cameron, who has made and donated over 21 baby blankets."
With a tiny pink bunny-eared knit cap warming her little head, Nora Greene, the tiny daughter of Angel and Adam Greene, is set to make the journey home the day we visited the NICU. Weighing only 1 pound 7 ounces at birth, Nora made her entrance at 27 weeks and has spent the last two months with the team at St. Francis NICU. A minuscule but mighty fighter, de Soler says that although she could fit in the palm of his hand, she was one of the lucky ones who arrived very mature. "She was a peanut," he exclaims with wonder and acknowledgement of the miracles that happen every day in the St. Francis NICU.
The Shirley triplets, daughters of Megan and John Shirley of Ruston, are celebrating six months since their birth at St. Francis. Born at 28 weeks, the triplets, Evie Rose, Olivia Diane and Henley Marie, spent two months at the Level III NICU. Because of the higher risk for triplets, says Megan, "We knew our babies had to be born at St. Francis, and that we were in the right place. Overall it is such an excellent facility. The NICU team saved my Emmy Rose's life twice." Adds John, "I don't think a parent ever wants to be in the NICU, but they take you in like you're a part of their family. You can see how much they care about all the babies. It's a tight knit group in the NICU. I just think we are blessed to have this facility and such good doctors and nurses so close to home." Adds the triplets' mom, "I can't wait to go back and visit with the nurses. We are very thankful for St. Francis, their NICU team and the power of prayer."
BRINGING HEALTHCARE TO MONROE CITY SCHOOLS
Brooke Brown-Gix is a fierce advocate for children at economic risk through her role as the manager for the St. Francis Clinic located at Carroll Junior High School. "The Foundation is a lifesaver, providing help with staffing the clinic with a collaborating physician, a nurse practitioner, a licensed clinical social worker and two Registered Nurses. Oftentimes, the St. Francis Clinic is the only healthcare option these children have. We provide just about everything from stitches to medications so they don't have to leave school. Teachers love us because we've proven to be able to decrease in absenteeism and truancy because of our healthier student body," says Brown-Gix.  Barriers to healthcare for children served can include transportation issues, unconventional family dynamics and economics. The Carroll school-based clinic provides immunizations, physicals which are complete, comprehensive and screen for hearing and vision issues, heart murmurs, a mental assessment and will include referrals if the nurse practitioners wants to follow up on something discovered in the physical.
Brown-Gix adds, "Thomas Morstead's Foundation is like us, focused on helping children. He believes and understands in the importance of building up our communities. Through our school-based clinic we have discovered instances of diabetes, sickle cell trait, heart murmurs and undiagnosed asthma in our student population over the past ten years." The St. Francis Clinic within Carroll Junior High serves all of Monroe City Schools' children. The goal of the clinic is not to take the place of one's primary care physician, but to serve as an adjunct.
One of the goals of the St. Francis Foundation is to bring the "The Spirit of Healing," a Mobile Health Unit into service as an outreach of the school-based clinic to offer physicals, health screenings and immunizations throughout the Monroe City School system.
"One of the most rewarding aspects of the school-based clinic," says Brown-Gix, "is when students come back and tell us how much we've helped them achieve their goals." The clinic is a safe place for kids to learn about how to take care of themselves as well. "Our hands are full, but we want to share the gift of health and well-being with these children." The mental health piece of the school-based health center becomes a part of their education. Through the "Student Champions" program, the clinic is able to feed proper information to students, emphasizing the need to take personal responsibility for your body and your health. Says Brown-Gix, "The impact stays with these children for the rest of their lives. Our ultimate goal is to keep kids in school." She adds that a secondary goal is to teach educators and coaches to look for cues like sleepiness or disruptive behaviors and have the student be seen at the clinic to help ward off any potential long range problems that could impede a student's progress.
She adds that whenever Thomas Morstead is in town, his visits to schools are invaluable. "The kids really listen to what Thomas has to say about staying in school, getting your education and staying on track for success. Staying healthy is a big part of that."
HOW CAN YOU GIVE TO ST. FRANCIS FOUNDATION
Foundation president Aimee Kane notes that those who wish to give to the St. Francis Foundation can do so online at stfran.com and click through to Foundation/Support. Through the 'Honor Your Caregiver' program, you can pay tribute with a donation in honor of those who have cared for you or your loved one. Says Kane, "No donation is too small, and there are many ways to help St. Francis carry out its mission, including buying bricks at the new Community Health Center's Franciscan Path of Peace. The foundation is in its sixth year and was formulated to fulfill the mission of St. Francis Medical Center — caring for those most in need by providing a higher level of care and filling any gaps in services within our community.