Hands at Work
By Melanie Moffett
Aug 28th, 2015
0 Comments
762 Views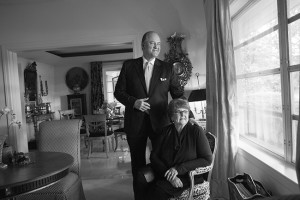 THIRTY-SIX YEARS IN, TOM AND DEANIE BAKER REVEAL THE SECRETS OF BUSINESS, LIFE AND HAPPINESS IN A DUELING PAIR OF ICONIC CAREERS IN THE TWIN CITIES.
article by Michael Devault | photography by Brad Arender
Any given Saturday when there's an LSU home game, parents in northern Monroe know they can get the best courier service in the state. A birthday card from Grandma or a check from Dad can find its way from Monroe to Baton Rouge, and upon arrival there, the wayward child will receive their package, right before the Tigers kick off. But this vital service isn't provided by the postal service or UPS. It's the work of Tom and Deanie Baker, and it's evolved over more than two decades of home-game tailgating.
"If I told you to meet us at LSU, everybody knows where we'll be," said Tom Baker, owner of The Toggery in Monroe.
"We've become a meeting place for families and friends." A convenient place to hook up with traveling relatives doesn't quite do the Baker tailgate justice. Fixture may be more apropos. They always set up the Baker family RV on the same spot, put out the purple-and-gold flags and line chairs around the perimeter. It's a remarkable setup by anyone's standards, but then again, this is Deanie and Tom, and they know how to entertain. Deanie enjoys the break from daily life at the real estate firm she's built over the last 40 years. It's her time to unwind, be with friends and do what comes naturally, to serve. When and how the Baker courier service began, she's unsure.
"So many of the children are freshmen, and their parents know the Baker motor home leaves at 1:00 on Friday," Deanie says. Over the years, they've transported money, coats, textbooks and a myriad of other items to Baton Rouge. "They'll knock on the door, and they'll ask, 'Miss Deanie, did Mama send this?'"
She'll deliver the care package and return to cooking for their guests. As always, guests is a nebulous term for pretty much everyone who turns up at the Baker place near Death Valley. If you're from Monroe, at an LSU game, chances are you've been by the Baker's place once or twice. Deanie estimates she cooks for between 150-300 people for every home game. She keeps a notebook on the RV, a culinary diary of sorts, in which she records the items she prepares and serves. "I can look back and tell you what I fixed for a game, what I bought, and what I needed more of," she says. The Bakers have become such a fixture at LSU games they're almost as familiar as the statue of Mike itself.
"We've missed one game, it was a no name game, and people noticed," Tom says. "People joked they didn't know where to go or what to do."
Ever since, they don't miss games. It's interesting, especially considering that neither Tom nor Deanie attended LSU. A native of Arkansas, Tom attended NLU, graduating in 1971 with a degree in business. Deanie was a Louisiana Tech Bulldog, earning her degree in physical education before attending NLU for a business degree. If there's any disagreement that arises between the two after 36 years of marriage, it's their level of devotion to LSU.
"We aren't dyed in the wool LSU fans," Tom says, which Deanie corrects, "I am." He nods, adding, "Well, we don't bleed purple and gold."
"I do," she says, capping a moment of levity between two individuals who've spent a lifetime supporting one another in all of their endeavors. Those endeavors include traveling the world, devoting time to charity and church, entertaining their extensive network of family and friends, and somehow finding time along the way to build separate careers in retail and real estate. They've lived much of their lives serving others, either professionally or personally. Even the LSU tradition began when Deanie's son, Guy Campbell, was a freshman at LSU. They began going for him. Everything else just sort of happened.
Among the couple's numerous activities, and there are many dozens of them, over the years Tom has taken part in the Miss Louisiana Pageant, and he served in the Monroe Jaycees. Deanie's efforts have most recently been to education, supporting activities and scholarships at ULM. The couple's signature cause of late has been ULM's Night of Champions. The event, which the Bakers host, raises money to provide support for athletes who are on campus during the summers, when athletic scholarships aren't necessarily available to cover costs of attendance or living.
"They can stay at school, continue their studies and have that support structure," Deanie says. "I think that's very important for the athletes, to have that summer program."
The program is successful, but that's not always the case, a point that's not lost on Tom, who was one of the key backers of the community effort to preserve the Oxford Natatorium at ULM. "I did all I could to support the local organization, including the YMCA, to try and save it," Tom says. But those efforts and the efforts of hundreds of others, failed. Ultimately, the Nat closed, leaving the Twin Cities without a publicly accessible indoor pool. He believes the community lost "a real gem" when the facility closed, and he's heard from people who relocate to Monroe how they're surprised the community lacks the facility. He's not giving up for the future of indoor watersports, though. "Hopefully, down the road, something will come along."
Education plays a central role in the couple's other charitable activities, too. Tom says they give to numerous schools, including River Oaks, St. Frederick High and Jesus the Good Shepherd, where they have grandchildren. In fact, Deanie is one of 10 "celebrity competitors" in the JGS Iron Chef contest, a fundraising effort for the school. A cooking competition is an interesting activity for a woman who's biggest claim to fame is building a thriving real estate brokerage.
Deanie started in real estate in 1976, about the same time Tom was finding his retailing legs at The Toggery, which he purchased in 1980 from the founders, the Pickens family. Working together, they grew their careers and success followed. But a recession in the 1980s threatened to derail their burgeoning businesses. High interest rates, unemployment and a shaky economic outlook meant people didn't have the credit to purchase homes. Those who did have good credit still faced interest rates nearing 20 percent. It was a hard time to sell a home and an even harder time to buy one. Deanie found a niche.
"I wanted to deal with people who had money," she says with a laugh. The joke aside, Deanie was onto something. A key part of the American dream, home ownership was the path to wealth and financial security. For decades, as the post-War generation paid off their mortgages, the values of their homes grew. By the 1980s, many individuals found themselves wanting a larger home or a smaller home, and their wealth was tied up in the property in which they lived. With a paid off home, an older couple could qualify for substantially better mortgage rates. But what about that other home, the one they needed to sell? Deanie had a plan, and it started with the older generation of homeowners looking to upgrade.
"They owed nothing on their homes," Deanie says. "So I would get them to owner-finance it at 10-12 percent. That produced for them a monthly income."
A new homeowner was born, and in the process Deanie's firm, DB Realty, became the go-to firm for individuals seeking a second home. Repeat business over the years has been a substantial hallmark of DB Realty's success. Another effect of that success developed, because people rarely downgrade a home. So as the fortunes of her clientele have risen, so has the profile of the firm Deanie started. Very quickly, it became a boutique firm, specializing in higher end homes. That's not to say the company doesn't handle homes of all sizes and values. Deanie is quick to point out she's got a knack for finding the perfect house for the person.
"I like to negotiate," she says, a brief moment of bragging she allows herself before explaining. "I like to be able to show a person why it's a good deal. I do a lot of homework, and I don't go into a deal without knowing the ins and outs of it. What I present to them is in their best interests."
While Deanie's fortunes were rising, so were Tom's. He had been working in men's wear since college, first for the Hanelines and then for himself as the second owner of The Toggery, a store with its own history. The Pickens family came to Monroe to support operations at Selman Field, providing the young Army Air Corps officers with uniforms. After the war, they knew the men would return to jobs. Those men needed suits, so they stuck around. By the early 1980s, though, Tom noticed something in the customer base. It was shrinking. Since 1946, the owners of The Toggery had served the same customers faithfully, hardly a fault in a retail environment that often seems callow in its focus on what's next week's big thing. As the returning airmen entered adulthood and began to age, so too did The Toggery. In his early 20s and now an owner, Tom brought new ideas and new energy. He also infused the existing staff with younger talent, which helped attract new customers without offending older, loyal clients. The gambit worked.
But the 1980s hadn't been easy. The oil collapse of the early 1980s was just the opening act for a long, slow recession. High interest rates meant not only fewer home sales, but it also meant significantly less consumer credit. On the ropes, The Toggery had to make a move. Since its founding, it had been an anchor for downtown Monroe and, later, a smaller shop in a strip center on North 18th Street. Opportunity came knocking when a ladies' shop on 18th closed and the owner approached Tom about purchasing her store. He leapt at the opportunity.
The Toggery relocated, with DB Realty taking up a suite of offices in the back. As the store grew, so too did the firm, underscoring the symbiosis Tom and Deanie have struck in their marriage. In 1986, they opened Her Toggery to serve the wives, who so often shopped for their husbands. Later, when they needed more space for the store and for DB Realty, the real estate company relocated to a state-of-the-art office space less than a block away. The gamble paid off.
"I'm starting my 40th year this year," says Tom of The Toggery.
Over the years together, Tom and Deanie Baker have done more than built successful businesses and given time and money to charities. Their efforts have helped shape a community into its present form. "We've worked hard, but we've enjoyed life in our 36 years together," Tom says of the years gone by. They don't show any signs of slowing down, either.
Tom and Deanie both note the new crop of Monroe transplants, individuals and families coming to town for a career at CenturyLink or in the healthcare field. Young professionals, drawn by the allure and the promise a of good job in a good place to raise a family, show up and begin to look for community. Both Bakers help in efforts to integrate the newcomers to the city.
"I sell two things, and the first one's not clothes. I sell a relationship," says Tom, of his work at The Toggery. He's made dozens of friends through the shop, and even after leaving town, many of those men and women return to shop or just to visit with old friends. Deanie and her realtors go above and beyond to make sure newcomers know what they're doing and where they're going when they come to Monroe. That kind of reaching out is important, she says, because people need guidance when they first arrive. Monroe's willingness to embrace and support newcomers is one of the traits Deanie believes keeps people here for years.
"We're a one-on-one with people here, so that if a person comes into town, we make them feel welcome, and they remember our generosity," she says of Monroe. "You don't have many people who will take them to a utility company or the cable company, the places they have no idea about when they first get here."
Tom points out, too, that Monroe has much to offer, with "big town" amenities in a small town space. "If we go through two stoplights, we've gone through too many to get somewhere," he says. "We're within 10 minutes of anything in Monroe or West Monroe."
Whatever the future holds for Tom and Deanie Baker, rest assured knowing that they're on top of trends in fashion and real estate. In fact, chances are they're leading the charge, no matter the front, shirtsleeves up and hands at work.