Harp Strings: Jewelry with a Past
By Admin
Aug 29th, 2016
0 Comments
525 Views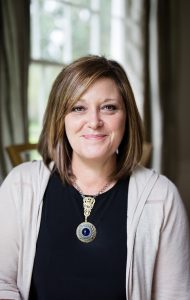 article by Maré Brennan | photography by Martin G Meyers
The stories behind collectible objects, such as antique buttons, drive Lisa Harp to create lasting pieces of Harp Strings jewelry that celebrate each button's uniqueness. Lisa and her husband of thirty-one years, James, have recently returned to Monroe after a move that found them in the middle of nowhere among Nebraska's cornfields in the quaint little town of Kearney. When I caught up with this self-taught jewelry entrepreneur in her northside Monroe home, her trusty sidekick and lovable companion, Boomer the rat terrier, was eager to greet me.
Today, the couple's home is filled with antiquities and treasures ranging from her husband's extensive Native American arrowhead collection to antique books that Lisa would find at JunkStock in Omaha, NE, billed as "Three Days of Love, Peace and Junk," Lisa points out that most of the antique books that line her bookshelves were found there for only $2 to $4. While in Nebraska, Lisa fell in love with antique doorknobs which featured elaborate scrollwork and metalworking. Her Hooks of Art were made specifically using these antique doorknobs which could be mounted on the wall as a unique hook for jewelry or ties or hanging robes or towels on. This enterprise led to her chance meeting with the Grand Dame of button collecting, Mrs. B., a 74-year-old button connoisseur, who began her personal collection of buttons at the tender age of seven. "Mrs. B's life's mission was to rescue buttons out of long forgotten jars," says Lisa. "She taught me everything I know about collecting antique buttons."
Lisa peruses a display of her antique perfume button rings which are artfully placed within a vintage leather piece of luggage. She coyly asks, "Do you know what a perfume button is?" Fascinated, I want to know. These small round, velvety button rings beckon to be touched and admired. From the mid to the late 1800s perfume buttons were a "thing." Perfumes of that era were oil based and would readily stain fabrics, so the Victorians devised pierced metal buttons with black velvet inserts that perfume could be dabbed upon for a lasting scent that would not stain a delicate white cuff. The Victorians loved buttons in general and would place over 100 small buttons on an outfit. When a husband or boyfriend would go off to war, the wife or girlfriend would snip off one of the perfume buttons to give to their beloved. Many a soldier in the Civil War was found either holding his lover's perfume button or wearing the button beneath his lapel. And those who survived the war often credited the scent from the perfume button as their reason for continuing to fight for life.
When England's Queen Victoria went into mourning for 40 years after the death of her husband,  Albert, black glass mourning buttons became fashionable. The queen's black outfits required buttons which were often made of jet, a black petrified wood. With these classic buttons, Lisa creates chic necklaces that bring joy to those who wear them.
Picture buttons in the Victorian era are yet another type of button with a history that Lisa longs to share with her clients and those who simply love history. These buttons might depict any number of interests the wearer had, for instance a button might show a scene from A Midsummer Night's Dream for a theatre lover or show a woman gathering flowers if the wearer had a love of gardening. A Harp Strings button ring with a deer on it would make the perfect gift for someone who loves the hunt or to celebrate the collection of their first deer.
Harp Strings Lagniappe Collection of button necklaces features delicate little Victorian bails as decorative pieces from which hang the antique buttons. Chains are sourced from a company in the United States that bought antique chain molds. Chains are thicker, more solidly made and contribute to the vintage feeling of the jewelry. The collection is called Lagniappe because the bails provide the "little something extra" for the necklaces.
Fun fact: Did you know that underwear buttons have two holes and are generally made of cow bone?
"I'll go the Big Book of Buttons when I find a button that intrigues me just to find out more about it," says Lisa. For example, Lisa opens a display case filled with dragon buttons which are stamped metal overlaid atop wooden backs which are then Japanned to seal everything together. Another example would be a French enameled button with gold leaf, which was dated to the 1880s thanks to the pristine condition of its shank.
Today, Lisa sets these incredible buttons into jewelry that is open backed to show the shank of the button and any identifying marks. Lisa leaves the shanks intact, because the shanks are a key to identifying the age of the button and many collectors prefer to keep the buttons whole and undamaged. She picks up an intricately designed button and turns it over to reveal that it is marked "Paris" on the back. While the buttons may be from Europe, Lisa tries to source her rings, necklaces and bracelets from the United States. The chains are made from dead stock, materials made for jewelry, but never used. The rings, says Lisa, are made in Israel using a Victorian mold.
Growing up in an Air Force family, Lisa, the youngest of four siblings, in her youth lived off and on in England and the United States, a life that fueled her dad's love of antiques, especially collecting clocks and pipes. For the past 25 years, Lisa and her father have operated a booth filled with English antiques at the Rialto Antique Mall on West Monroe's Antique Alley. "My 85-year-old dad makes his regular weekly pilgrimage over from Shreveport to tend to our booth, and the ladies that run the Rialto are nothing short of our angels," smiles Lisa as she relays how the antique business has been such a bonding experience for her and her dad. Because of her father's connections with English antique dealers, every month pickers will scour the European countryside for button "gold" and send boxes full of treasures to north Louisiana. When those travels send their sources to Italy the trove includes unique religious medals. One of Harp Strings sources in Italy is a History professor who sends vintage Chanel buttons from the 1950s to 1990, unearthed from an Italian button factory.
Fun fact: In Europe, many people use Chanel buttons as replacement buttons to make an ordinary suit an instant classic.
Harp Strings is a family business with Lisa's husband, James, taking on the challenge of making stands and display cases for Lisa's handmade jewelry. Every bit as charming as the necklaces and rings they hold, the cases were created out of antique radio cabinets. "James would take the guts out and give the parts away at JunkStock," says Lisa.
The newest venture for Harp Strings jewelry includes a new line featuring Beatles paraphernalia. "I met a lady, named Jude, in a beauty shop and she told me about her involvement with the Beatles Fan Club. So now I am making Beatles-inspired jewelry for the Beatles at the Ridge Festival in Walnut, AR in September," explains Lisa. "This little town is kept alive by the memory of the night in 1964 when the Beatles stopped to change planes on the town's little airstrip, and all the teens of the town came out to greet the fans."
Lisa frequently attends Dallas Market to sell her Harp Strings jewelry, which has been picked up by boutiques in California, Texas, Tennessee, among others. Rodeo Boutique in Ruston carries Lisa's line of Coordinates Bracelets, which give the coordinates for football stadiums. An Etsy site is devoted to her hand-stamped jewelry, which often features latitudes for specific places, like the spot in the park where a couple gets engaged or the first base of your high school baseball diamond. Harp Strings button jewelry can be found online at  http://harpstringscreations.com. Clients are welcome to call for an appointment or view pieces of Harp Strings Jewelry at her home in Monroe or online. Got an antique or sentimental button you'd like turned into a piece of wearable art? Lisa can custom create a piece just for you, using your own personally collected button.
Says Lisa of her button obsession, "I'm like the girl on 'Rehab Addict' when it comes to buttons. She is my soulmate. This work is not about the money, but it is about saving the soul of the buttons. like she is about preserving older houses." Lisa is particular about wanting to be the one who creates each piece of jewelry by hand. "I don't want anyone else touching my buttons. Is that terrible? It's really the truth," she laughs. "I know this sounds nerdy, but I really want to rescue these buttons from obscurity."
"Buttons are so beautiful," Lisa gushes. And so is Harp Strings jewelry.
Save