He Said She Said
By Melanie Moffett
Sep 25th, 2014
0 Comments
1094 Views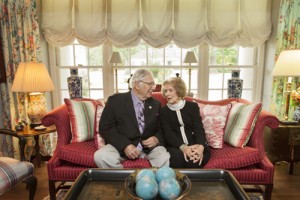 Bayou Icons Jean and Fred Huenefeld share their love of service, community, patriotism and each other
article by Michael DeVault | photo by Brad Arender
She was just sixteen when a tall, handsome football player slipped into the desk behind her. They were in English class, juniors at Ouachita Parish High School, and the young man sitting behind her just so happened to be the best friend of her boyfriend.
Sixty-three years later, Jean Huenefeld still lights up when she recalls how she met her husband, Fred. "He moved into the seat right behind me. That did it," Jean told BayouLife. Her current beau understood, though, and according to Jean, he quickly moved on. "Oh, it didn't matter. He was young–fifteen, sixteen–so you roll with the punches."
Fred recalls the story similarly, and he said the friendship survived, too. "I spoke at his funeral, some years later," Fred said. That this friendship survived the trials of lost young love is not so much a testimony to the Fred and Jean's love—which is the kind of palpable, deep, permanent love you read about in Jane Austen novels—as it is evidence of the almost magnetic personalities that have made the Huenefelds synonymous with civic service for the last six decades.
From soil conservation to the English Speaking Union, it's hard to separate out which Huenefeld has served on what board or who's headed out to Rotary or the Cooley Foundation or a political rally. In fact, with just a single notable exception, it's impossible to determine which spouse is the volunteer and which is the guest. For so many years, the Huenefelds have been an inseparable unit.
Take for instance the Cooley Foundation, the nonprofit group that is working to restore the G.B. Cooley House on South Grand in Monroe. Jean sits on the board of directors and chairs the effort to create a steamboat exhibit in the future museum. Yet, just as often, it's Fred who's trumpeting the cause at Rotary or at Lea's, where he takes breakfast most mornings.
When the English Speaking Union rolls around, both Huenefelds are there. Fred ushers the guest speaker from table to table to make introductions among the members, noting which ESU members are past presidents or members of the board or have a particular connection to the subject matter at hand. Jean takes her customary spot at the ticket table to make sure each guest has paid their dues, has their ticket for the event, and is up to date on ESU happenings. This sense of civic service and duty extends to their children, too.
More than a few people felt the quiet encouragement of Jean when their son, Frederick Huenefeld III, was part of an effort to rescue Oxford Natatorium from closure. She spoke highly of the efforts and encouraged people to get involved by making phone calls, speaking out about the closure, and raising awareness. All the while, her husband took another tack: he passed out fundraising forms and would wait, patiently, as the recipient filled out the pledge and, more times than not, wrote out the first check.
That's the way the Huenefelds operate—as a unit, together constantly, almost indivisible. Almost.
There is one notable exception in their marriage. For more than thirty years, Fred has served on the Louisiana State Democratic Central Committee. He served on the Democratic National Committee. Democratic governors and presidents have appointed him to commissions on agriculture, environmentalism, and real estate. He even ran for Congress in the 1960s as a Democrat.
Jean is a life-long Republican.
She laughs off the seeming division, noting their votes often cancel one another out. There's an upside to the political rivalry, too. "That's why we can't put any signs in our yard. It works out fine," Jean said.
It's not been all politics and civic service for the Huenefelds. They raised three children, after all, and today are busy tending to twelve grandchildren and three great-grandchildren. A fourth great-grandchild is due in November.
Fifteen direct descendants is something that Fred boasts of frequently, and he can speak–and will speak–at great length about the activities of each of his grandchildren. So can Jean, though she's often not as verbose about them as is her husband. With both of them, though, the primacy of family is apparent. And, as the small blue, yellow and white pin on his lapel signifies, family is not only about the future. Sometimes, it's about the past. And for Fred, it's a distant past.
"On my mother's side, they came over on the Mayflower," Fred said. Another line of great great great grandparents yielded a connection to the Continental Army.
As a result, Fred is a member of the Sons of the American Revolution–which is signified by the ubiquitous lapel pin. For more than fifteen years now, Fred has served as president of the local chapter of the Sons of the American Revolution. Jean's lineage, too, connects her to the American Revolution, and she's a member of the Daughters of the American Revolution.
For Fred and Jean, family history is important. It takes on a deep significance for Fred, because it adds depth and meaning to so many of his interests. "It gives you a certain lineage that connects you to what you believe in, because of the republican form of government we have here. That's why our forefathers came here," Fred said. In spite of this deep commitment to service and to the legacy of the Founding Fathers, Fred still approaches politics with a bit of whimsy.
When he ran for the U.S. House of Representatives in 1969, his opponent was Jerry Huckaby. These were the days of Gov. John McKeithen. The storied rivalry between Jimmy Davis and Earl Long—"Uncle Earl" to pretty much everyone–was still playing out. Showmanship still played a big part in Louisiana politics. Fred was no exception.
When he embarked on his campaign for the House, Fred borrowed a page from his college years. Some years before, Fred waged a successful campaign for student body president of the LSU College of Agriculture. His slogan: "This is no bull. Vote for Huenefeld."
If the slogan makes no sense, that's unsurprising. The key part of the slogan was the heifer calf Fred was towing behind him at the end of a rope. The gimmick worked at LSU. So when it came time to run for Congress, Fred decided to resurrect the slogan. "But I used a different heifer," he quipped.
Though he ultimately lost the election, Fred remained involved in politics. He eventually rose to the rank of treasurer of the Louisiana Democratic Party, and he continues to serve on various party committees today. Political activities have made up a significant part of his service over the years, and that's because of his deep sense of commitment to the country, what many might call patriotism, though it's not quite accurate. Instead, it's about the impact he can have on the world around him, a contribution to making the world a better place. "I've always had the feeling that one has to be involved to make a difference in this world," Fred said. "That's how I decided to do it."
As far as careers go, Fred and Jean have seen their share of ups and downs. Fred operated the family farm, Millhaven Plantation, for more than thirty years. He loves farming and he said, if he had his way, he would still be farming today. "I'm sometimes called an agriculturalist. That's a cotton picking farmer that has to do legal work and sell real estate," Fred joked. "I'd rather be farming."
The farm is situated on some 700 acres near Ouachita Parish High School, on Highway 594. It's still in the family, though it's currently leased, and Fred points out frequently the farm "belongs to the children now." A couple of years back, the site became the second certified economic development megasite in northeastern Louisiana, just behind Franklin Farms not too far down I-20. The site could become the home to advanced manufacturing or shipping facilities. Eventually, though, a future without farming will come to the land.
Huenefeld is unsurprised. He notes trends in modern agriculture are changing. And those changes aren't necessarily for the good. "I keep up with the technology in agriculture, which is just phenomenal today," Fred said. He notes with particular interest global positioning satellites, precision agriculture and ever-increasing production and crop yields as just a few of the innovations available to modern farmers. "But they all fail to remember one thing. Price times production equals income. When you sell your product below the cost of production, no matter what your income, you still don't have enough to purchase what you've produced."    In other words, as Fred puts it, the physical economy is out of balance. "I understand one thing precisely: nature credits and man debits," Fred said. "You have to get your physical economy in balance to have prosperity."
At times a history professor, at others an economist, Fred embodies the notion of the planter. Ever the hostess, Jean presides over the domestic aspects of their life with grace and dignity. (While she was preparing for this interview, she was also preparing to host more than 100 guests in her home as part of the couple's commitment to the English Speaking Union.)
That's not to say she's a housewife. Jean worked outside the home, too, spending more than thirty years as a successful realtor with Coldwell Banker. Before that, she worked at home as a secretary to Fred's numerous business interests, spending as much as five hours a day typing. Though the workaday life is behind her, she's still busy with clerical duties, tracking down receipts for the ESU or organizing an effort to amass a steamboat display for the Cooley House, which she eventually hopes will become a museum.
"We're only interested in the steamboats that plied the Ouachita," said Jean. Part of the display will center on a scale model of the steamboat America, which was captained up the Ouachita by G.B. Cooley's father. "I'm not interested in the boats that were on the Mississippi."
She takes an active interest in one of Fred's biggest passions–and perhaps the single largest part of whatever public legacy he'll leave behind when he decides to spend time as a retiree. Twenty years ago, as part of his membership in the Rotary Club, Fred established the first Fourth of July Children's Parade, an annual rite held at Triangle Park on Pargoud Boulevard. The first parade was a small affair, with twenty or so children in wagons and on bicycles, decked out with flags and red-white-and-blue clothing. There was a brief speech about patriotism and the Founding Fathers, and the kids rode around the park before eating watermelon. Over the years, the parade grew. Eventually, they began to invite a local dignitary to portray a Founding Father giving a famous speech.
"We've had Ben Franklin, John Adams, John Quincy Adams," Fred said. Jean jumped in to add, "John Quincy Adam was fabulous. He got carried away!" This year's Founding Father was George Washington, portrayed by Roderick Johnson, current president of Rotary Club.
Fred smiles when he thinks about the 2014 Fourth of July Parade. "This past July 4th, we had 1,500 children. And watermelons."
Fred hopes the parade instills a sense of patriotic pride and duty in the children, that they grow up to value their country and to respect their freedom. He quotes German poet Fredrick Schiller–one of his idols–who called true political freedom "the most beautiful of all works of art."
When asked what constituted true political freedom, Fred grew circumspect. "Recognizing the truth and doing unto others as you'd have others do unto you."