High, Low and Just Right
By Admin
Nov 3rd, 2016
0 Comments
574 Views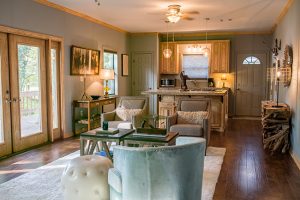 Jolly and Tim Brandon's Guest House
Indian Lakes • West Monroe, LA
Article By Maré Brennan
Photography By Martin G Meyers
Interior Design By Myron Griffing
When Shreveport interior designer Myron Griffing of Space: Interiors got the call from his good friends Jolly and Tim Brandon of West Monroe, he knew it was going to be a fun adventure. Tim, an architect, had converted a one-room garage and storage building into a lakefront guest house to complement his family's compound in Indian Lakes. Tim redesigned the space to include a full kitchen, living area and a bedroom with an en suite bathroom. This little cabin in the woods is a perfect retreat on warm summer days or when crisp fall air descends on the hills surrounding the Brandon's home.
Says Tim, "We wanted the space to be cool but not too modern and rustic but not too country. Of course, we called Myron to help us pull this off. Jolly grew up with Myron, and we've known each other for years, since our time as students at Louisiana Tech. He has an amazing eye and sense of style. There was no question. We had to have him, James Osborne and the Space: Interiors team transform this space for us."
Adds Myron, "The process of design is always fun, especially with Tim and Jolly. We drink a lot of coffee and laugh — a lot!"
Like something straight from an HGTV design show, the Brandons' parameters were simple but challenging for Myron and his design company, Space: Interiors. The designer had three days and budget to stick to – and make it look fabulous! Space: Interiors' mission was to create an inviting space for the family and guests to be enjoyed for years to come and succeed they did. Myron and company are known for creating well-collected spaces with a great mix of high/low items. "I love how Myron mixes textures – and that nothing he bought for the space was over $900," says the homeowner.
"The guest house was completely empty, when I first made a walk-through," says Myron. "The paint colors had been picked, and the natural wood trim would remain throughout the space."  To get started on the project, the designer first pre-measured the space then took inventory of furniture and accessories from the main house that could make the move to the guest house. The cocktail table was just one of the interesting pieces that transitioned over. Myron loved its industrial feel and metal riveted top.
During the design phase, Myron tried to narrow down the selections and give a low, medium and high option for key pieces. Going through the process, says Tim, "We got a million text messages with photos. It's easy to respond that way and it's nice how he communicated and walked us through the project."
Throughout the space, the design pairings create unique energy. For example, a one-of-a-kind teak root console found at Paul Michael Company is partnered with a lamp sourced at Tuesday Morning. On the other side of the room an original mid-century modern painting found at Walsworth & Company is anchored above a rolling console/buffet. Antique shelves are filled with sentimental objects and a collection of vintage metal coin boxes that Myron started for the family. "The beauty of accessorizing is that as a designer we can introduce our clients to new things. And sometimes that means bearing with us during the design phase to see the project to the end."
The Brandon family shares a love to the outdoors, especially hunting and fishing. The artwork in the guest house reflects that passion in fun ways like the watercolor of an elk, a plaster deer head mount and metal geese wall sculpture. A large non-representational abstract, which Myron sourced from Haverty's, could well-represent time spent at the seashore and is placed above a blue velvet sofa from World Market.
Texture is essential in Myron's selections for the great room. A rustic table with a Kentucky bluestone top rests on a faux sheepskin rug. Faux fur lumbar pillows carry the softness to a sky blue, Art Deco velvet barrel swivel chair with shiny nailhead trim, one of Jolly's musts for the space to facilitate ease of conversation. The open living room/kitchen space is a distinct blending of the masculine and feminine. Says Myron matter of factly, "It can't just be one or the other." Case in point, an original cotton boll painting by Anya Lincoln placed in the bathroom brings a sense of the natural world while artfully adding softness.
Drapery was intentionally foregone as the views of the lake needed to be unobscured. Vellum honeycomb window shades minimize any heat gain during the summer, yet let the sun in.
The end result? "We love it," says Tim. "Myron picked out some great furniture and stayed within our budget."
"With a few splurges," interjects Myron with a laugh.
Tim, whose profession is to design perfectly functioning buildings for clients, like the new three-story stadium Press Box for his alma mater, Louisiana Tech University, was quick to credit Space: Interiors and Myron for his "very tasteful and creative ideas" for his guest house interiors. "We've watched Myron grow his business, and it should grow because of his talent. Myron, James and Space: Interiors have a lot to offer
this area."