Historic Travels
By Melanie Moffett
Jul 24th, 2014
0 Comments
818 Views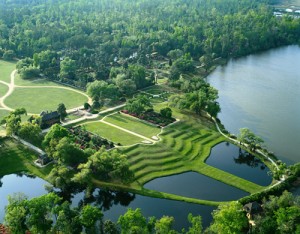 My Five Picks for Exploring American History, Landscapes and Food.
article by P. Allen Smith | photo courtesy of Middleton Place Foundation
Hello. I'm P. Allen Smith and I'm a history addict, in particular American history. My passion for the subject infuses many aspects of my life such as food choices, design work and even the style of my home.  Although I love to read, visiting a historic site is my favorite way to feed my addiction, because nothing beats being in a spot where you can feel the connection to centuries past. Oh, if only the walls could talk!  With Labor Day on the horizon I thought you might be interested in traveling to one of the places that I've found inspiring. Several of these are located in the region so they are perfect getaways for the long weekend.
Mount Vernon
George Washington's home, Mount Vernon, is in Fairfax County, Virginia, near Alexandria. I've been to the estate about 12 times for business as well as pleasure and find something new to marvel over every time I go. The majestic home has stunning views of the Potomac River, beautiful food gardens, pleasure gardens with exotic plants and a nearby service kitchen.
Washington inherited the 8,000-acre Mount Vernon from his older brother in 1759, and he planted almost 600 shrubs and trees, some of which now tower about 145 feet overhead. Just think, you can stand in the shade of a tree planted in Washington's time.
Monticello
Ask anyone who knows me and they will tell you the historical figure I admire most is Thomas Jefferson. I'm just crazy about the guy. If you visit my home, Moss Mountain Farm, you'll see the influence of  Jefferson's Monticello. I designed the two terrace gardens behind the house after Thomas Jefferson's 1,000-foot-long vegetable garden hewed out of the slope of the mountainside. And I've learned a lot about growing edibles from Jefferson's plant trials and meticulous recording keeping.
When you visit Monticello in Charlottesville, Virginia, you will find that Jefferson's gardens and house reflect his personality, including his zeal for agriculture as well as domestic comforts. Jefferson may have been America's first "foodie" as he devoted much of the grounds to a vegetable garden, 400-tree orchard and vineyard.  Meals served at Monticello were a fusion of American, Colonial and French cuisine. It wasn't unusual for up to 30 people to dine at Monticello in one night.
Jefferson was so fervent about botany and history that his greenhouse, his library and his bedroom were in proximity to each other. The home's triple-sash windows lead into the garden where he made sure there were flowers blooming every month of   the year.
Middleton Place
Another historic landmark is Charleston, South Carolina's Middleton Place, which is home to America's oldest landscaped gardens. The 65-acres of gardens were designed to have blooming flowers in every month of the year. Camellias have bloomed for centuries during the winter season, and azaleas explode with color in the springtime.
The plantation is also home to many heritage animal breeds, such as Cashmere goats, River Water buffalo, Guinea hogs and Brown Swiss and Jersey cows. Several heritage poultry breeds also live on the farm, which as a lover of poultry really appeals to me.
The House Museum was built in 1755 on this low-country plantation, and it depicts four generations of the Middleton family. It includes family furniture, a rare library, silver and family portraits.
The 18th and 19th century plantation stable yards have been newly renovated, and interpreters, who are dressed in period costumes, demonstrate the skills of the slaves who once lived on the estate.
Oak Alley Plantation, Restaurant and Inn
After visiting Oak Alley Plantation in Vacherie, Louisiana, I was inspired in the design of my house at the farm. Twenty-eight oak trees drape over the entrance that leads to the majestic manor that boasts 28 columns to mirror the 28 oaks.
I visited Oak Alley shortly before Hurricane Katrina, which mercifully spared the grand oak alley that had been planted in the 18th century. I highly recommend visiting this historic site, whether you're a history buff or you just enjoy the beauty of the home and gardens. Oak Alley is like stepping back into the Civil War era. It's a place where you can truly feel both the beauty and sorrow that is part of the region's past. In addition to the grand antebellum home, which is an architectural gem, visitors can see the Civil War encampment, slaves' quarters, 300-year-old live oak trees and a blacksmith shop, which houses its original forge.
If you go, be sure to take time to admire the stunning windows. They were designed to encourage the exchange between the inside and outside. Their magnitude allows the sunlight to flood the interior spaces. I could just imagine how they would draw in the breeze during the hottest days of summer. Oh, how I covet them.
American Queen Steamboat
If you really want to soak up the flavors of the South, take a ride on the American Queen, which is not only the largest steamboat ever built, but it's the only authentic overnight paddlewheel in America. The staterooms are filled with the Southern charm that was prevalent along the Mississippi River during an era when steamboat travel was a common means of transportation.
As a passenger on the riverboat, you will enjoy the seasonal cuisine of my friend Regina Charboneau, who is the American Queen's culinary director, a celebrated American chef and native of Natchez, Mississippi.
A typical meal in the dining saloon might consist of greens with Andouille vinaigrette, and corn and shrimp fritters followed by a lovely blackberry lemon Betty.  My mouth is watering now.
In addition to the wonderful food, standing on the deck of the American Queen is a perfect way to rediscover the heartland of America.
My Southern roots run deep, and travelling to these Southern American iconic places satisfies my history habit and gives me ideas for use in my design projects. I think you'll discover something amazing, too, that you can incorporate into your home or garden.
P. Allen Smith is an award-winning designer, gardening and lifestyle expert and host of two public television programs, Garden Home and Garden to Table, and the syndicated 30-minute show P. Allen Smith's Garden Style. Smith is one of America's most recognized and respected design experts, providing ideas and inspiration through multiple media venues. He is the author of the best-selling Garden Home series of books. Allen is also very active on social media such as Twitter, Facebook and Instagram. Learn more at www.pallensmith.com.