History is Served
By Melanie Moffett
Jul 27th, 2015
0 Comments
591 Views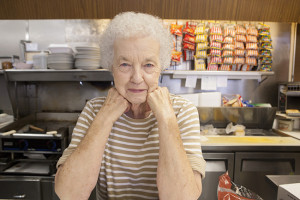 From her perch near the register of Aron's Pharmacy Grill, she has witnessed history. But Ruth is intentionally oblivious to the winds of change that occasional blow through, paying little attention to who's mayor or the governor sitting at the booth. Instead, everyone who comes in are equals, and they are all her friends. For more than 50 years of dedicated service provided with kindness, a smile and a warm meal, Ruth Evans is Bayou Icon for August.
article by Michael DeVault | photography by Brad Arender
In January of 1965, Lyndon Johnson had just been sworn in for his own term as President of the United States, securing for himself another four years in the White House. In England, Sir Winston Churchill died. Somewhere on the coast of Florida, an unmanned Gemini rocket blasted into space before plummeting back into the ocean. And a young woman donned an apron and stepped behind the soda counter at a druggist in the up-and-coming 18th Street Corridor on the eastern edge of Monroe.
Almost 53 years later, Ruth Evans is still there, still wearing that white apron, and still greeting customers with a smile. While the world around her changed–eight presidents have come and gone, we landed man on the moon and 18th Street is no longer the edge of town–the Aron's Grill has remained relatively unscathed by history, a consistent anchor in an ever-changing world. Ruth never set out to make working a shift at Aron's her life's work, but she doesn't complain about the life she's lived, either.
"I've had a good time living there, working there," Ruth told BayouLife. "All in all, it's been a good thing for me." It's a good thing she's shared with the community around her, too. Over the years, customers have developed deep bonds with Ruth. She's gotten to know original customers from that first day in 1965, then she served their kids. Now a burger for lunch at Aron's has become a family tradition for hundreds of Monroe families.
"We're now on third- and fourth-generation families," said owner Carl Aron, who inherited the pharmacy and its popular grill from his father in 1972. "Families came in with children, and now the children are coming in with their children."
Certainly, his father never expected it to become what it is. "It started out just as a draw to bring customers into the store," said Carl, who adds that's not the case anymore. "It's turned out to be profitable." Carl credits Ruth for helping to turn the grill into the community fixture it has become.
"Anybody who walks in, you can ask her if she remembers someone," Carl said of Ruth's personable and approachable personality. "She'll tell you, 'Oh yeah. That's my best friend!' no matter who it is." Ruth's demeanor at the soda fountain has been an asset as the grill's customer base has grown over the years to include people from all walks of life.     There are lawyers, doctors, dentists, housewives, maids, and–is that a state senator?
On any given day, you'll never know who you might see noshing on onion rings at Aron's Grill. This diverse cross section of the community is part of what has made it an institution. Carl says Ruth's ability to treat everyone with equal attention and kindness."
"She's just been there," said Carl. "They come in, everybody knows her and they're comfortable. She doesn't get involved in the conversations. But she's the one, when they come to the table, who knows what everybody wants."
Consequently, more than a few legal settlements, real estate transactions, business arrangements and political deals have been cemented over a milkshake at Aron's. Former State Rep. Kay Kellogg Katz is one of the people who've had more than a few lunches at Aron's. She and her husband, the late Ben Katz, were regulars, squeezing in a sandwich and chips or a cup of coffee between busy meetings.
"Ben ate lunch at Aron's many times, and particularly in the last 20 years, because he would be here in Monroe and I'd be in Baton Rouge on legislative business," Katz said. "Ruth and the entire staff were always welcoming to all of us that came into the drug store and the café."
Katz is quick to point out Aron's is more than a grill, and it's more than a political watering hole, too. Instead, she says the diversity of people that the grill brings in has helped to create something even more powerful, more vital to the customers. "It's a community hub where discussions across the tables range from health to politics to education to individual family issues," Katz said. "It's just an old fashioned drug store counter."
There's a certain emphasis on old fashioned that Carl and Ruth both take pride in. Almost an anachronism, Aron's Grill is a throwback to a simpler time, when customers could pop into their neighborhood soda shop for a malt and a hotdog. Carl says that's part of the appeal of Aron's today. "There's not many of us left, with soda fountains, food service and all," he said. At the heart of that service, the longevity and the tradition is Ruth. For the most part, she's aware of the tradition and her place in it.
"I have customers who come from everywhere to eat and to see me," she said. "I have customers who've been eating here for 30, 40 years." Katz is one of those customers. For Katz, Aron's is about the opportunity to slow down, take a step back and enjoy a tradition. Ruth's place in that tradition is pretty clear, to hear Katz tell it.
"She is an icon," Katz said. "The pleasantries that are exchanged while you are having lunch, it's a slow- down from everybody's busy life."
Lest customers think, "It's all about Miss Ruthie," Ruth is quick to point out visiting is just one of the two things that makes Aron's popular year after year. The other component of that enduring popularity is the food. Delicious, savory hamburgers and perfectly-fried crinkle-cut potatoes, a Coke from the fountain, and maybe a vanilla malt to wash it all down. Ruth has just one measure when it comes to the food that comes off her line.
"I don't fix anything for anybody there that I wouldn't eat myself," she said. That means the ingredients are all fresh. Burger patties are purchased every morning from the butcher at Brookshire's. Produce is sliced fresh, too. At the end of the line, there is Ruth and her eagle eye for quality. "If I fix a hamburger bun and it goes through the toaster and comes out too brown, I toss it in the trash and start another."
Still, time is marching on. As Ruth herself points out, she's "lost so many friends," an outcome that's bound to happen any time an individual spends five decades in service. She's not sad, though. Instead, she draws a certain measure of joy from the work she continues to do three or four days a week.  And then, then are the stories.
She tells one story of the counter days, about a regular customer she called "Preacher Man," an African-American pastor who ate breakfast regularly in the café. Each day, Ruth said, Preacher Man came for breakfast–eggs, sausage, toast and coffee. Carl's father was still in charge back then, and the price of the meal was about $2 with tip. In those days, she was known to her customers as Ol' Miss.
Every morning, Preacher Man visited, ate his meal and chatted with Ruth. His sister was principal of Ester Toombs Elementary in Delhi, where Ruth was from, so she and Preacher Man had much to discuss. After their morning chats, he would leave two ones on the counter and go on about his day. On the day in question, though, something was different. "He didn't pay," Ruth said. "I knew he'd be back in the next morning, so I wasn't worried about it."
If Ruth was unconcerned about the open ticket, Preacher Man more than made up for it. He had only been gone a few minutes, when he returned. "He rushed up to me, and he said, 'Ol' Miss, I forgot to pay you,' he told me. Then he walked back outside and died on the corner," she said. Preacher Man made it to the barbershop on the corner before a heart attack. Mr. Aron stopped her at the door when she went to investigate the commotion. To this day, she's thankful he did. "I've lost so many of my good friends. We were all just like family."
In fact, one of her fondest memories of the grill centers around Carl's children. Every year, her birthday party at the store coincided with the annual Christmas parade, which passed by. "Carl's children were little, with all the other people who came in there, and they had the Christmas Parade," she said. "The parade would come down the street, and it was a good spot for the people to come and bring their children." With a store full of children, cake and ice cream were a necessity. It was a happy time, and one she says she'll never forget.
Then there are the good memories. She recalls how Shady Wall would come in with "Mrs. Wall" for burgers. When Lilage fell ill, Shady continued to come in, sometimes taking lunch to-go so he could visit his ailing wife. To this day, she can recall the way each of her regulars took their burgers. Long-time mayor Jack Howard was a regular, too.
"Jack Howard, he was my sweetheart," Ruth said. "All the political people, when they would have different things going on, he would always be there." Throughout the years, other mayors would come as well. Bob Powell ate there many times, as has current mayor Jamie Mayo. With each new face, Ruth makes a new friend. But she admits she's not around as much as she used to be.
"With Carl's dad, you didn't leave a minute early," she said with a laugh. "He was very firm, he had the same rules applied to everyone who worked there, and if you did your job you didn't have one bit of problem out of it. He was a very good person to work for."
Carl, though, has given Ruth much more leeway. As she's grown older, she has approached him several times about cutting back her hours. Carl is always eager to accommodate his icon, and he's understanding, too. It's a small concession for the woman he credits with making the grill a success. "She has been the grill ever since I owned the store," Carl said. "She is the grill."
Her reputation as a genial hostess has travelled far. When visitors come home for the holidays, they make Aron's a stop they won't miss. When he travels, Carl frequently bumps into people who know him and, more importantly, Ruth. "Anytime I run into anybody outside of town whose eaten at the grill, they ask about Ruth, if she's still there, still working. I always say yes, she's still there."
Ruth acknowledges there will come a day when she doesn't go into the grill regularly. She's almost 83 years old and has been coming in just three days a week of late. That's likely to change, too, as she looks ahead. Carl doesn't envision a time where she won't be a part of the grill. "I told her that, if she just wants to come and sit and visit with the customers, that's fine with me."
For now, she's still there, still working, and still checking every plate that goes out while she's there. If there's a secret to longevity, Ruth is playing it close. "I take pride in what I do," Ruth said. "If I'm home, or doing my church work, or whatever, I take pride in what I do. I don't care what I'm doing, I always do the best I can do."