Home is Where the Art is
By Katie Sloan
Oct 30th, 2017
0 Comments
430 Views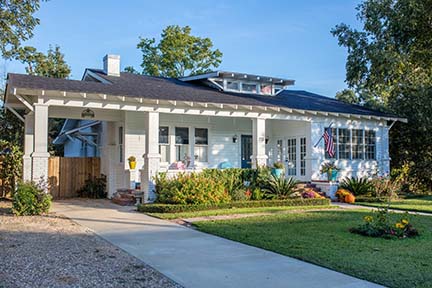 Article by Maré Brennan and Photography by Martin G Meyers
The craftsman-style bungalow of Caroline Youngblood features beautifully displayed artwork throughout, family heirlooms and textiles not only inspire her art, but also her home.
Nestled on K Street in Monroe's historic Garden District, the home of artist Caroline Youngblood is a classic example of a California-style, Craftsman Bungalow. Built in 1928, the home features a low pitched roof which extends over a generous front porch with tapered square columns. The wide wooden planks of the spacious open veranda are enlivened with a deep turquoise blue, while above the ceiling is painted a cooling shade of the palest blue hue. An old fashioned Caribbean style fan with woven blades maintains an even breeze. Vintage-style metal outdoor chairs in whimsical colors of pink, light blue and navy provide seating. Art Deco sconces provide illumination for the extra wide front door, which is painted a deep navy with a touch of teal. Two large teal pots are over-brimming with purple and fuchsia flowers undaunted by the last of summer's heat that has carried into fall. The beds that lead up to the home are filled with mature sego palms and flourishing zinnias, a pass along gift from her neighbor, Dawn Eakin. A gingko tree, planted this past Easter, is a symbolic nod to Youngblood's beloved grandmother and a reminder of the artist's ancestral home on Breston Plantation.
"Word got to me really quickly that this house was for sale. I was the first person the homeowners showed it to," says Caroline. "I love how you can look all the way through my house and see my back yard. The first time I walked in the front door and saw that view, it felt like home to me." Youngblood bought the home last June and immediately began cosmetic touches, like sanding and staining the original wood floors and painting all the rooms before moving in. While the previous owners of the home had fixed structural damages caused when a century-old tree fell on the home during the October 2014 tornado, Youngblood concentrated on making her new home a showplace for her artistic endeavors. To create a gallery like space, Caroline opted for dark stained floors to contrast with crisp white walls. She enlisted the help of Copeland Electric to install recessed lighting that can be repositioned to shine directional light  toward artwork.
One of the best ways to achieve continuity within your home is to repeat colors. For example, in Youngblood's home, the navy of the front door is repeated in the indigo hued walls of the central dining room. "I knew my artwork would stand out against that deep, deep blue," she says. Just as contrast is a hallmark of Youngblood's artwork, so too is contrast a vital part of her interiors. Youngblood repeats darks and lights throughout, like the pairing of rich, dark floors with bright, light walls.
Caroline's artwork is known for its multi-dimensionality, full of pattern and texture which she describes as "busy." Says Caroline, "I like the focal point to be on the artwork, while the backdrop and setting needs to be simple and serene." Other than her paintings and mixed media works, the only other patterns are found in vintage rugs sourced from the Ackel's Rug Auction and textiles used to create pillows. "I have to fall in love with a rug. I like that these rugs are old and have a history. I like to think of where it might have been before it was in my house," she says of the colorful rugs that add a brightness and warmth to her wooden floors. "I adore  pattern on the floor and the walls, but I really want everything else to be simplified."
In the living room, large windows with café shutters send light streaming into the space. With all the natural light, Youngblood adds that she rarely has to turn on lights except in the evening.  Above the concentric arched brick fireplace, Youngblood loves to "put fresh canvasses up for different times of the year." This is the space where the artist's most current work tends to reside. "I love that my home is a space for viewing my work. It's a great place to see what different size paintings look like on a wall," says Caroline. Youngblood loves the melding of her home as a space to connect with her art. When collectors come view her body of work in her own space, she can tell the stories behind the paintings, helping others connect on a deeper level with the stories she conveys on each canvas or sheet of paper.
The artist frequently invites collectors over to view how certain series look on different sizes of walls. "I want collectors to see how color alters a space and how artwork can easily be used to change the mood in a your home." She also likes collectors considering her pieces to view how she chooses to frame her art. "Frames should be integral to the piece but not take anything away from the art. I love to float art on paper or use shadowboxes so that the art appears weightless," says Caroline, who recommends Lanece Laseter for framing.
Youngblood's home is a study of how to live with art. Says the artist, "You want to feel the energy in the paintings."  Youngblood's work in particular, whether it is her collages made with family heirlooms and textiles or watercolors inspired by her family's home movies from the 1930s, speaks of her acute love of history and place. To Youngblood, her personal collection of art brings full circle the feeling of being safe and nestled in her memories of home. "Things I didn't want to throw away, things I have a strong connection to, these are the things I repurpose for use in my paintings. I love taking things that people would normally get rid of and make art out of it." Youngblood is known for her commission work, recycling clothing or letters of loved one's to capture the energy of the people who handled these things before and preserving them on collaged canvases. "In the past year," says Caroline, "I discovered there is actually a term for feeling one gets from the energy from within objects that go into her paintings. It's called psychometry."
A large canvas above a grey, velvet sofa in her living room signifies "home and love" to the artist. Youngblood tells the story of how in her grandmother's bedroom, in the home where Caroline grew up, the wallpaper was literally peeling from the walls. Slowly, methodically, lovingly, the artist peeled it off. "I knew I wanted that energy of that wallpaper in my home one day." The scraps of wallpaper, signifying the comfort and love of her grandmother, became the basis of one of Caroline's favorite paintings. "I had this painting in storage for over ten years and never dreamed I would have a house for it. I love how it looks at night through these front windows when you drive by."
A pair of estate sale chairs, one a barrel shape, the other a wing back version, have been reupholstered in denim on the seats and a happy plaid on the backs. Youngblood brought back the faux bois lamp and the colorful Balinese tapestry from her time spent on an artist retreat in Bali organized by Ruston's Douglas Walton. The energy of plants in Bali made a profound impression on the artist's newest body of work. When she returned back to the United States, she says magnolias' heavy scent and strong Southern energy called her to paint them. In addition Louisiana sunsets and a series inspired by the Mottahedeh Tobacco Leaf china pattern are new to the artist's portfolio.
The artist's Meditation Room lies beyond a cased opening from the living room. Here she practices meditation and yoga amid three of her "found object" paintings which she began producing during her time at Louisiana Tech, pursuing her Masters of Fine Art in 2008 and 2009. Every day, Caroline would drive from Columbia to Ruston for school or to Monroe to work at Starbucks, which she credits with giving her structure and focus.
Pieces of upholstery, recipes, thank you letters are pieced together to look like a quilt in one of her first collaged works of art. "When I look at this painting, I remember my grandmother's rocking chair and her pillows. To me this represents the Yin, the feminine energy. The use of her handwritten recipe cards and the quilting fabrics gives it a definite Southern feminine energy," says Caroline, as she recalls her own near death experience in 1998 in an accident involving a train which claimed the life of her grandmother. "After my grandmother died, I had dreams that she came back and was mad that I had thrown out her belongings," recounts Caroline, who felt duty-bound to find a way to honor her grandmother and her family history. "I grew up on a cotton plantation, which my great grandparents bought at the turn of the century in 1900. The home was built before the Civil War by a Frenchman." She points to the opposite side of her Meditation Room, where a collage which is made from belongings of her grandfather emboldens a far wall. "This is where the Yang or masculine energy resides." Financial records from her granddaddy's handwritten ledgers from his farm provide the backdrop to a figure of a  quintessential Southern male reading the newspaper, consumed with his own business and "being unavailable" while others are busy working in the background.
The central wall painting revisited the idea of quilting and uses handwritten receipts from Youngblood's grandparents' company store. She says, "I wanted to use the paper as part of the patchwork for the quilt as it was old and had already started to crumble. I applied it to the canvas and sealed its with acrylic medium. I found some quilting squares at the Martin Homeplace Museum in Columbia which I affixed to the canvas as well." Below the painting is an estate sale find, which was reupholstered in a navy denim. A vibrant, embroidered tapestry found on an artist trip to San Miguel de Allendé, Mexico was fashioned into a long lumbar pillow.
Family history is another repeated motif throughout the artist's home, especially in this particular room, where she is surrounded by her family's energy as she meditates. "When I left my dad's home, I took one thing. I brought my great grandparents' wedding certificate and had it reframed for my own home," says Caroline of the delicate and ornately engraved piece of historic art. Near it hangs a pair of black and white photographic portraits of her late mother in a pair of oversized earphones taken by her dad for his company Specialty Sound's Christmas card.
The dining room walls are a deep navy hue punctuated by crisp, white ceiling beams and wainscoting which "exaggerate the special features of the room." Primary colors dominate with a crimson red rug, indigo walls that repeat the front door color, and the bold yellow painting by Youngblood of a Rockwell-esque family gathered around a table.
The dining room table is an extraordinary piece of family history. The table top is made from a door from Youngblood's great grandfather's jewelry store in downtown Shreveport which closed in the 1950s or early 1960s. An artisan, Benjamin Bullens, who went to undergrad at LSU with Caroline, welded the base for it. Measuring 10 feet x 3 feet, the table can fit up to ten people and is the perfect size for the room. "I found the door in the barn at my grandparents' home. My grandmother had kept it for years. It's the most precious thing I have in here," says Caroline. Benches for the extra long table were made by Ryan Flemister, while beautiful handmade chairs were created by Gary Shlagel, using an original New England chair pattern but adding his own modern touches. Says Caroline, "I found him through the LPB Art Auction. We had both donated art to Public Television. His handmade furniture is functional art with clean, beautiful lines."
Along one wall, Youngblood has hung her Riverton film series, works done on watercolor paper with pencil, charcoal and water to replicate the look of grainy, faded film, a technique that the artist developed just for this series. Once again, her inspiration came from historic family footage taken on 8mm film in the 1930s at gatherings on Breston Plantation. "It was great to see how my family interacted. Some I never knew. Here was my grandmother at age 19, and this one is my great grandfather and my great aunt on the end," she points to the row of black and white paintings. "I was able to create my own stories from these."
The large yellow canvas was inspired by a recipe booklet of her grandmother's from World War II, The image came from the cover of the recipe booklet and features an idyllic family gathered  around a table, and the artist collaged recipes from the booklet into the painting. One of Caroline's oyster paintings stands out against the blue wall.
The comfortable guest room features a platform bed that Caroline had made for her studio. Made of cypress with built-in drawers, Caroline custom designed the bed and had a Baton Rouge cabinet maker build it to her specifications. In the guest room, she has hung another of her "Receipt" collaged paintings. "This is the first one with a painting of cotton on it. For so long I avoided using the cotton image as I felt it was cliché, but I did it in 2013. This image ended up being the poster for the Art & Folk Festival in Columbia." The image also incorporated quilting squares as well as company store receipts with names of people who had worked on the farm. The artist points out the green ink on a few receipts that serendipitously tied in with the green quilt square fabric.
Youngblood describes another mixed media work in the guest room as an abstract landscape, depicting a barn and cotton field. Below, a floral wingback chair from the artist's grandparents home is a treasure that she has carried with her since her days in college. A turquoise jute rug carries the turquoise of the porch floor to the guest room as does an antique painted armoire in a vibrant, but distressed hue.
No where in the home are the bungalow's tall ceilings more evident than in the master bedroom. The focal point of the room is the Gary Shlagel-crafted four poster bed designed by the artist herself. "I wanted it to be strong but delicate and to say, 'Come lay down on me,'" says Caroline. The tapered posts share a unique octagon shape. Brass fittings hide joinery. The bed was first painted an oxblood red then stained a deep black. Says Caroline, "I love the bed's Asian simplicity but the look is really Southern. I remember when Gary drove up here to set up the bed for me and feeling like a princess." Youngblood chose luxurious bedding in white with silk basketweave pillows accented with a small navy velvet pillow. A rug sourced from World Market features hot pink flowers on a field of cream and adds a jolt of color to the ebony floors. Caroline reupholstered a pair of Asian-inspired wing back chairs in a delicate embroidered silk that tells a story. Above the headboard of her king-size bed hangs a painting from her Riverton series, another scene from the 1930s film but this time done in oil on canvas. "I picked this painting, because it's my grandmother leaning over and flirting with her sister's husband. To me it looked like a seduction, appropriate to hang over the bed," laughs the artist. A large, collaged painting of her grandmother as a teenager mixes images with objects and things her grandmother had saved. Says Caroline, "I love being able to incorporate something about a person's personality into a painting."
A large mixed media painting is of Caroline's great aunt on a dominant pink background makes use of lots of WWII era found objects and incorporates her aunt's doilies. "She was a strong personality who met with tragedy when she drowned in Bayou DeSiard behind her home," shares the artist.
The master bathroom is painted a soothing shade of light blue reminiscent of the front porch ceiling. Youngblood added a glass door to the walk-in shower, as well as teak slats underfoot. Flooring throughout the master bath is hexagon shaped tile in white and counters are topped in a sleek granite. A walk in closet, a rare find in a house of this vintage, is painted a glamorous metallic gold with light blue ceiling. Youngblood is known for her love of clothes, ranging from thrift shop chic and vintage designers to handcrafted pieces, like an embroidered traditional Mexican crafted blouse which she bought directly from the woman who made it in San Miguel de Allendé. "I love knowing the person who made something I own and wear," she says of wearable art.
Youngblood loves to cook as well, finding artistry in baking and preparing meals for friends. The grey, rectangular floor tile in the space is set in a herringbone pattern that conveys movement. Caroline commissioned Rex Yokem to create the custom concrete countertops with a Youngblood designed sink. Deep and wide, the sink can accommodate the largest of pots. The artist found an original owner's manual to the first refrigerator her grandparents ever bought – a  1946 Westinghouse – and created a painting in the kitchen based on the cover. Above the refrigerator hangs the very first painting collage in which the artist used her grandmother's things. The image of a ceramic hen mirrors a Lacey Stinson chicken drawing above the doorway to the home's laundry room.
In the kitchen's glass doored cabinets and behind open shelves, Youngblood used a medium turquoise paint to carry the color throughout the home. An industrial rolling cart in the laundry room does double duty and can serve as a bar during cocktail hour.
Youngblood began renovating the home's gardens last year. "It makes me so happy when things start blooming, especially in the spring. It was therapeutic to work in the garden and the reward is so worth it." Large banana plants tower over purple fountain grass, hibiscus with giant saucer sized red blooms, equisetum, papyrus and enormous elephant ears. Mounds of lemongrass were planted as a natural mosquito repellant at strategic places around her gardens. Bits of color peek out from beds in the form of tiny purple button chrysanthemums. In the spring, ancient azaleas lend their southern color to the garden. A screened back patio acts as an extension of the garden and the dining room. Youngblood has strung the space with Edison bulbs on wire for a vintage glow. The plank floors are painted a dark turquoise-y teal with a light blue ceiling.
While Caroline's home is the epitome of curated zen, her working studio space, located just around the corner within walking distance, is as uninhibited and wild as an artist's studio should be. Located in a Garden District duplex, which has seen its fair share of noted artist inhabitants, Caroline's studio was once her minimalist bachelorette pad, just prior to last summer. The front two light-filled rooms are her studio workrooms.
At the moment, the front room is filled with new works on canvas, incorporating the influence of her trips taken to Asia over the last two years. Manifesting itself in a Tobacco Leaf china pattern infused with playful birds and animals, Youngblood is enamored with ultramarine blue, "so rich," and intense reds that are finding their way onto her newest canvases. The shapes of leaves in Bali are big influences on this series explains the artist, who offers that her trips to the East are what brought the bold color to her work.
A second work room is connected by a central hallway that reads like a walk of fame with framed articles chronicling Youngblood's meteoric career in publications as diverse as Louisiana Life, Country Roads, as well as several festival posters featuring her artwork. The work room in the middle of the duplex is very private and affords good light as she works on commissioned pieces and her Magnolia series in this room. This series, says the artist, can be either abstract or more representational. For those who would like to see more, Youngblood and her Magnolia series will be featured at Ricky Sikes Gallery at the December Art Crawl. Currently, Youngblood's work is being featured at the Masur Museum of Art until October 27 and at the Ogden Museum of Southern Art in New Orleans until October 24.
What was Caroline's bedroom has become her office and storage area for her canvases. Says the artist, " I made a conscious decision to keep clutter at the office and leave my home to feel more like a gallery space." Youngblood feels strongly that it is important to take pieces of art to clients' homes. "It helps me make a connection with buyers of my work. I want my customers to experience my art on a deeper level."
Of her good fortune to have found the perfect home so near her studio, Youngblood smiles her infectious smile and says, "God works in my life all the time. I couldn't have planned this, but God did. I feel God winks at me in experiences like this."