I Remember…
By Admin
Aug 29th, 2016
0 Comments
196 Views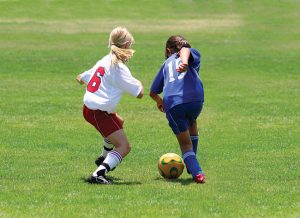 article by PAUL LIPE
I REMEMBER the first time my soccer-playing granddaughter kicked the ball into the goal – she was elated, and we who were watching were happy, too.  But our delight was tempered a little by the fact that Mary Hastings had kicked the ball into the goal her team was defending!  None of that mattered to her; she had kicked a goal!  She was elated, and we who were cheering for her were popping with pride.
You need to know that, at the time, she was only five or six years old, and this was the first time she had ever played the game.   The only thing that registered with her was that the ball was right there in front of her and the goal was wide open – she did the natural thing and kicked the ball into the net!  And she was as happy as if she had just scored the winning goal for the USA team in the world championship finals.
"But," you may say, "she scored for the opponents – that does not help her team win the contest."  You are right, and winning IS important.  But it is not the only thing, is it? There is more to competition than just winning. For instance, I remember the goal that Mary Hastings scored, but I cannot recall who won the soccer match!
Please do not misunderstand me. I am not one of those people who think that every participant should receive the same reward, the same recognition. I am all in favor of acknowledging the valedictorian, the most valuable player, the top salesman, the artist who shows the greatest talent, the soldier who demonstrates unparalleled bravery, and every other individual who surpasses others in the performance of his duties or his opportunities.   They have bested others in their field, and they merit the recognition that their performance garners.
Furthermore, when I was young enough to compete, I played to win.  I like to win, and it hurts to lose. In fact, if it does not hurt to take a beating, there will be lots of losses on one's record!   Every time one enters any competition, it is appropriate to have victory in sight; he should aim to win.
However, just as there is fun and fulfillment in winning the race (or the game or the match), there should be fun and fulfillment in running the race.  In fact, I am convinced that how one runs the race is more important than whether or not he wins that race.  For instance, when, as a grandparent, I watch my Grands compete, I care far more about HOW they play than I care about whether their team comes out the victor.  If they play well, if they do their best, and still lose, that is O.K. with me.  But if their team prevails, and they play poorly, that concerns me and leaves me dissatisfied.
I believe that God views things similarly.  We can please Him, even if we fail in some endeavor, if we give the effort our best shot.  We can't all sing like an angel, preach like a prophet or battle like David, but when we do our best with a desire to please our Master, He notices and gives His approval.
Eric Liddell, whose story was made into an Academy Award-winning movie, "Chariots of Fire," was the son of missionaries and a world-class sprinter.  He represented Great Britain in the 1924 Olympic games which were held in Paris.  Because of his Christian convictions, he failed to qualify for the 100 meter dash (in which he was favored), because the preliminary heats were contested on Sunday.  He refused to compete on Sunday and, therefore, forfeited his chance for a Gold Medal in the 100 meter dash. However, he did win the 400 meter race, setting  Olympic and world records in the process.  Later he would write, "In the dust of defeat as well as the laurels of victory, there is a glory to be found if one has done his best." Honor is gained, not only in winning the race, but also in running the race well.
There will be rewards in heaven for those Christians who excel, but there will also be a "Well done, good and faithful servant" for all who offer their best in His service.  And I shall be full of joy should He say those words to me.