I Remember..
By Admin
Sep 19th, 2016
0 Comments
216 Views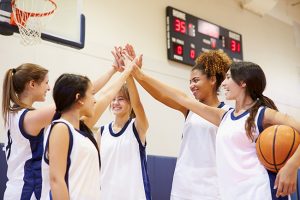 article by Paul Lipe
I REMEMBER the last-second, game-winning shot just as though it had happened yesterday! The Dallas Hurricanes, a club-team girls' basketball squad, were competing in a national tournament that was held in New Orleans in the summer of 2014. They had won all of their earlier games by comfortable margins, and were vying, in this semi-final contest, for the right to contend for the championship game, which would be played the next day. What transpired in the closing moments of that event sticks vividly in my memory.
There were about 10 seconds remaining in the game, and the Hurricanes trailed 40-39, but they had possession of the ball at their end of the court. The Canes' coach called time-out and drew up a play designed to give their leading scorer the final shot, but the defense denied her the ball. The second option was for my granddaughter, Sarah, to take the last shot, and when the ball was passed to her, she calmly drained the basket from near the free-throw line, giving her team a 41-40 advantage with 2 seconds showing on the clock. Concerned that the opponents might advance the ball and get off a shot, Sarah immediately yelled out "Defense"  to her teammates. That shot never came, and Sarah's team had moved ahead to the finals.  Had I been wearing a shirt with buttons, those buttons would have popped right off!
Sarah has been playing for the Hurricanes for eight years, spending her summers travelling all over the U.S. to compete in national tournaments against some of the best talent in the country. There have been numerous highlights during this stretch, but none any more exciting than that shot she took in the Crescent City.  Such dramatic opportunities do not come often, and when they do, we frequently fail to take the shot. But on that special night, the chance to do something memorable presented itself, and fourteen-year-old Sarah rose to the challenge.
Perhaps more than any other arena, sports affords magic moments like this one. Old timers like me still talk about New York Giants slugger Bobby Thompson's dramatic three-run homer (the "shot heard around the world") against the Brooklyn Dodgers that won the 1951 National League pennant, or the "Immaculate Reception" by Franco Harris on December 23, 1972, an unbelievable pass catch that led to a touchdown and victory by the Pittsburgh Steelers over the Oakland Raiders, propelling the Steelers to the Super Bowl, (I suggest that you younger readers Google these stories) or more recently, Stephen Curry's game-winner against Oklahoma City on February 27 of this year — a shot which he took from just across mid-court.  But as earth-shaking and mind-boggling as were these feats, my favorite still is Sarah's amazing shot a couple of years ago in New Orleans! That's my girl!
It is likely true that most of us will never have the occasion to make a game-winning shot, but there are times when we can step up and give our best in ways that do make a difference. Our Creator has given us all talents, and He affords us opportunities which can be put to use in actions that will please Him and that will benefit others. Our "game winner" may be something as simple as a kind word that can lift another from despair, or an encouragement that prompts someone to persist and not give up, or a smile and a hug that lets another know that someone cares about them. Let us be prepared, so that when the opportunity presents itself, we'll be ready to take the shot.  You see, athletes do not just show up and play the game – they prepare, so they are conditioned to do their best to help their team realize success. We can be prepared by studying the teachings of the Master, by aligning our purposes with His and by experiencing fellowship with others who share our convictions.
Sarah is now a junior in high school and has scored lots of baskets for both her school team and the Hurricanes.  I have had the privilege of watching her play many times and have observed as she added many points to her scoring total, but no basket stands out as much as that goal she made that Friday night in New Orleans. I could not ask for a more cherished memory.  Yep, that's my girl!