If The Shoe Fits
By Admin
Aug 29th, 2016
0 Comments
620 Views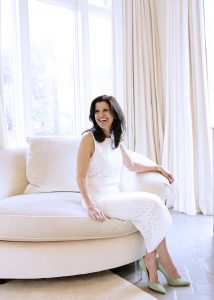 Dee Keller is a down-to-earth mother of four, a successful shoe designer based in Baton Rouge, Louisiana and a breast cancer survivor.
by Lisa Tramontana
DEE KELLER IS EXHAUSTED BUT EXCITED. She has just returned home from a fashion market in New York City, where she spent the last few days connecting with her colleagues in the shoe industry — buyers, sellers and designers like herself. The trip allowed her to discover new brands and get a sneak peek at the latest trends in fashionable footwear. She can hardly wait to meet with her partners in Italy next month to talk about ideas for her next collection. It sounds like the life of a jet-setter, but in truth, Keller is a soft-spoken, beautiful, down-to-earth mother of four, who enjoys talking about her family life as much as her designs. For a few short years, she worked as a real estate attorney, but put her career on hold to raise her children.
HOME SWEET HOME
She never lost her undeniable flair for fashion, however, and it extended from her personal wardrobe to her Baton Rouge home, which she enjoyed decorating, especially during the holidays.  "I was always looking for a new project," she said. "And I did a lot of interior design for many of my friends."
When her oldest daughter went away to college, Keller discovered another hobby — decorating sorority rooms, dorm rooms and apartments. Her client list eventually expanded to include college students at no less than 10 universities in the southeast. Knowing that college can be a stressful time for young adults getting their first taste of independence, Keller's mission is to create a comfortable "home away from home," incorporating a student's favorite colors and particular interests.
It was through her interior design projects that Keller became intrigued by textiles and colors. "Draperies, upholstery, fabrics … I enjoyed learning how they worked together to create certain looks and feels," she said. "I enjoyed using that creative part of my brain." It was just a matter of time before she moved on to her secret passion.
TAKING THE FIRST STEP
In 2011, Keller took a big leap of faith and decided to start her own shoe design company. Her lifelong passion for shoes and her natural sense of style were a perfect combination. At the time, many brands of high-end shoes were too trendy or too expensive for most women. Keller found her niche by designing classically beautiful shoes that were more affordable than what the market offered. A business was born.
When asked about her influences, she responds by talking about her "vibe." "I'd describe it as an eclectic spin on traditional design," she says. "I want my designs to appeal to all ages. I like to think that they bridge the gap between older and younger clients, casual and elegant, fashionable and fun."
Indeed, a look at her collection reveals an elegant and classic style with a vintage touch. Her website features chic pumps (available in four heel heights), sandals, wedges, ballerina flats and more. Keller experiments with details and explores with color — red, turquoise and hot pink are her favorites for any season. Her 2017 collection, which is being presented to retailers this fall, will feature a mix of elements such as cork heels, perforated leathers, and cheetah and leopard prints.
COMFORT, BEAUTY AND VERSATILITY
More than anything, Keller's designs are driven by comfort, beauty and versatility. "I like the idea of a shoe going from casual to dressy depending on where you're going … a brunch, a wedding, church, a party," she said. "I want my designs to be versatile so they find more places in your wardrobe."
One of Keller's most personal touches is the way she names her shoes. Willow, Emma, Portia, Alexis, Paige … they all refer to people who are dear to her … relatives, friends, people who believed in her.
It's rewarding, she says, to think that mothers and daughters are both fans of her shoes. With three daughters of her own, it's no problem staying on top of trends. Even so, some things never go out of style.
One of her must-haves — nude flats and nude heels. "Every woman should have both," she said. "They are great staples in your wardrobe, because they are so versatile." Nude pumps, as everyone knows, go with every outfit and automatically give the appearance of longer legs. Can't go wrong with that advice!
THE EUROPEAN CONNECTION
Keller's designs are manufactured in Italy, specifically Milan and Tuscany. "Historically, Italy is known for its world-class shoemakers," she said. "They are craftsmen who use the finest materials available. It is an art form for them."
At least four times a year, Keller travels to Europe to visit her Italian partners and participate in research and development. She usually stays about two weeks and thought it's a work-related trip, she admits to soaking up the Italian culture. "I have to say the food isn't bad," she teases, "and the wine is pretty good, too."
The creative process usually happens at home. And it's more complicated than it might seem. There are many elements to consider — pitch, heel height, insole, outsole, materials, vamp — and design choices to make — straps, scalloped edges, laser cut. And the list goes on.
"Yes, I do actually sit down with colored pencils and paper, and sketch designs," she said. "And I cut shoes apart to create new designs using a 'last' (foot mold) to make sure the fit is right and the feel is comfortable."
Next, she meets with her graphic artist who uses specialized computer software that allows Keller to tweak the design until she is satisfied with it. The finished image is then sent to one of her craftsmen in Italy, who builds a prototype of the shoe. "It's a bit like architecture," she says of the process.
Keller's line, which is now available in upscale boutiques around the country, has expanded to include accessories, and she dreams of growing her business even more. She gets a nice boost from her daughter Brighton, a fashion and lifestyle blogger based in Texas. From the very beginning, Brighton has provided her mother with support, encouragement and inspiration based on her own bold sense of fashion. Brighton's website, brightontheday.com links to her mother's site and features many of her shoes and accessories.
As for growing her brand, Keller insists she's in no hurry. When she is able to carve out time from her busy schedule, she and her husband Stephen, a real estate developer, enjoy visiting their grown children who are now scattered from Dallas to Shreveport to Atlanta. The couple splits their time between Baton Rouge and Atlanta, where they are busy these days remodeling a second home.
A CAUSE CLOSE TO HER HEART
Fashion is just the most obvious of Keller's passions. Another cause close to her heart is promoting breast cancer awareness. Keller is a breast cancer survivor who just this month, marked the 10-year anniversary of her 2006 diagnosis. Like everyone who has sat in a doctor's office and heard the word "cancer," Keller never thought it could happen to her.
"My experience proved to me that cancer doesn't just happen to other people," she said. "I was 42 years old and the first in my family to be diagnosed. But I was fortunate, because my cancer was caught early and had a high cure rate. Unfortunately, that's not the case for some women."
Her battle became a family affair, and she is especially proud of how her children, teens and tweens at the time of her diagnosis, handled her illness. "They wanted to help, and they became very involved," she said. "They helped promote awareness and even organized special events to raise funds for breast cancer research and education."
Brighton and Coco, her two oldest daughters, organized a fashion show luncheon, La Vie a la Mode, which continued for seven years. Her son, Stevie, and youngest daughter, Lele, hosted a middle school dance called Disco for a Cure. Over the years, the whole family has remained involved in breast cancer events and programs.
(After her cancer battle, Stephen was diagnosed with kidney cancer, and has since recovered.)
Keller urges women to get annual check-ups and keep up with their mammograms as this increases early detection and improves survival rates. "Listen to your body," she said. "If something feels strange or odd, see a doctor and be diligent in finding out why you are feeling the way you do. Be your own advocate. Get second opinions and explore treatment options."
And most important?
"Stay strong in your faith," she said. "Whatever journey you have to travel, the path is much more gentle and hopeful, if it's done with prayer."
For more information about Dee Keller Designs, or to order her products online, visit deekeller.com. 
---
Dee Keller Designs are carried in upscale boutiques and department stores throughout the country. In Louisiana, her designs are available in the following cities:
BATON ROUGE:
Eros: Towne Center at Cedar Lodge, 7425 Corporate Blvd. (225) 218-9600.
Chatta Box Boutique: 17650 Highland Road, Suite C. (225) 755-5702.
LAFAYETTE:
Amor: 500 Settlers Trace Blvd. (337) 476-1932.
MANDEVILLE:
Emma's Shoes & Accessories:
3904 La. 22. (985) 778-2200.
METARIE:
Chatta Box Boutique: 4114 Veterans Blvd. (504) 454-1527.
MONROE:
The Toggery: 1400 N. 18th St. (318) 388-4939.
NEW ORLEANS:
Angelique Boutique: 7725 Maple St. (504) 866-1092.
SHREVEPORT:
M Boutique: 855 Pierremont Road. (318) 220-8828.
(Information provided by M.K. Bledsoe)