If You Give, You Get
By Melanie Moffett
Mar 2nd, 2016
0 Comments
5151 Views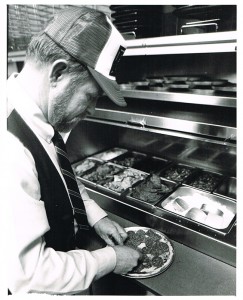 A Tribute to Johnny Huntsman
article by Tabby Soignier
It's a standard greeting for most people.
"Hey, how are you?"
Most of the time it comes naturally to just say, "Good … how are you?" without really giving it much thought as to how you are really doing.
Johnny Huntsman, founder of Johnny's Pizza House Inc., made it a point for everyone to know how he was doing — even on the days he had to fake it. A fan of public speaking, Huntsman always shared how to be successful.
"Tomorrow when you meet someone and they ask, "How are you?" Stand tall, smile, assume the posture and body language and answer, "Terrific!" Huntsman said numerous times when addressing the crowds from recent high school or college graduates to aspiring businessmen and women. "No matter what, act like you feel terrific – posture, smile – before you know it, you'll catch it from yourself. Others will catch it from you."
It was no surprise people hung to his every word. Huntsman went from high school coach turned sales engineer to entrepreneur before he turned 30 years old. He maintained the same terrific attitude through his losing seasons as a coach and that same attitude was contagious while working for Olinkraft (now Graphic Packaging).
The optimistic outlook is what drove him past his fears and doubts when he decided to leave his job and open up the first Johnny's Pizza House across from ULM (formerly-Northeast Louisiana University).
It's what kept him from shutting down completely in 1989 when the business went bankrupt due to a poor economy and the start of competition from other pizza chains. He surely wasn't feeling terrific during those hard times, but you wouldn't have known it from the grinning man inside a barrel making everyone who drove past look twice on Forsythe Avenue and in front of West Monroe City Hall that day.
That same smile is evident today, and if it were up to him, he would likely drive down to the hardware store, purchase another $9 plastic barrel, some red suspenders and find a way to get his livelihood back.
It's a little more difficult than that now though. For the first time in his life, Huntsman cannot control the things happening to him. The onset of Alzheimer's has forced him to slow down and have others take care of him instead of the other way around.
"A lot of people don't realize that with Alzheimer's comes anxiety and depression," Johnny's wife Sharon Huntsman said. "He is the most confident, most optimistic and most uplifting person I know, so it's an adjustment. We've really spent this time focusing on each other."
His contagious smile is convincing that he is still terrific, and even though he may not be health-wise, he will always be terrific to so many.
"Johnny is such a likable person and has inspired a bunch of people," Johnny's Pizza CEO and President Melvin Delacerda said. "We all kind of do things like, 'How would Johnny do it?' All who have worked with him over the years know his manners and the decisions he made and try to emulate that, because we think Johnny's way is the right way – that all leads back to being inspired by him early on and continuously."
A GIVING HEART
If Johnny's Pizza never took off, it's a safe assumption that Huntsman would still find ways to help people. One to never brag or desire the spotlight, he stayed under the radar, quietly paying tuition for students and giving to area charities from Camp Quality to the Boys and Girls Club.
"If you can help, help as much as you can," he has said numerous times.
It was through his generosity that the pizza chain took off. While employed at Olinkraft, he would make pizzas and bring them to work functions and parties. It was the mid-60s and at that time nine out of 10 people had never heard of pizzas… neither had Huntsman when he left West Monroe in 1958 to attend his church college in Lamoni, Iowa on a football scholarship. While at Graceland University, he worked part time at the Pizza Shack just off campus. The small business was owned by another student and when he graduated he wanted to sell it to Huntsman. As a college quarterback with aspirations of being a coach, Huntsman did not have the money nor the time it would take to own a business at such a young age.
His football coach ended up buying the business instead, and Huntsman ran it. After graduation and spending two years as the head football coach in Belle Plaine, Iowa, Huntsman decided to move back to Louisiana and coach at his alma mater, West Monroe High School.
After one year, he hung up his whistle for the business world joining the Olinkraft staff.
He not only brought business savviness to the company, but he also introduced pizza to co-workers, who became his first cheerleaders off the football field. People raved over the pizzas and pushed Huntsman to open his own business.
It's not that the thought hadn't crossed his mind before, but he had a good job and a family to support. It wasn't until he passed the vacant building on DeSiard Street across from ULM that he started listening to his thoughts.
In 1967, it took $5,000 to open his first pizza house and a lot of help from family. He would use family members' cars to park in the parking lot to look busy. If a customer called in a to-go order, he would ask them to hold and then ring the cash register bell to create the idea that business was good.
On weekends, his oldest sister, Marilyn, would work the cash registers – only this time for real orders, instead of just the bell. Meanwhile, her husband Richard rolled out dough in the back, offering their free labor to help out in any way they could. Their kids delivered the drinks and fetched refills.
FAILURE NOT AN OPTION
His family knew the weekends they gave up would be worth it someday.
From an early age, Huntsman seemed to master everything he did. When he was a child, his mother, Dorothy would tell everyone that "Johnny could do anything." If something was broke, Johnny could fix it. In his mind, that meant trying to excel at everything – and so it began.
He owned his first business at age 10 – a lawn service.
He spent the early part of his childhood in Stuttgart, Arkansas – the Duck Calling Capital of the World – and at age 11, he won the duck calling contest.
As a fifth grader, Huntsman's father moved the family to West Monroe to start his own business – a machine shop off Old Natchitoches Road. West Monroe High School opened its doors in 1953 and started as an 8th-12th grade program. Huntsman was part of the first class to start and attend West Monroe all five years.
He was the first four-year letterman in football and baseball and the first quarterback to beat cross town rival Neville. The Rebels, not so much the powerhouse they are today, lost 40-0 when Huntsman was a junior, but he led them to a 7-6 win his senior year.
His days as a quarterback and later as a coach stayed with him as he guided his employees through their own careers.
He believed if you lived by three simple rules, it would put you in the top 5-10 percent of any endeavor: 1. Show up. 2. Show up on time. 3. Show up on time and prepared.
"He could not work with people who were not self motivated," Sharon Huntsman said. "He would say, 'Anything is possible if you work hard.' He is so proud of Melvin (Delacerda) and (Johnny's Pizza Chairman) Bernie (Lear)."
Delacerda started working for Johnny's while in high school. By that time, Huntsman had opened his second store – the Warren Drive location in West Monroe. His younger brother, Freddy, ran the store, while Huntsman continued his work at Johnny's No. 1.
"We were inspired to go above and beyond to do things right," Delacerda said. "We didn't know any better. We were barely making minimum wage, but that was not the point. We wanted to do that job right."
Huntsman always held education in high regard. It is the reason why Johnny's still helps its employees pay for college and why he has offered to help others not even involved with the company. Even to this day, every teacher in Ouachita Parish receives a 50 percent discount on every purchase.
"One thing I'm grateful for is he encouraged me to continue my education," Delacerda said. "I think he saw the importance of that. He never told me, 'Go get a college degree, because you're going to be president of this company.' By paying for the education, he gave me the opportunity and the time off that was needed and that was one of the things that probably meant a lot to me and my family and helped my career."
As Huntsman's wife puts it, he's been "a door" to so many, whether that is providing opportunities at Johnny's or in their own businesses. He has also helped jumpstart other entrepreneur's careers and many have come back to say that other than their fathers, Huntsman was the man in their life.
He also has four children of his own and six grandchildren. Marian Archibald, his oldest daughter, lives in North Carolina but gets daily reminders of her father through her sons, Matt and Jack.
"I see my dad in my children every day – his intelligence, his sense of humor, athleticism and even mannerisms," Archibald said. "It makes my heart so happy to see his legacy carried on through my children."
NOT JUST A BUSINESSMAN
The doors did not stop at the business side of things. Huntsman took an active approach to all of his interests. An avid outdoorsman, Huntsman put together a plan when he and a group of friends were approached about buying Davis Island – a 4,800-acre hunting property.
"It was a lot of money," current Davis Island president David Roach said. "Most of us started packing our clothes, but Johnny had meeting after meeting and led every meeting. He had chalkboards and formulas. He went to the bank, and none of us were asked to sign the note.
"We sold a few extra memberships and a lot of timber, and in five years it was paid off. Now we own one of the finest places in the state. I think everyone feels the same way – we wouldn't be there if it wasn't for him. He's very unselfish … very giving."
Huntsman not only provided an opportunity for other hunters to own part of the land, he provided some of the best laughs. He once spotted a beautiful fawn that had mostly white fur and over the years it grew into a spike, then a 6-point, then a 12-point.
"He named him Whitey and said he was off limits to everybody – don't shoot Whitey," Roach recalled. "Johnny went out hunting one day and the deer were chasing the does and running through the woods and he accidentally killed Whitey. We had to have a funeral for Whitey and Johnny wrote his own poem."
Huntsman demanded that the deer be mounted whole, and Whitey still sits at the camp to this day.
"He was always so positive about every situation," Roach said. "You can choose to be negative if you want to, but you won't get very far going that route. He was just very upbeat and positive. It was just an honor for a young businessman like myself to learn and pick up things from him. What he's done is incredible," said Roach.
THE CHALLENGE
Whether he is reading poems over a deceased deer or going out to dinner, Huntsman makes it a point to get people to smile.
"Never stop being the best person you can be," are words he repeats and lives by.
It could be a friend, a waitress or just a stranger. If they are not happy, he is going to try and make them happy – especially when it comes to the Northeast Louisiana area. The people who turned into loyal customers and helped pull him out of bankruptcy are who he calls "some of the best people in the country," said Sharon.
"He is really friendly," said Johnny's Pizza wage employee Pam Tugler, who just hit her 30-year mark with the company. "He came in here, and asked how long I've been here and thanked me for being here that long.
As of Dec. 2014, Johnny's Pizza House Inc. has 35 corporate stores and 12 franchise locations that span Arkansas, Texas and Louisiana. Nine employees have spent the past 30-plus years with the company, including Tugler (30), Delacerda (37) and Lear (46).
All three remained with Huntsman during the bankrupt years and Huntsman credits their loyalty as the reason why the franchise continues to thrive.
"Johnny knew he could not bring back Johnny's Pizza without the employees," Sharon Huntsman said. "He stood in the barrel, but we were all in that barrel with him."
A DIFFERENT KIND OF DARKNESS
Sharon spends most of her mornings helping her husband get dressed and ready for the day. He still puts on his own shoes though – maybe it became habit from all those early mornings he put them on and walked the campus of ULM.
He watched the sunrise over the bayou many of mornings, and though he was uncertain what the day would bring, he knew it would be terrific.
The days may not be as bright now, but Sharon – like her husband – finds the positive. Although it may seem odd, she says, in a way, Alzheimer's is a blessing.
"It makes you conscious of how you spend your time," Sharon said. "You stop trying to control things you can't control. It required Johnny to ask for help and depend on others."
And after all the help he's given over the years, it's time for him to receive the latter part of one of his favorite quotes, "If you give, you get."