Il Greco
By Melanie Moffett
Mar 27th, 2015
0 Comments
1025 Views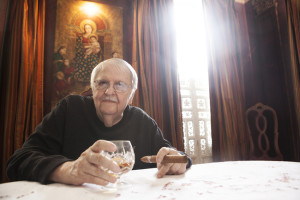 Johnny Johnson helped grow an empire and, with it, an economy. Michael DeVault gets this month's BayouIcon to open up about the golden age of Monroe, family and the importance of the American Dream
photography by Brad Arender
Johnny Johnson doesn't need to think too much to see where his life would have ended up, were it not for his father's decision to leave the family's native Greece and come to America. In fact, he vividly describes that other life, the life unlived, of a boy named Thomas Yakopolas.
"If it weren't for the greatest country in the world, I would still be up there on a mountain in northern Greece tending goats," Johnny says. His father came to the U.S. with a young wife, and they came south to begin a new life in Monroe. Moving to the states was not the only good decision Johnson's father had. There was the matter of the name.
"My daddy was smart enough to change his name from Yakopolas to Johnson," he says. "It saved a lot of problems in the 1930s."
In the throes of the Great Depression, Americans of the day were not exactly friendly to newcomers. Though immigration played a major role in the country's economy, a family of Greeks might mean fewer job opportunities and less than welcoming neighbors. That wasn't going to be a problem for the Johnson clan, though, because they had a knack for making friends and winning business partners, traits that continue on today, as Johnny's brood of children—six in all—continue to pursue diverse careers in real estate and business.
Johnny's father and mother opened the Monroe Coffee House in the 1930s, and it quickly became a go-to spot for many locals. It was at the Monroe Coffee House that the Johnson family's ability to pick a winner first manifested itself, in the form of a young man who had big dreams and an empty wallet.
The family recognized something in the young man, and they allowed him to run a line of credit in the coffee shop. Any time the young man lacked the money to pay his bill, the Johnsons would run a tab. Eventually, that tab would get paid. It wasn't until the 1940s and the outbreak of World War II that the generous spirit paid off.
The young man was Otto Passman, a future congressman who made a fortune during World War II. Following the war, when Johnson's parents had bigger plans than a coffee shop, they went to Passman.
"We built a new restaurant on Highway 80, the only restaurant on that road," Johnny says. "We bought $100,000 in new equipment, zero down. Passman financed it all for us."
Where the young Otto had eaten on credit, the Johnsons were now running credit with him. And with this partnership, an entire era was born. The Johnsons called the restaurant the Rendezvous, and from this unassuming building in the middle of an empty stand of trees, the Johnsons would grow a real estate empire that stretched from Monroe as far away as Virginia. Johnny wasn't even a teenager yet, and wouldn't turn ten for a couple of years.
For more than thirty years, the Rendezvous occupied the center of Monroe nightlife, the home of local titans and the watering hole of some of the world's most influential businessmen as they transited one of the nation's busiest highways. In 1950s America, Highway 80 wasn't just a street. It connected Atlanta to Los Angeles—and everything else in between. And in those connections lay opportunity. But there's still a whole lot of life to get to before those opportunities could be realized.
After all, Johnny was still in high school. He had attended Georgia Tucker for elementary, and at Neville High School, he played football. He rattles off lists of names. "Coach Boggs, Coach Rupple, Gus Patterson, Coach Coates," he says. "They taught me how to play football."
It was at Neville that Johnny also picked up on a little secret: someone always has to do the job no one else wants. "No one wanted to be a center and put their head between their legs," he says. He laughs and adds, "Come to think of it, that was nuts."
Yet, he stood out as a center, and in 1954, he graduated high school a star ball player. By then, his father had passed away, leaving a brother and himself to help care for the family here in Monroe. A world away, though, a force beyond their control threatened to upend the family's efforts.
Just as Johnny was coming of age in high school, Uncle Sam was headed back to war. From 1950 through 1953, war had raged on the Korean peninsula, and though a truce had been reached, tempers were still high. The Korean War was over, but no one believed fighting was over for good. There were still communists that needed to be contained, and rumblings were already afoot. There were problems in another tiny Asian nation, and for any young man graduating in the 1950s, military service was in Johnny's future, and if Johnny wanted a long future, he would have to find a way to not get killed overseas.
That way presented itself the year he graduated, when a little college not far from his front door switched from two-year career diplomas to four-year bachelor's degrees. As a college student, Johnny could avoid deployment, and when he graduated, he would be a commissioned officer, a lieutenant in the U.S. Army. "I realized then that I would rather die an officer than a private," he says.
For four years, he studied Geology and ultimately received a bachelor's degree in the subject. Though he "never used it, not one day," his degree in Geology served him well. It helped him avoid deployment in combat and, instead, landed him a job in a federal prison installation in Cuba.
He went on to serve two years in the Army before coming home for good in 1956, just as the Vietnam Conflict was showing the first signs of igniting. But Johnny's future wasn't in uniform. It was back home in Monroe, with a young woman he had attended high school with. Earlier in 1956, Dolores and Johnny had traveled to Aiken, South Carolina, where they had slipped quietly into St. Thaddeus Episcopal Church and gotten married. They had kept their nuptials a secret for a single reason.
"Johnny was scared of his mother," Dolores says. "I wasn't Greek, and they wanted him to marry a Greek girl."
By this time, Johnny's father had passed, and it was just his mother and siblings. Dimitra Johnson was a force of nature, and Johnny had to ease her into the new reality of a blended American family. Dolores, or Duck, as she's known by her friends, helped smooth over the turbulence when she and Johnny renewed their vows in Monroe, in a Greek Orthodox service attended by family and friends.
The weather was so bad, Johnny couldn't fly into Monroe. He had to fly into Shreveport and drive back," Dolores recalls. "We were having the reception at the Rendezvous, so instead of having everyone move from the church to the restaurant, we decided to do it all there."
Dolores says her husband is a perfect combination of his parents. Though her father-in-law was deceased by the time the couple married, she says he bestowed upon Johnny a great heritage—his reputation. "Everyone loved him. He had a great reputation personally and in business," she says.
From Johnny's mother came a generous spirit. As Dolores puts it, "If she saw somebody who needed to be taken care of, she took care of them." That caregiver spirit served Johnny well through the decades, and when combined with his father's good reputation and that knack for picking the perfect partners, it was a recipe for success.
Like virtually all of Monroe life in the late 1950s and early 1960s, the Johnsons' lives revolved around the Rendezvous. Johnny tells stories of afternoon craps games in the back office of the restaurant—a game that his mother occasionally tried to break up. They had a plan for that, though. Whenever she complained, they would invite her to play.
"We would tell her, 'You rolled a 13! That means you won a hundred bucks,'" he says. He smiles, pointing out that there is no way to roll a 13 with two dice, and leaves it at that. A hundred dollars tucked away, though, Dimitra would leave the boys to their dice and go about her day, which leaves one to wonder if she hadn't figured out a way to win at craps after all.
The craps games in the Rendezvous continued for years, with Mrs. Johnson winning the occasional $100, until the law came knocking and threatened Johnny. He wasn't afraid for himself, but the police knew that. "He told me if it continued, they'd arrest my 83-year-old mother," Johnny says. "So that's when the craps game stopped."
That's not to say, of course, that the gambling stopped. Like his father before him, Johnny enjoyed gambling, be it a dice game, a good hand of poker or football. "Ask me how much I won last year," he says. He smiles slyly, and then he laughs. "Not a damn thing!"
Over the years, as Johnson played host to friends, relatives and out-of-town guests, he also hosted a regular crowd of another sort. Every year for more than 30 years, Johnson got a visit from the FBI. Each year, they wanted to know about gambling. Not one to shy away from the truth, Johnny was always honest.
One year, the agents asked him for names. "They asked me, 'Do you bet on football?' And I told them I did," he recalls. "They asked me who I bet with, and I told them."
Johnny says they left, and he figured that was that, until months later he received an invitation from a federal prosecutor in New Orleans, who invited him to be the government's guest in the trial of one of the bookies, who was being tried for racketeering. Compelled by a federal subpoena, Johnny made the trip to the Big Easy.
Sitting in the witness stand, or as he puts it, "I was a spy for the government," Johnny was asked to identify the means by which he paid losing bets. "I told the prosecutor I settled either with cash or by a check," Johnny says. The judge then asked how he was paid when he won. Johnny didn't miss a beat. "I don't know. I've never won before."
"He still hasn't," Dolores adds quickly. Johnny agrees. "She's right."
Instead of making a living as a high stakes gambler, Johnson rolled the dice on other deals—the deals that would make his name synonymous with real estate deals, restaurants and nightclubs for more than sixty years. Building on relationships he forged at the Rendezvous, he opened the first 7/11 in Louisiana. By the 1960s, he had another chain in mind.
"I told everybody I knew to buy McDonald's stock," he said. "Nineteen dollars a share! Buy it!"
It seemed to Johnny back then that the Golden Arches weren't just a passing fad and were, instead, the manifestation of that American drive to succeed and build. And Johnny wanted his part of it. Over the years, he would go on to build 22 of the restaurants for franchisees. Under the arrangement with the parent company, Johnson found the land and built the building, and McDonald's found a franchise operator for it. Johnson saw tremendous potential in such arrangements, and he would build partnerships with numerous companies and individuals in the future.
On one such building-trip in the early 1980s, Johnny found himself in Virginia Beach with Monroe attorney and life-long friend Billy Boles, Sr.  Boles and Johnny were on a mission to construct Burger King restaurants in Virginia, and they flew to the state to borrow money.
"We got off the plane and we were richer than richer, than we ever thought about, because we had been drinking," he says. "Our motel was about half a block from the airport, and Boles says 'Let's get a cab.'"
Everywhere Billy Boles went, he made friends. Virginia Beach Airport was no exception. After hailing a taxi, they struck up a friendship with the driver, who volunteered to take them around town the following day in his personal vehicle, as he was off work from the cab company. Their ultimate destination the following day was a Savings and Loan, where Johnny says they intended to finance more than $3 million for construction of the restaurants.
"The next day, the cab driver I like drives up to take us to the bank where we're going to borrow the money," Johnny says. There's just one problem: the driver owns a Volkswagon Beetle.
"You know how long Boles's legs were," Dolores adds. Boles wasn't just tall. He was lanky. Folded into a V.W. Bug, he must have looked ridiculous, and Johnny knew this. So, just a block away from the S&L, Johnny asks the driver to stop.
Instead of arriving in a chauffeured car, Johnny and Boles go into the bank on foot, where they meet another obstacle. The loan officer is wholly unimpressed with the pair of Louisiana pedestrians, and she's not forthcoming with a loan, until Billy's charm kicked in. For the next few minutes, Boles chats her up, all smiles and winks, until at last she relents.
"Boles walks in and this lady from the S&L hands him $4 million, because Boles carried on with her," Johnny says. But their story doesn't end there. They return to the Volkswagon, now $4 million richer, and their driver. A few blocks away, the car sputters and dies.
"I tell Boles, 'It's a set up,'" Johnny recalls. The driver disappears in the back of a truck with two other men. A few minutes later, the truck returns. Nervously, Boles and Johnny watch him hop out. The driver is holding a beer bottle, which he proceeds to break over the bumper of the truck.
"We took off running," Johnny says. He laughs again, and has to catch his breath. "The driver calls out, 'It's a funnel! I just ran out of gas!'"
So it was that Johnny and Boles lived to fight another day. Now, more than 30 years later, Johnny's still fighting, still making deals. One afternoon in March, he's sitting at home when his son, Jay, arrives with a lease for a piece of commercial property. He interrupts the interview to discuss terms of the lease, which he says is a good deal for them. A few more details ironed out, the lease means the Johnsons have struck another deal for another new business somewhere in town. It's a scene that plays out again and again in the life of Johnny, who at 82 is still very much the patriarch.
"Johnny was the primary caregiver for everybody in the family," Dolores says, connecting the trait back to his mother. "And to a certain degree, he still is."
Local businessman and former nightclub owner Mike Roberts agrees. He understands both Johnny's caregiver attitude and something else, something much more important. "Johnny only does business with friends," Roberts says. "And if you did business with him, you weren't just a friend. You were family."
Over the course of several deals for nightclub locations, Roberts and his partner, Nash Patel, would make the trip to Johnson's home on Riverside Drive. Upstairs, in the spacious master suite, they would discuss the details. Then, once the deal was fleshed out, it was time to eat. "Johnny wouldn't finish the deal until we'd sat and shared a meal with him."
Over hundreds of such meetings with dozens of entrepreneurs, Johnny Johnson helped grow an empire and, with it, an economy. But it's not just about the economic benefits. For Johnny, it's about something more profound, the American spirit.
"I am the luckiest man in this world, to be a U.S.A. citizen, born here," he says. "I wouldn't trade it for the world."