Italian with a Southern Style
By Melanie Moffett
Apr 25th, 2014
0 Comments
630 Views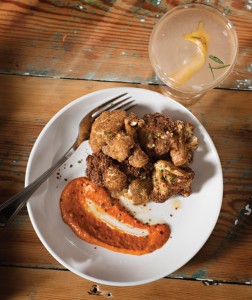 Chef Cory Bahr Pays Homage to His Grandmother in His Newest Venture, Nonna. This New Restaurant Offers Classic Italian Dishes with Bahr's Signature Southern-Style.
article by Mary Napoli | photography by Joli Livaudais
Chef Cory Bahr has often said that his love for cooking began in his grandmother's kitchen.  For many of us, the dishes that grandmother prepared will always be the yardstick to which all other food is measured.  With that in mind, he pays homage to this influential woman at his newest venture, Nonna–which translates to "grandmother" from Italian.  At Nonna, the Chopped! champion offers classic Italian dishes that bear his southern-style signature.  The fare is not the Creole-Italian made popular in New Orleans; it is something new and different.  Bahr successfully bridges the expansive gap between Old World Italian and North Delta cuisine in a convincing and delicious way.
What could North Louisiana and Italy have in common?  More than you might think.  Italians are known for their laid back approach to life and penchant for celebratory behavior.  Unless you have been hiding under a rock or had the misfortune of growing up outside of the South (bless your heart), you know that in Louisiana, we love to pass a good time, and we love to take our time doing it.  Both of our cultures have a fierce love of family, food and religion, and are known for our deep passions toward our own traditional cuisines.  Italians and North Louisianians both take advantage of our own local agricultural resources and make use of what is fresh and in season. Need a visual aide? Put a bowl of grits next to a bowl of polenta, and there you have it.
Old World Italians truly enjoy the beauty of sharing a meal with friends in a relaxed setting, and Bahr has created an atmosphere that invites guests to come and "sit a spell."  The decor is an eclectic mix of Old and New World, with modern paintings and sculpted lighting juxtaposed against rustic farm tables.  The interior dining room is stylish, yet comfortable, and the patio area is contemporary and informal, with a distinctly Mediterranean feel.  The bocce ball court invites guests to interact with one another while they eat and play.
"When you have two places (restaurants) in a small town, they have to be completely different from one another," says Chef and owner Cory Bahr.  "Nonna in itself is Italian, with Southern roots.  We express our sense of place within the North Delta in Louisiana."
Family-style restaurants are easy to find in Italy, and Bahr has created a menu at Nonna that includes several menu items that are intended to be shared.  Together with Chef Nick Oskoian, Bahr has crafted a beautiful offering of delightful cheeses, cured and smoked meats, antipastas,  Neapolitan-style pizzas and magnificent pasta dishes that are meant to be shared by the table. Imagine yourself at your own grandmother's house, and say "pass the pasta."
Pasta offerings are an eclectic mix at Nonna.  There are traditional dishes, such as the 20 Layer Lasagna and the Cannelloni, or more adventurous fare, such as the Pappardelle, which features succulent, tender and slowly braised rabbit with wild mushrooms and truffle tossed in buttery pasta.  On the opposite end of the spectrum is the Garganelli Bolognese, classic Italian comfort food in its truest form.  The dish features beautifully crafted pasta cooked al dente and covered in a traditional tomato based meat sauce. Flavorful and filling, the sauce clings to each ridge and fills each tube of the delicate pasta.  This is a wonderful choice for those who long for a pasta dish that is part of the time-honored tradition.
Nonna does not fail to impress when it comes to American's favorite way to eat Italian–pizza.   The "Total Carnage" is a meat-lover's dream.  Pair it with a Great Raft beer, a Mississippi-made brew that Nonna gained access to before anyone else in Louisiana.  Toppings feature proscuitto, house made fennel sausage, smoked bacon, roasted pork and spicy pepperoni. Each bite is filled with carnivorous ecstasy.  Although the smoky meats in each bite are ridiculously delicious, the pizza is worth ordering for the crust alone.  It is chewy, but not too thick, and can hold the weight of the toppings without folding.  The outer rim of the pizza crust is a treat in itself–crispy, salty, and slightly chewy–the perfect finish to the each flavorful slice.
Italian dinners practically beg for wine, and Nonna provides a delightful mostly Italian selection.  However, consider a delicious cocktail from the menu before you nosh.  Nonna's bar manager, Topher Cagle, has created several drinks that incorporate the luxurious indulgences that Italy brings to mind.  All mixed drinks are hand-crafted with care and with fresh fruit and flavors–there are no shortcuts taken here.  The cleverly named "Rosemary's Baby" is an incredible creation. This cocktail is light, fresh and delightfully fragrant, owing to the fresh rosemary muddled with fresh grapefruit.  Mixed with gin and house syrup, its' a drink that offers complex and interesting flavors that make for an enchanting apéritif.  The sweetness of the syrup offsets the bitterness of the grapefruit, but allows the citrus flavor to shine through.  The rosemary-infused gin presents itself on the back of the palate, and the torched lemon rind provides depth to the citrusy flavor.  Crisp and lovely, this is not an intensely flavored drink that will compete with the heavy flavors of some dishes on the menu.  Try it on its own, or with a pre-pasta dish.  Another experiment in lusciousness is the "St. Vitus Dance," another creation of Cagle's that offers complex, but well-balanced flavors.  A Luxardo cherry is the most amazing feature of this drink, and it will spoil you forever.  This is no neon-colored cherry you might find on top of a sundae.  These deeply-flavored gourmet pitted cherries are candied in Marasca syrup and must be experienced to be believed.  A jar of these cherries may be costly, but they are worth every penny.  It seems that every cocktail created at the Nonna bar is a delicious indulgence.
For anyone who has been to Italy in the warmer months, you most likely have fond memories of sipping limoncello, a century-old homemade lemon liqueur.  Cagle obviously did his homework here, because this limoncello is powerfully authentic.  In keeping with traditional limoncello making methods, his version requires nearly a month of prep time.  The zest of lemons, traditionally Sorrento lemons, are fermented in grain alcohol until the oils are released and the liquid takes on an opaque yellow color.  This process often takes several weeks.  The resulting liquid is then mixed with a simple syrup and served chilled in a small glass.  But please, do not let the size of the vessel fool you–this is NOT a shot.  Limoncello is meant to be sipped slowly and savored.  The powerful, citrusy liqueur is a perfect warm weather drink and could easily quell the heat of a summer afternoon.  Even the tiniest taste provides a warmth to your throat and a smile to the lips.
As at grandma's house, Nonna encourages us to eat, converse, play and enjoy in the style of Old World Italy.  Plan to take your time, and relish all the Southern-infused Italian beauty that Nonna has to offer.  Now everyone in Monroe has an Italian grandmother.