Jo & Kemp: Fashion Blogging & Style
By Admin
Aug 29th, 2016
0 Comments
475 Views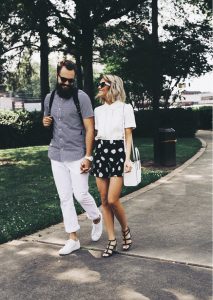 article by Meredith McKinnie
Having been raised in the fashion world, Kemper LaRae Baugh is no stranger to style. Her stepmom, Kelly Block, opened K Sera when Kemper was only thirteen, and since then Kemper has been involved in photo shoots, fashion shows, styled for Homecoming Court and has essentially been rooted in the local fashion scene. She calls Kelly her "fashion foundation," and Kemper has since gone on to build both her name and her brand along with her husband, Jordan Baugh. This young, fresh duo have evolved into local fashion blog celebrities and taken Instagram by storm.
Kemper always knew she loved fashion, but wondered how to mold that passion into a career. She worked as a style assistant on the local hit TV show, Duck Dynasty, where she helped style the women. She descrived working on the production an "amazing experience" which helped her develop her own style. It was during this time that another teenager gave Kemper a suggestion that would jumpstart her success. "You need a fashion blog!" were the words of Sadie Robertson, and perhaps it was timing or the boost of confidence from a peer whose style she admired, but that ignited the spark in Kemper.
Jordan Baugh embraced his wife's passion and began researching the world of fashion blogging. He designed their website and learned the art of photography. He takes the photos, uploads and edits (with some help from Kemper) while she types up their blogs, usually one per week. Jo says, "no matter how good you are, it takes time, experience and knowledge to build an audience." Though spending a lot of time on Photoshop, he tries to "capture as much of the moment in the camera." Before he would say the photos make it, but now it's a balance of style, location and lighting as well. Jordan enjoys letting Kemper primarily be the face while he works behind the scenes. He will sometimes delve into fashion choices, though Kemper often tweaks his choices. Most of all he enjoys the time with his wife. Much like their two-year marriage, they are learning and growing together, something they cherish.
The couple describes their style as "urban, chic, with an edge." Kemper's role is to shop, put the outfits together and style them. She likes a variety of outfits, often inspired by mood, sometimes leaning toward "urban slouchy." Jo's personal style has also improved, which Kemper describes as "urban edgy." Now they tend to dress more alike, sometimes even matching. Together they scout locations, often local spots in Monroe and frequently downtown. Shots are often taken without greenery, more often back-dropped with old buildings, Kemper perched upon steps, or prancing down the blacktop street, always with her infectious smile. A fan of accessories, no look is complete without the right bag, sunglasses, headband, hat, stylish shoe and the right pop of color gracing her lips. Kemper knows style. And Jordan knows how to photograph style. Kemper owns each photo while still highlighting and promoting the essence of the clothes. And sometimes the couple will appear together, frequently mid-laughter, genuine moments frequently captured by Jordan's mother, Sherry. It's the twosome, the "mind and the face" that make this fashion blog and each photo successful. Kemper insists she wouldn't be doing this without Jordan, that it "wouldn't be worth it."
For each Instagram shot, usually anywhere from 20-30 photos are taken. The couple strives for one photo a day to keep the social media presence fresh and in people's minds. They have been able to draw followers to their Instagram, first through giveaways, but now more so from shares, reposts, word of mouth, comments, and by tagging friends. The blog is written once a week, often detailing what the couple has done that week, different details about each outfit, how she styled it, how it could be styled differently to suit others' tastes, and links where viewers can find the clothes. The blog promotes itself with the benefit of hashtags and an abundance of followers; clothing companies often send the couple outfits to style, shoot and promote…the more exposure, the more successful the blog.
Jo and Kemp have partnered with the company RewardStyle and LikeToKnow.it, the program within the company, which together act as the middleman between brands and social media influencers. By clicking on the liketoknow.it link under each social media post, viewers can enter an email address, and with each liked picture, the viewer receives an email with outfit details from each liked picture and links on where to buy the outfit. This exposure has led to more opportunities for Jo and Kemp with companies such as: Forever 21, Nordstrom (which actually featured Jordan in the photos), Express, Urban Outfitters, Kate Spade, and American Eagle. The brands contact Rewards Style to find bloggers with an impressive social media following. And in return, aside from financial compensation, Jordan and Kemper receive publicity on the brands' websites. The couple attended the RewardsStyle conference this past March, by invitation only, hosting the company's top 200 style bloggers worldwide. This opportunity allowed the couple to meet blog celebrities, people they follow, and sit in on sessions to improve and further establish their brand. At one point Kemper was star-struck, meeting a fellow European blogger, her inspiration. Jo and Kemp were well received, and did not find the environment to be competitive, insisting, "Your success does not affect my success."
Most of all they love experimenting. Kemper wants to stay true to herself and her style, broad, but consistent. And like their marriage, communication is key, telling each other what they think. They've learned it's Jordan and Kemper that define the blog. They created the blog because of their special connection, "never wanting it to become an obligation." It has begun expanding into lifestyle blogging opportunities, focusing on travel and hotel marketing. Everything they've prayed for together is coming to fruition, and they're hopeful and excited for their future.
What is most intriguing about the couple is their connection. Not only is it abundantly evident in the photos, but in everyday life. The last two years have taught Jordan the importance of keeping "marriage refreshing, still being romantic,' keeping the relationship, itself, alive." Both wake up every day putting the other first. They believe in each other, they promote each other, and between them visibly exists a connection most couples strive for. Though newlyweds by definition, they understand compromise, commitment, business, and the importance of faith. They strive for a balance of giving God the glory and staying true to each other through example. Viewers will see the light through them, and each shot further exemplifies this commitment to the success of the blog, but most importantly to each other.
Facebook: JO & KEMP
Instagram: joandkemp
Blog: www.joandkemp.com
Email: hello@joandkemp.com