Jodami Design
By Melanie Moffett
Sep 29th, 2014
0 Comments
1013 Views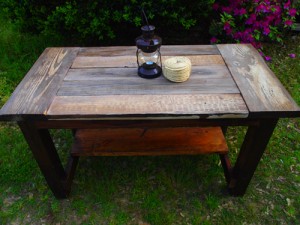 Jodami Design Reclaims the Local Furniture World
by April S Kelley
Wooden pallets and reclaimed wood contribute to the one-of-a-kind furniture pieces created by Joshua David Mitchell, founder and sole-builder of Jodami Design.
Evolving from a backyard hobby to a full-fledged business, Jodami Design has proven to be a furniture business unlike any other in the area. Specializing in wooden pieces made especially for the customer by an extraordinary builder with an artist's eye. "I've been building and tinkering on stuff all of my life," Mitchell said. "When I was nineteen, I built my first reclaimed piece, a coffee table, out of reclaimed pallets I found."
Twenty-seven year old Mitchell has been building for almost a decade, but his business has only been in existence for the last two years. "About two years ago, I got really serious about the business. I came up with a name using the first two letters of my first, middle and last name. Then I started really trying to market myself," Mitchell said.
Jodami Design features home décor with a distinctive style. Mitchell describes his creations as mostly rustic, as that is the current trend. "I draw some inspiration from things that have already been done, but I like to throw my own creative twists in on everything. I'll throw in a little accent piece like nuts and bolts to give it an industrial look, just something to set it apart from stuff you've already seen. I don't want it to look store-bought," Mitchell explained.
One of the most noteworthy things about Mitchell's furniture is the abundance of reclaimed materials used as the foundation or starting point for the projects. Mitchell finds discarded materials in all kinds of places. Sometimes he finds them on the side of the road. Sometimes he finds them at his day job, where he works as a carpenter. Sometimes he hauls them from New Orleans and Baton Rouge. Not only do reclaimed materials help to inform his work, but Mitchell believes that reclaimed materials are a very important aspect of what he does.
"I think it's very important to use reclaimed materials. There's a lot of lumber and other things that get thrown away every day that could be reused for anything, not just furniture, but everything. I think it's sad how people throw away a lot of great materials that could be upcycled and put to use," Mitchell said.
Jodami Design focuses on meeting the wants of the customers. Mitchell can take any idea and run with it, whether the customer wants a traditional canopy bed, a rustic breakfast nook or an industrial pallet coffee table.
As of right now, Jodami Design primarily undertakes home décor and furnishings. Mitchell, however, hopes to one day do more business construction. "That's where I'd really like my business to go— building furniture and displays for businesses, to be able to go in and sort of re-design the whole look. I'd like to build a sales counter for a business front with reclaimed cladding," Mitchel said.
Like most creative types, Mitchell loves what he does. He loves building furniture, not only for the customer but for himself as well. "It really is my passion. A lot of projects I take on just to do it. I want to see it done. I know it's going to look cool, so I'll take it on. And I get inspiration from everything in my environment, every building or house I walk into," Mitchell said.
The Upstairs Gallery in Monroe featured some Jodami Design pieces in the last Downtown Gallery Crawl. Jodami Design anticipates to be featured regularly in this event.
To contact Jodami Design to have your own one-of-a-kind furniture piece, you can visit his facebook at https://www.facebook.com/jodamidesign or email at jodamidesign@gmail.com. You can request the type of piece you want as well as the style you are looking for. You can also donate some reclaimed items to use as the foundation for a project if you'd like.
Jodami Design also has some upcoming contests as well. One Wardrobe of Ruston will be giving away a coffee table and The Agora Borealis of Shreveport will be giving away a kitchen island. To enter, simply like their Facebook pages.