Just Desserts
By Melanie Moffett
Nov 25th, 2014
0 Comments
1148 Views
Sweet Treats for a Sweet Season
article by Michael DeVault | photography by Martin G Meyers
table courtesy of Jodami Design
It's the most wonderful time of the year…especially for those with a sweet tooth. From the candy canes of Germany to the flying chocolate bells of Italy, every culture has its own, unique culinary traditions that go hand in hand with Christmas celebrations. Our neck of the woods is no different, and BayouLife has sought out five of the best confection creations to help satiate those holiday sweets cravings.
As we explored the hundreds of desserts offered by the culinary masters of our region, similar threads began to emerge, the textures and flavors shared by each of the selections. After a while, a picture of the holiday dessert began to form, sweet, savory, a hint of spicy, and in pretty much everything is butter, which brings a fulfilling richness to every bite. Cinnamon, nutmeg, and a dash of ginger ranked among the most impressive of the tastes we sampled.
In the end, though, BayouLife selected just five of the masterful treats, dishes that best symbolize the achievement and joy that is the perfect holiday dessert. With treats from several of our area's most popular bakers and chefs, the December edition of BayouEats is sure to leave you craving a sugar fix. So don that ugly Christmas sweater, snuggle up with a hot butter rum and get ready to dig into Christmas on the Bayou.
Pepermint Bark
Tummy Yummy Creations – Ashley & Bob Wilson
For Bob and Ashley Wilson, Tummy Yummy Creations began as a labor of love. An accountant by trade, Ashley was working for International Paper when she became pregnant. Bob discussed their future with his wife, and the couple decided she would become a stay-at-home mom. Sometimes, plans don't work out the way we plan.
"About six months in, she realized she wanted to be doing something," Bob said. The couple did not have to look very far to find a suitable pastime for Ashley. In fact, she was already doing it. "She liked to bake, so she started to bake."
At first, the business was based out of the couple's kitchen. Cookie orders for schools and businesses blossomed into holiday baskets. Eventually, they realized it was time to make a move. They opened Tummy Yummy Creations in 2006, in the space above the Rialto Antique Mall in West Monroe. Two years later, Tummy Yummy moved again to its current location on Natchitoches Street. The rest, well that's the just desserts.
We started out doing decorated cookies," Bob said. "But as the business grew, we expanded into cupcakes, cakes and chocolates." Today, Tummy Yummy is a full service bakery, dishing out cakes, candies and other sweets to a steady stream of walk-in customers. They added plate lunches a couple of years back, as well.
The Wilsons say they look forward to the holiday season, because everyone has that favorite Christmas memory, which is really what it's all about. "I don't think desserts as a whole need to be overly sweet, maybe just a hint of sweetness," said Bob. "But most importantly, especially for Christmas, are the memories."
Tummy Yummy prides itself on building iconic flavors from cinnamon, vanilla and peppermint. As Bob put it, "It brings back memories of your childhood." Perhaps that's why, each year, Tummy Yummy sells dozens of pound-sized jars of its signature dessert: peppermint bark.
A thick layer of rich milk chocolate is melted, topped with peppermint-flavored bark, and dusted with tiny, spicy flecks of real peppermint. Once it cools, this melt-in-your-mouth treat is the absolute flavor of Christmas. Tummy Yummy even makes it ready to gift, with each serving of Peppermint bark jarred and topped in a genuine Mason jar.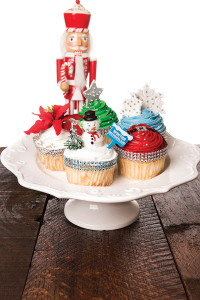 Christmas Cupcakes
iDream Cake – Vickie Mitchell
Vickie Mitchell has been baking for more than 30 years, but it wasn't until a few years ago that she started thinking of it as a business. At the time, she was running a home-based bakery, preparing wedding cake masterpieces to order. One morning, she realized something had to change.
"It started taking over the house, and we decided to open a bakery, because we didn't have room for all the cakes we were doing," Mitchell said. So the home-based business found a location on North 7th Street in West Monroe, where they set up shop making designer cakes and wedding cakes. "We do fondant work more than anything," said Mitchell.
For the holidays, iDream Cake doesn't draw the line at cakes, though. They can do everything. "We do a full-fare Christmas. Chicken and dumplings, turkey, dressing and full meals with pumpkin rolls," she says. A popular dish during the season is the Winter Wonderland Cake, a dreamscape of sweetness. "It's airbrushed light blue, with snow and icicles." Buttercream snowmen and icing-dipped trees finish out the landscape.
When it comes to cakes, at iDream Cake the name says it all. "Whatever you dream up, we make it happen," said Mitchell. "We've done hundreds of Elsa cakes. They're very popular right now because of the movie 'Frozen'."
When it comes to the quintessential Christmas dessert, iDream Cake has you covered with their fresh, made-from-scratch cupcakes. Each cupcake is an artistic creation, a holiday masterpiece sure to inspire visions of sugarplums. Save room for two! Light, moist white cake is topped with a rich, sweet, royal icing. Then, blending both edible and decorative elements, the cupcake is finished out in true holiday spirit. Perhaps you'll find a snowman next to Santa Claus. There are Christmas Trees and poinsettias, too. Whatever you want, it's there, waiting fresh just for you.
"We make cupcakes fresh every day. None of our products are frozen. Everything we do is fresh," said Mitchell.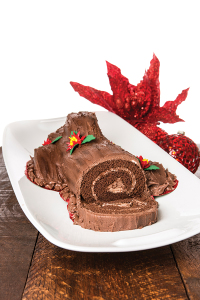 Bûche de Noël
Thurman's Food Factory – Thurman Dickey
Thurman Dickey has come a long way since his days of selling candy and groceries wholesale for F. Strauss and Sons. He's grown over the years, but his roots as a wholesaler are never far from memory. "I learned the ropes about different kinds of foods there," Dickey told BayouLife. After opening a string of successful in-store delis in McLemore Jitney Jungles–a new innovation for the region–Dickey decided the time was right to strike out on his own. By 1989, Thurman's Food Factory was up and running, a permanent fixture in the Monroe culinary scene.
Holidays are always big at Thurman's Food Factory, where Dickey and his staff spend their time making homemade candies, baking cakes, and taking orders for Christmas turkeys. "We do a world of pralines, fudge, and divinity," Dickey said. In addition to candies, they provide seasonal hits such as fruit cakes and pies in a dozen varieties. "We can do most anything you want." What's at the forefront of the list? The bûche de Noël.
A traditional, silky chocolate sponge cake is removed from the oven and, while still hot, rolled until it cools. This maintains the spiraled layers inside. Once the cake has cooled, it is unrolled and a light, fluffy chocolate ganache is spread evenly over the entire surface. Once the ganache cools, the cake is rolled up again and iced in chocolate, decorated with edible holly sprigs or poinsettias or even with tiny meringue mushrooms. The real magic comes when the cake is sliced.
"When you slice it, the rings look like the inside of a big log," Dickey said. The cake is a traditional favorite that harkens from Christmas celebrations in France and other francophone regions, where Yule logs serve as a centerpiece of the holiday season. Bûche de Noël is a rich, velvety way to say goodbye to Fall and hello to the cold embrace of Winter, a remembrance of a time when Yule logs flickered in hearths around the world. "They would burn the logs and keep the ashes from the logs as good luck for the next year. The cake grew from that tradition."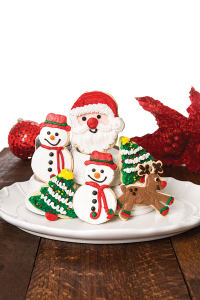 Holiday Cookies
Allbritton's Cake House
Kathy Phillips remembers watching her mother navigate baking masterful cakes in their family's kitchen when she was a little girl. It's no surprise now, 30 years later, she's in her own West Monroe kitchen baking cakes. After all, it's all she knows. "My mother has done it my whole life. I followed in her footsteps," Phillips said.
Allbritton's Cake House and Catering specializes in specialty cakes. They also offer a full range of pies, cookies and homemade candies. As Phillips tells it, they're a one-stop shop for pretty much every food need. "We do gift baskets and catering, and we offer daily lunches, as well."
Today, Allbritton's Cake House and Catering is Phillips's own. She keeps a staff busy serving delicous treats. But, there's always an extra set of hands near by. Now 89, her mother, Gloria, is still involved. "If I need her, she'll come up and help and, even at 89, she can still work circles around the girls." For the Allbrittons, this business is a family thing. "It's exciting when people tell you how good your stuff is, especially when you do it from scratch.
Phillips says one of the Cake House's most popular preparations is something she calls 4-layer Delight, Cool Whip, chocolate pudding, cream cheese, and pecans topped with powdered sugar. "Most all of my customers, who get it say that's their favorite," said Phillips, who notes she'll sell many of the dessert casseroles during the holidays. But their most popular item, and one of her personal favorites, are decorated holiday cookies.
"They're made from scratch," said Phillips. Each cookie is light, fluffy and just crispy enough to flake. Thin, but not too thin, and sweet, but not too sweet, the hand-rolled, hand-decorated creations are each tiny works of art. There is Santa Claus, his giant red belly frocked with icing. And underneath that green Christmas tree, there's a gift. Rudolph's nose is red, too.
And don't try to eat just one. Allbritton's Cake House cookies are addictive, and you'll find yourself going back to the tray again and again. There's a reason for that, Phillips reveals with a wink. "They're made with real butter and topped with butter cream icing, not the royal icing."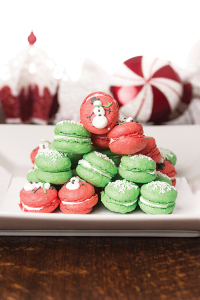 Minty  Macaroons
Ruby's Bakery – Meg & Ben Doughty
Six years ago, Meg Doughty took a job in a bakery. She wanted to learn more about the craft she enjoyed, and Ruby's Bakery seemed like the place to do it. Named for the original owner's grandmother, Ruby's Bakery had quickly established itself as a Monroe northside tradition. A little over a year ago, Meg and Ben were presented with the chance to become their own bosses. They bought the bakery. "It was a great opportunity for us at the time," said Meg.
Owning Ruby's was like a dream come true for Meg. Over the years, she had worked in a number of jobs, from a position with a country club to a job in a seminary. Nothing satisfied her the way baking would. "It's the only job I've ever had that I truly enjoyed," Meg said. She loves every aspect of baking, from perfecting recipes to decorating the finished product. That passion shows in her work, too.
Decorated Christmas cookies take their spot each season beside Ruby's other dessert offerings. "They sell out as fast as we can make them," Meg said. People come in for popular cookies, see the Christmas creations, and buy those as well. If you're going to try a Ruby's creation, Meg suggests the Lemon Cookie, a soft, chewy cookie with a lemony glaze. "That's become what we're really known for," Meg said. "It's similar to a sugar cookie, but with a strong, lemon flavor."
Another popular item is the Blue Suede Cupcake, the Ruby's take on red velvet. "It's a white chocolate cupcake, colored blue, with a cream cheese icing. No one else offers a similar flavor in the area," Meg said.
For the Christmas party, though, pick up a dozen or so macaroons. These tiny treats are crafted to perfection, with a light, airy crunch and creamy finish that will keep your guests coming back to the buffet again and again. Buttery, rich and fully Christmas, each macaroon is an artistic creation of its own.
Meg sees to that herself, and she adds snowmen, trees and the most amazing icing snowflakes imaginable. Each cookie is a unique work of art, and while you may think about saving it forever, your taste buds win. And just as that first Ruby's Bakery macaroon melts away, it's time to try another one.