Kyle Snellenberger: Wood Revival
By Admin
Sep 19th, 2016
0 Comments
618 Views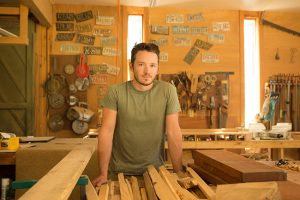 An unconventional approach to building.
article by Maré Brennan | photography by Brad Arender
Charming and humble, Kyle Snellenberger's creativity cannot be contained. This young artist was raised in Sterlington, graduating from Sterlington High in 2005. "I grew up on Moon Lake, surrounded by deep woods and building forts and skating ramps with my friends," he says. In high school, he channelled his creative energy into writing music and playing in bands.
"After high school, I tried to be a rock star," Snellenberger grins, recounting time spent touring the United States and Canada. "We traveled constantly for two years, living out of a van the whole time. During one particularly crazy six-day stretch, we actually swam in the Atlantic, Gulf of Mexico and Pacific. We even signed a record deal in California." During one of the bands swings through California, they decided to camp in the Redwood Forest after a show. Explains Snellenberger, "We got to the pitch black dark campsite around 1 a.m., gathered wood and made a fire. We could hear water that night but couldn't see where the sound was coming from. In the morning, we were awakened by the sound of seals barking. We were only feet away from a rocky cliff that dropped off into the Pacific Ocean!" The majesty and magic of waking up in a forest of giant redwoods was not lost on the young musician.
As a musician's life goes, life on the road was not easy, and after two years, Snellenberger decided to head back home and attend college at the University of Louisiana-Monroe. Following in the footsteps of his own father who runs a carpentry business, Snellenberger began studying Construction Management. Even in high school, Snellenberger was drawn to the craft of working with wood, often helping his father in his woodworking shop.
One of the first pieces of furniture Kyle built after returning home from touring was a coffee table. "I built it mainly, because we were broke college students, and it was an inexpensive way to fill a need," he laughs. That led to more of his friends commissioning tables and the seeds of a burgeoning business were sown.
Says Snellenberger, "I built furniture while I was in college, and especially as we got closer to graduation my business really picked up. I kept trying to figure out, if I could support myself with the furniture business or should I go the traditional route of working with a big contractor?"
After learning that Paul Michael Company had their own shop in Lake Village, Arkansas where craftsmen build furniture day in and day out, Kyle set out to win a job working for the home furnishings guru, considering the move to Arkansas a finishing school scenario. "I sent emails for six months to get that job and kept bugging him until I got it," remembers Snellenberger of the job that helped him hone his furniture making. "I moved to Lake Village to work 50 or more hours per week for two years and perfect my skills." Like a Malcolm Gladwell protagonist in The Outliers, Snellenberger calculated that he worked the requisite 10,000 hours and more to become successful at creating one-of-a-kind pieces of furniture, worthy of being passed down from generation to generation.
When Snellenberger and his wife Ainslea bought a home in Monroe and moved back from Lake Village in 2015, the commission work for his unique home furnishings took off. Ainslea is the brains behind her husband's marketing and social media presence, which has resulted in a waitlist for commissioned pieces. "As my name has gotten out more, I'm able to get more corporate work, like conference tables and the live edge bar top for Flying Tiger Brewery. I used to take any job I could get," remembers Snellenberger.
What is a classic Kyle Snellenberger piece of furniture? Often large in scale, Snellenberger's designs tend to employ a live or naturally-shaped wood edge. Live edge furniture often incorporates gnarly wood, such as walnut, Kyle's favorite wood, or salvaged wood that could not be used in conventional woodworking. One such piece is a gorgeous live edge conference table Snellenberger recently completed for electrical contractor, Copeland Electric. When you are dealing with real wood, it can be extremely heavy as well. "It took 10 people to get the conference table up the stairs at Copeland's offices.
Inspiration for Snellenberger comes from the late furniture icon, George Nakashima, whose mix of Japanese, American Arts and Crafts as well as the International Modern style became one of the most recognizable style aesthetics of the Mid-Century Modern movement. "I did a couple of George Nakashima's classic designs just to see if I could make them. You could say I 'covered" his work so to speak, like covering a song," says the furniture artist.
"It's funny when I really started building my own furniture and being creative in that way, the carpentry took the place of my writing music. When I was younger, I could grab my guitar and write three songs in one sitting. Now carpentry has taken the place of songwriting," explains Snellenberger.
In addition to Snellenberger's custom furniture business, he and friend and collaborator Frank Sampognaro design and build Mid-Century Modern-inspired case goods, tables and home accessories company called Lonewa, which they market through their website, lonewa.com.
The love of having creative freedom and the desire to not get pigeonholed into doing just one style of furnishing has led to his collaborative company with Sampognaro to explore the simplified aesthetic of designs inspired by the Mid-Century Modern ideal – with a signature Snellenberger twist. Their mission is to take their design influences with the intention of evolving them into smart, multifunctional and classic designs that will be appreciated for years to come. As a team of two, with extensive knowledge in wood craftsmanship and conceptual design, every aspect of production is either in-house or locally sourced in Louisiana. All raw materials or components are made in the USA. All the items they produce for sale online are able to easily ship and include tables that literally pack flat.
One of Snellenberger's favorite Lonewa designs is the Garrison Console, which maintains a minimalist design for the cabinet with a solid walnut structure and powder coated metal sliding doors. Snellingberger incorporated a signature leg design that's based on their use of hexagon dowels.  Joined by threaded brass rods, the legs float from the top cabinet and give balance to clean design with strong character. Another of his favorites is the HEX dining table which is based off Snellenberger's signature leg design, first seen on the Garrison Console. This table can comfortably seat six. The tapered top floats from the legs, creating a chic look.  This table can be made to any size and with any material.
There is no chance of getting stuck creatively. Working with local designers and homeowners to create a piece of one-of-a-kind furniture is a dream come true for the artist, who has worked with designers like Tish Miller. "Everything I make is custom made to fit your space. I want it to be an heirloom that your kids are gonna fight over," explains Snellenberger.  "In Monroe, I am mainly known for live edge slab tables."
At any given time, Snellenberger will have over ten projects in various stages of completion. "If there's a personality trait for that, I've got it," he laughs.
A true one-man show, Snellenberger makes every piece of furniture by hand. From sourcing the raw materials to sanding the finished product, Snellenberger obsesses until the piece is perfect. "A defect will bug me for months, until I figure out how to solve the problem," he says of his perfectionistic qualities.
Beyond woodworking, Snellenberger is also skilled at welding, employing that technique on several projects as well.
While still in college, Snellenberger embarked on what he calls his favorite projects to date. In 2011, he put over 200 hours in to build a wooden kayak, where his perfectionistic tendencies really began to shine. "I've actually built several boats, but this kayak was one of my favorite things I've ever built. I wanted something I could throw in the back of my truck and go fish," says Snellenberger as he flips through his phone to find a photo of the sleek, hydrodynamic vessel. "I had to painstakingly steam and bend little thin pieces" to achieve the streamlined, smooth look.
Snellenberger has recently returned from Denham Springs, where his mother, who had only months before relocated to that area, was affected by the recent floods. Like so many, her home took in over 37 inches of water. Everything in her home was ruined except for a handsome table made by her son. "It survived the flood with just a good wipe down," while cheaply made particle board furniture had exploded.
To see examples of Snellenberger's varied work, check out his Facebook page or to lonewa.com. You can also visit with him and see examples of his work at Ouachita Antique Woods, the new architectural wood supply company he manages. Ouachita Antique Woods is located at 336 Fontana Road in Monroe. Snellenberger can be contacted at 318.348.0579.