L.D. Crain: The Upholstery Man
By Admin
Sep 19th, 2016
0 Comments
306 Views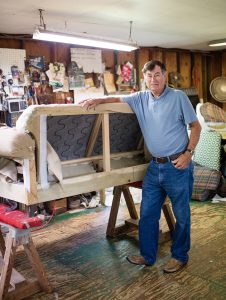 After a lifetime of grasping and cutting, tacking and molding, L.D. Crain's hands will finally rest. The upholstery man known to so many in our area is putting down his tools to enjoy retirement.
article by Nils Borquist | photography by Martin G. Meyers
Standing within the workshop amidst stacked rolls of fabrics alive with swirling filigrees and multicolored plaids, unfinished walls adorned with yellowing images of sofas and high-backed chairs, and low hills of spiraling cotton bundles, another set of objects, these moving and waving in the air, catch the eye. In such a room, surrounded by such wonders, one's attention cannot help but be pulled to the hands. Hands beautifully gnarled by over six decades of grasping and cutting, tacking and molding. Hands that realize the vision to recreate, to resurrect something lost to time. Hands following the orders provided by the man to deliver to his customers, who are often also his budding friends, something aesthetically and functionally beyond that which they originally purchased, something beyond which they originally saw. L. D. Crain is by trade an upholsterer, but in reality he is a craftsman, an artist no different than the sculptor, the painter or the architect. With tools ranging from a sewing machine to heavy shears to a pneumatic stapler, perhaps the hands are the most valuable. But after many years and hundreds of pieces, L. D. Crain's hands will finally receive a rest.
Originally from Winn Parish, L. D. Crain relocated to Monroe after finishing high school in the mid-1950s to work for mass furniture producer Selig's. After 3 years, Crain, by then the patriarch of his own family, settled in Houston, staying for a decade, rising from laborer to supervisor, before moving on to Los Angeles, all the while gathering invaluable experience honing his creative skills and business acumen. While in Los Angeles, Crain purchased a few acres south of West Monroe upon which he would build a house as well as the shop wherein in 1974 he began his own business, Crain's Upholstery. There he would revive furniture worn down by time or dismissed as remnants of a style long ago lost or discarded.
In the early years, Crain worked with his first wife, Shirley. He dismantling the haggard furniture piece by piece, measuring and cutting the fabric, and replacing the padding and hardware; she stitching the unrecognizable fragments into discernible form. The partners quickly realized the difficulty in only two people performing the various tasks required. Crain explained that at the furniture factories, he was essentially a part of a conveyer belt.
He would strip and tack, or cut and place, or wrap and form, all the time working quickly before passing the product to the next set of hands. This was working against the clock, he stated, a work that was certainly satisfying in some regards, such as being a part of a team that built reliable pieces, but at the same time, there were some important missing elements: seeing the start to finish construction of raw materials into a cherished portion of one's house as well as the faces of customers when they welcomed furniture back into their homes as a regained part of their lives. Pieces left tired and worn thin but returned reinvigorated and with a new purpose. These elements motivated Crain and his wife to put the customer first, which meant working long and often physically painful hours to realize his vision.
Crain admitted that while there were some growing pains, learning how to manage deadlines and efficiently compartmentalizing the rebuilding steps among them, he also stated that this desire to provide the customers with something better than what they brought in or even imagined fueled his work. The customers drove him to become better at his craft. The good customers, as nearly every one of them were in his eyes, gave him the incentive to work himself, bent and sweating in the sweltering humidity refurbishing dining sets and lounging chairs, in order to give them pieces they had loved before and would continue to love still, to appreciate and interact with as valuable parts of the family. In the background, invisible to most, Crain himself, perhaps unknowingly, became a part of those homes as well.
With the personal creed of delivering a premium piece to a customer while also believing in the principle of fair prices, Crain worked through the rest of the 1970's and 80's, the only complaint about his work being that it was so good, so strong and thorough, that customers who normally needed repairs done to worn furniture every so often had to wait through cycles of changing styles to get their furniture reupholstered. Crain laughed when telling this anecdote, a hint of embarrassment at the notion of his highly lauded abilities, but pride also can be seen, a pride well earned and worth displaying, a pride formed from knowing that one's work can also be a passion to be proud of.
As Crain further enhanced his skills, in the midst of becoming what one could consider a master craftsman, the business surpassed its silver anniversary. Yet impending devastation lurked beneath the surface. In 1991, nine months after an initial diagnosis, Crain lost his wife to cancer. During this most painful of circumstances, he dove headlong into work, which he credited, along with they sympathy and support of his customers and friends, with greatly assisting him through. Crain said the work constantly reminded him that he was alive, and while so, he would continue to excel at his craft. In order to do so, to continue forward, he would tackle the responsibility of learning and performing the sewing component of the work, a task he stated was difficult to master, as he had never undertaken it before. With a bolstered drive to create even better pieces, though, Crain set out to become a quality tailor; one glance at his work over the previous two decades proves that like every other upholstery facet he mastered, Crain's determination to succeed, to be able to continue delivering optimum furniture, sewing became another tool added to his belt.
After the passing of his wife, Crain worked hard, but he also realized that he had other passions: riding motorcycles, camping and fishing. Additionally, he understood that the joy of those activities, as enjoyable as they can be in solitude, could be heightened with company. In the mid-2000's, L. D. met Linda, and after a courtship and subsequent marriage, the craftsman secured a new partner for the second phase of his life. For several years, Linda joined L. D. in the business, assisting him in his work before allowing him to once again become the sole force behind Crain's Upholstery. By early 2016, Crain made a decision: late that year, he would hang up the stapler, pack away the cotton rolls, and turn off the radio that supplied the constant quiet din of country crooning throughout the day.
While Crain's story is one of fortitude, of inspiration, of spending a lifetime learning and perfecting a craft, it is also one wherein we should feel some sadness that the community is losing an artist, a sculptor, a person who provides us with a fresh, soft cushioned cocoon within which we may sleep away an afternoon, enjoy hours of reading, or rock our newborn to sleep. The prospect of missing the work is not lost on Crain; he is certainly aware that this portion of his life was and is worth a great deal. However, he also knows that with every piece he worked with, he gave a piece of himself. He is in so many homes across this region, this state, and even the country that he will never cease continuing to provide the comfort that comes with the warmth and safety of a chair. That is his gift to us, his legacy among those fortunate to have been his clients, his customers, his friends. In the end, L. D. Crain's hands deserve that rest, at least until a close friend or family member needs a worn out cushion replaced.