LA Does L.A.
By Melanie Moffett
Oct 28th, 2014
0 Comments
1080 Views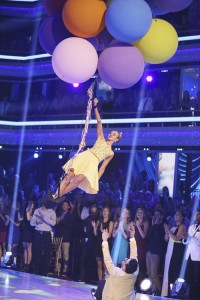 From Dancing with the Stars to The Voice to Dance Wars, Monroe-West Monroe natives have taken Los Angeles by storm. Dancing and singing their way into our hearts and making us proud, Sadie Robertson, Damien Lawson and Kelsey Bourg-Tanner have proven that dreams can come true, even when you are from a small town. 
by April S. Kelley
Sadie Robertson from the hit show Duck Dynasty has struck out on her own path via Dancing with the Stars in its nineteenth season, dancing her way from 'duckling' to 'dancing diva' in one fell swoop. From the first episode, she has wowed judges, fans and competitors alike.
"Duck Dynasty was my whole family just being ourselves and Dancing with the Stars is a completely different experience. Learning how to dance is way different, because I've never done it before," Robertson said.
Despite no previous dance experience, Robertson has been impressing judges and viewers with her performances on the show. "I honestly think it's been good for me, because I have no bad habits. I really just haven't done it before, so I'm totally starting fresh. Each week is a different dance, so I'm learning something new every week. I actually think it's a good thing that I've never had dance," Robertson explained.
Robertson enjoys learning a new dance each week, but her favorite, as well as the most difficult for her to learn, was the Duck Dynasty inspired dance. "My favorite dance was the Duck Dynasty one. It was so much fun to have my family there, and it was really cool. The costumes were awesome, and the dance was really fun, but it was difficult to learn. It was really hard," Robertson said.
Robertson trains every day for six hours with famed-choreographer and dancer Mark Ballas. On the first day, Ballas figures out the choreography. On the second, he begins teaching Sadie the moves. By the third day, Sadie is expected to have it down, and they practice the remaining days. On Sundays, they do what is called camera-walking, where they practice the dance in front of the cameras. "On Monday, we get there at 7 a.m. and practice the dance again on stage, and then that night is the real thing," Robertson said.
Other than the dancing, what Robertson values most from her experience on Dancing with the Stars is the relationships she has built. "Mark is amazing. He basically has become like my brother. We've gotten so close. With the switch-up, it's been hard. He calls me. He's texting me nonstop. We've just gotten really close," Robertson said.
Robertson loves learning to dance and has also gotten close with other cast members. "I love getting to know all of the people honestly, and getting to learn a new skill, getting to learn to dance. And the relationships I've built with Mark and Alfonso (Riberiro) and Witney (Carson) and all of them. We've become really close friends," Robertson said.
Julianne Hough, one of the judges on Dancing with the Stars, has always been someone Robertson admired. "Before I was on the show, I was so excited to meet Julianne Hough, because she is so cool. If I was going to meet someone and be star-struck, it would be her," Robertson said.
Many people have made a big deal about Sadie's dad and one of the stars of Duck Dynasty, Willie Robertson, approving both of her outfits and her dances on the show, but she explains how she would never do anything that would reflect badly on her family or faith.
"My dad definitely approves all of my outfits. The thing is though, everyone is always talking about whether my dad approves. But in reality, I would never wear anything that I wouldn't feel comfortable in anyway. I have respect for what I'm going to put on my body. Yeah, my dad approves out of respect for my dad, to get a say in it, but I would never do anything that would make my faith look bad," Robertson explained.
Though Sadie would love to win Dancing with the Stars alongside partner Mark Ballas, winning is not everything to her. It is also about the experience and the opportunity to participate in such an amazing show.
"If I won, that would be the most incredible thing. Honestly, I just want to get to learn every dance that I can and be on the show and represent my faith each week. So, this has given me a bigger platform. And I love hanging out with Mark. To win, would just be the best feeling ever, and it would really mean a lot," Robertson said.
   Dancing with the Stars is one of a very few contest-reality shows where the winner is chosen by viewers, instead of merely by a panel of judges.
"I would like to say 'thank you' to everyone that has been voting and supporting us, because this is total fan-based votes, and we really couldn't do it without everyone voting and the encouragement. Thank you from the bottom of our hearts. We're having a blast," Robertson said.
As for Robertson's future after Dancing with the Stars, she is unsure of what she will do next. "I've gotten a few offers to do some different things, and I don't know. I just have to take it one day at a time. I never thought I would be on Dancing with the Stars, so I don't think I can say what I'll be doing in the future, just whatever God opens up for me," Robertson said.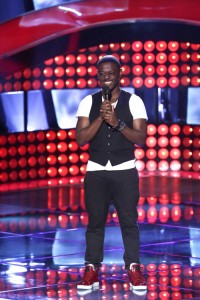 NEVER TOO OLD
Thirty-five year old Damien Lawson of Monroe broke out on the Los Angeles scene with his moving rendition of Boyz II Men's classic "It's So Hard to Say Goodbye" on the season 7 premiere of The Voice. While performing the song during his blind audition, all four coaches turned around.
"In that moment, I felt like I couldn't really breathe. I couldn't believe that all four chairs turned around. I was really surprised at how fast they turned around. If you look at the video and my facial expression, I bowed my head and closed my eyes, because I just really couldn't believe it." Lawson said.
As soon as Lawson finished performing his song, he broke into tears. "I didn't realize it, because I never planned on crying on national television. That's the last thing I wanted to do, but one thing I learned from the Blind Audition is that I had been holding in a lot of feelings from rejection. It was a display of happiness, but it was also a display of relief from hearing the word 'no' over and over again. Now, I think I have only recently healed, or had the door opened to heal," Lawson said.
After all four coaches—Adam Levine, Gwen Stefani, Pharrell Williams and Blake Shelton— turned their chairs and pleaded for Lawson to choose to be on their individual team, Lawson chose Adam Levine as his coach.
"After I heard all of the coaches give their pitches, I felt like Adam really genuinely wanted me the most and what he said resonated with me. He said he felt like there was no one like me on the show, so that was one of the reasons. And I also felt like he was more passionate than anyone else," Lawson said.
Though Lawson chose front-man of Maroon 5, Adam Levine, as his coach, he had not always known who he would choose if given options.
"When I came into the audition, I always had in mind that I would pick Pharrell. I love Pharrell and his work. I also like Adam and Maroon 5. I always liked both of them. Those were my two choices, but at the time I didn't have a definite choice. I decided I would make the decision once they spoke to me. After they spoke to me, that's when I made the decision," Lawson said.
Lawson hopes to learn a lot from Adam Levine, namely how to fine-tune his singing voice and appeal to a larger audience.
"I think that Adam can teach me how to be a better overall singer, how to just polish everything up and how to appeal to a broader audience. I just think he's going to be able to enhance the things I'm already doing," Lawson said.
Over the years, Lawson has auditioned for many, many things including other television programs, such as American Idol. He has been rejected more times than he count, but his determination and persistence never faltered.
"At 26, I was told that I was too old, and I think in the back of your mind, you start to build a shame of your age. You don't want to tell people your age. I think that being 35, I would just say to people: Do not ever give up. Never ever give up. I don't care if you're 40 or 55 or 62, you never give up. You never allow people to tell you, 'No,' because if I did, if I had chosen to give up, I wouldn't be where I am today," Lawson said.
Prior to his breakout on The Voice, Lawson worked as a TSA agent at LAX. Lawson was working during the fatal airport shooting on November 1, 2013. It was this experience that impacted him and encouraged him to try even harder to pursue his dreams.
"I think it affected me greatly, and I am still recovering to a certain degree. I would say that it opened my eyes even more. Life is not promised. Tomorrow is never promised to anyone. So you have to live every moment to its fullest and go after your dreams," Lawson said.
Lawson is now getting the chance to go after his dreams, and winning The Voice would be nothing short of a dream fulfilled.
"If I win The Voice, that would be a dream come true for me. It would be something that I have dreamed of all my life," Lawson said.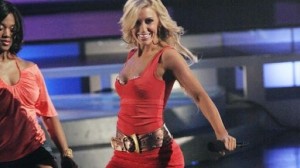 GENERATION TO GENERATION
Kelsey Bourg-Tanner, daughter of Debbie Bourg, owner and found of Debbie's School of Dance in West Monroe, led the pack. She hit the stage in Los Angeles in 2008's Dance Wars. She was picked to be on Team Bruno, led by Bruno Tonioli, a famous television personality, choreographer and dancer. She enjoyed her time working with Bruno.
"He is crazy. He is exactly the same in person as he appears on camera," Bourg-Tanner said."
One of Bourg-Tanner's most memorable experiences from the show was her breakthrough moment, when she was chosen to be the lead for Jessica Simpson's version of "These Boots are Made for Walkin'."
"I watched the video over and over and over again until I felt comfortable enough that I could do the song justice and perform it the way I was supposed to. On the day of the show, we performed the dance, and I got a lot of positive feedback from Bruno and Carrie Ann. That was kind of like my favorite moment. I felt like, 'Hey, I could really do this,'" Bourg-Tanner said.
By the end of the show, it was announced that Kelsey's team, Team Bruno, had won. "When they announced that we had won, I can't describe the feeling that came over me. It was overwhelming and exciting, just amazing," Bourg-Tanner said.
When Dance Wars wrapped, Bourg-Tanner moved to Los Angeles for three years where she got a dance agent. She went on to do many things. She performed in a Pussycat Dolls' music video. She was a voiceover in The Princess and the Frog. She even performed with Catherine Zeta-Jones and Jennifer Lopez.
After a whirlwind career as professional dancer in Los Angeles, Bourg-Tanner moved back to West Monroe to teach and choreograph at Debbie's School of Dance. "I love teaching, and I love choreographing and I love my kids. With my mom owning a studio, I just feel like that's what I'm called to do, to teach. So, I wanted to come back home for more experience with choreographing and teaching," Bourg-Tanner explained.
Bourg-Tanner is now trying to get the ball rolling on a reality television program that would focus on a family dance business. "You see all this Dance Mom stuff, and we just kind of want to show what it's really like. My future goals are to get this T.V. show up and running and to show people that the dance world is not all about negativity, that it is something positive and what a positive experience it is for children to learn the art of dance. I want to be able to share my gift with millions of children all around the world," Bourg-Tanner said.
For Bourg-Tanner, dancing is a family tradition. Her mother taught her an invaluable skill which led to amazing opportunities. Having recently had a daughter of her own, she hopes to pass it down to the next generation.  "I would like to personally thank my mom, Debbie, because I would not be the successful dancer I am if it weren't for her. I'd like to share what my mom shared with me with my own daughter," Bourg-Tanner said.