Lacey Stinson
By Melanie Moffett
Apr 27th, 2015
0 Comments
716 Views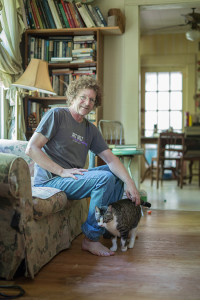 Portraits of Motherhood
article by MARY NAPOLI | photography by MARTIN G MEYERS
"IT IS ONE OF MY EARLIEST MEMORIES…that my mother made a specific place to put my artwork up in the living room on display–not on the refrigerator.  It was the first time I remember seeing my work hanging up as if it were something special."
Artist Lacey Stinson is reminded of his own childhood memories as he works on his current series, a project he has entitled "Mothering."  Stinson, a distinctively talented local artist who is known for his fine hand and dreamy aesthetic, is creating art from a different perspective in life–from the very first moments.
"Mothering" is the result of Stinson's dear friendship with Rebecca Honeycutt, a mother of four and student of midwifery.  The two connected through their mutual friend, phenomenal local artist Caroline Youngblood, and were introduced at one of Youngblood's shows.  Honeycutt has been a student of midwifery since the 1990s and pursued her profession at different levels throughout the years.  So far, she has delivered 21 babies and attended over 80 births.  Honeycutt views childbirth as a beautiful and definitive life experience for the entire family and enjoys following mothers through the prenatal process.  Honeycutt's passion for her work inspired Stinson, who excels at portraiture and figurative work, to capture the physical beauty of an expectant mother through his "from life" drawings.
Stinson creates these breathtaking works of art by studying the mother-to-be in a setting that is meaningful and comfortable.  His "from life" approach means that the figures as literally sketched out as they sit before the artist–in real life and actual time, rather than from a photograph.  Stinson is passionate about this method and feels that it is necessary in order to capture the true essence of the mother, who can be featured alone or interacting with her family or children, at that fleeting moment in time.
"I really like working "from life"….I have to be really quick, because things shift fast – especially when there is a baby or a child in the setting.  Capturing a feeling, or the sentiment of what you are looking at, has to be done very quickly because I am not telling them to pose.  They are natural and moving around," explains Stinson.  "I have to gain an understanding of the baby and mother–the size, the relationship, the way they move together, the expressions on faces–and still be able to draw something that is representative of her in that moment.  It is not just drawing from what I'm seeing; it's from what I am understanding."
Stinson sketches continuously during these sessions, which can last a few hours at a time.  At times, multiple sittings with the subjects are necessary.  This was the case with one of Stinson's most amazing drawings in the "Mothering" series which involved one of Honeycutt's clients who happened to be near her delivery date at the same time as her beloved mare was due to give birth.  The mother-to-be sought out Stinson's talents to create a work of art that featured her and the mare.  This project took Stinson and Honeycutt to the mother's family farm near Mangham.  Led by the pregnant mother and mare, the artist and midwife followed them through a wooded area until the mother stopped to rest on a fallen tree.  Stinson new instantly this was to be the setting of their portrait.
The finished product evolved over the four different sittings between the subjects and the artist.  Stinson's drawings are breathtakingly detailed, and beckon the viewer to examine and analyze the endless amount of fine markings that compose the final image. The drawing of the pregnant woman and horse is so incredibly intricate, it seems to come to life before the viewer's very eyes.  One can practically feel the textures and depth that Stinson has so expertly represented.  His talent for shading is astounding, as are the beautifully placed abstract lines he includes to bring energy, life and a surreal quality to the artwork.  Stinson becomes so intensely immersed in the process, that he becomes as much a storyteller as an artist in his endeavor to communicate the moment through his pencil.
"It (drawing) is a kind of language at some point," reveals Stinson regarding his artistic process.  "When you are telling a story, language doesn't allow you to tell the absolute truth.  There are only so many ways that words can be put together. Stories choose what they reveal, and stories get lost in the details.  With line and shading, I am hiding some things and getting you to focus on other things.  I may tell the story of the horse twelve different ways. Each time I tell the story, it may not be enough, so I go back to develop it.  Each time, I tell the story with new lines; these lines and my eraser interact to form a new story.  Each new mark is a new part of the story. "
All the separate stories interact to become indistinguishable and form a comprehensive story– the finished product.
"When I drew the belly of this pregnant mare, I may have drawn it twelve different ways that are all on top of each other, and each is drawn from a different point of view.  When all of those add up, you get a really nice idea of something that can live in your imagination," he says.
Stinson's talent for drawing is astonishing, but he is equally as gifted at other artistic mediums. From as early as 3 or 4 years old, he was able to naturally draw and paint objects the way he saw them–three dimensionally–rather than the traditional methods of simplistic lines and flat shapes that small children most often employ.  These were the early stages of Stinson's figurative and portrait work, which would develop later.  As he matured, he became equally as fascinated with science and the supernatural as he was with art, and was as influenced by Carl Sagan as Salvador Dali.  He combined these interests by infusing his artwork with a celestial, metaphysical influence.  Some of Stinson's early works are visions of other-worldly creatures, fictitious worlds or landscapes set in outer space.  His talents evolved throughout his time at university and in graduate school at Louisiana Tech, when he began to experiment with large scale abstract paintings and shadowy landscapes.  The landscapes, in particular, have become popular with local collectors and admirers of Stinson's work.  Saturated with color, these moody landscapes are infused with a transcendental quality that is uniquely his own.  When preparing to create these works, he applies the same concentrated level of poetic creativity and thoughtful perspective.
"When I would work on landscapes, I would be driving along and something about a scene would strike me and I would think. That is beautiful–wouldn't it be great to paint?' Then I would pull over and stop, and it changed.  When you are moving, you are seeing things three-dimensionally, and all these things are going on in your head, but you have to stop.  Then you are limited to the two perspectives of your own eyes, and suddenly, parts of it flatten out and don't strike you the same way.  And I think, it doesn't quite grab me–what's changed? And it's because when you are moving around, you are building up an idea of what you are with.  It's the same reason I don't like working from photographs.  They are flat and small.  When I work from life, I can see things move around, see things in different lighting conditions, and I get a better idea of what I need to focus on," says Stinson.
Stinson's abilities are remarkably outstanding, no matter the medium in which he chooses to work.  His "Mothering" series brilliantly exhibits the fleeting moments that a mother treasures before her baby arrives in a way that is much more meaningful and alive than a mere photograph.  It is both a challenge and a joy for Stinson to actively capture these significant milestones in motherhood, and somewhat surreal for him to imagine that these works will remain precious to generations that belong to the future.
    Lacey Stinson is available for commissioned artwork or portraits of all kinds.  View a more complete body of work on his website, www.laceystinson.com or contact the artist at 318-201-7710.