Let It Sparkle
By Admin
Nov 3rd, 2016
0 Comments
288 Views
These beautiful baubles are sure to make her Christmas jolly this year. From custom-designed pieces to antique heirlooms, our local fine jewelers will have her swooning for Santa.
Photography by Martin G Meyers

Hollis & Company Jewelers
Clockwise from top left:  John Hardy Bamboo Cuff Bracelets in Red and Black Enamel; Black and white diamond pendant; Art Deco 3 diamond ring framed by Onyx in filigree platinum mounting; 5ct. black diamond ring surrounded by rose cut diamonds; Edwardian platinum bracelet with 12cts. of bezel set diamonds; Floral earrings with black and white coral accented by diamonds;  and Antique Old Mine cut dangle earrings, c1860, set in sterling silver.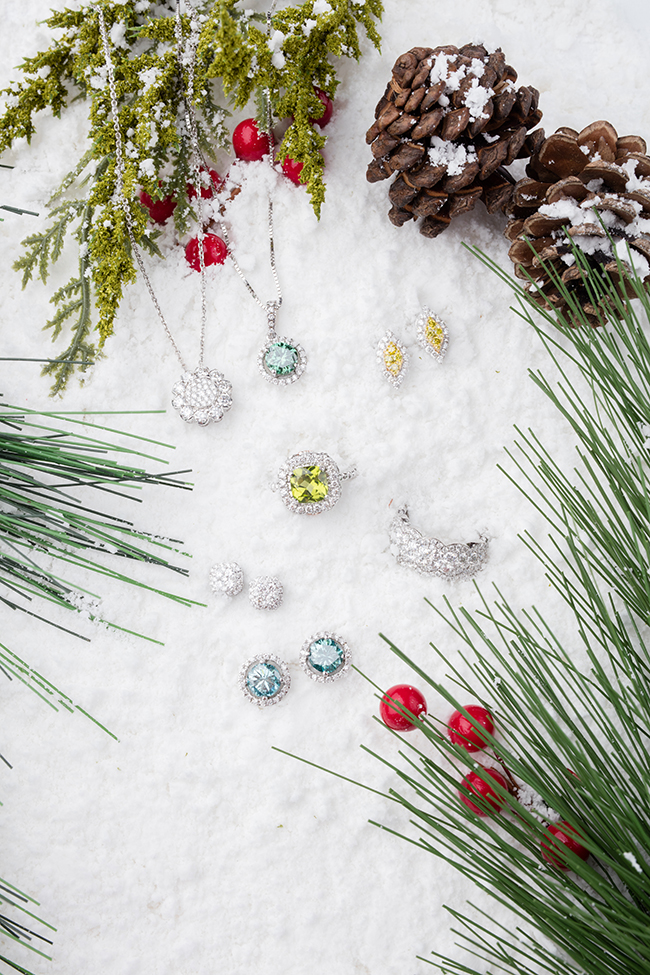 DuPont Jewelers
1.17 Carat Pavé Cluster Necklace; 1.26 ct Blue Diamond Halo Pendant; .89 ct TW Earrings with Canary Diamonds; Handmade Peridot Diamond Ring; Anniversary Ring 2.05 ct; 3.08 ct Blue Diamonds surrounded by White Diamonds; and Earrings .58 ct.

National Jewelry Company
Beautiful pieces by Gabriel and Co. including:  Victorian Medallion Necklace; Diamond Indulgence Bar Necklace; Round Clustered Diamond Necklace; Short Chain Diamond Bar Necklace; Square Hampton Fashion Ring; Staggered Diamond Wide Band Ring; Braided Diamond Wide Band Ring; and Round Clustered Diamond Earrings.