Let's Get Comfortable
By Melanie Moffett
Oct 28th, 2014
0 Comments
702 Views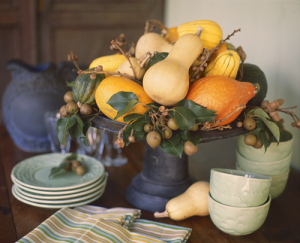 Creating Warm Indoor Spaces When It's Cold Outside
article by P. Allen Smith
I don't know about you, but I love a rainy November Sunday. I like to light a fire and stretch out on the couch with a good book or spend time in the kitchen cooking up comfort foods. Warm, dry and snug; for me it's pure luxury.
What about you? Do you love a rainy Sunday, too? Well, I've got a few ideas on how you can maximize the cozy factor in your home. These simple touches will make the indoors so inviting you'll find yourself staying inside even when the sun is shining.
Cozy Up
It's easy to transform your home as the seasons change by switching out the fabrics and textiles. I always knew colder weather was on the way when my grandmother replaced her sisal rugs with wool rugs in the fall. You can warm up a room by  changing window treatments and slip covers on your furniture to darker, richer colors and heavier fabrics. Adding a plush throw over a chair or a few soft pillows is a simple, inexpensive way to transform your room.
Another effortless way to make a room more inviting is with lighting. This is especially true in fall and winter when the days are so short. Stock up on candles; there are many lovely fall colors and scents from which to choose. Now when it comes to light bulbs, you may have noticed that the new fluorescent and LED types cast a cooler light than the old-fashioned incandescent. These bulbs get an A+ for energy efficiency, but they don't do much toward giving a space a homey glow. There is good news, though. New to the market, the  Finally Bulb (FinallyBulbs.com) produces a rosy luminance that is pretty close to the incandescent. Give it a try.
Bring Life Indoors
Shop your yard for bare branches, pine cones and evergreen boughs that you can use to scatter autumn around your home. Just by placing pine cones in a bowl, branches in a vase or evergreens on the mantle, you've created a heavenly vignette that keeps you connected with nature.
Another way to breathe life into your home this fall and winter is with living flowers. Paperwhite narcissus is the most enjoyable flower to grow indoors during the cooler months of the year. It can be grown in water, gravel, soil or sand. Plant three to four bulbs in a six-inch pot with the pointed end facing up and just slightly exposed. Paperwhites like plenty of moisture, light and a temperature of around 65 degrees. After planting, you'll have lovely, delicate white flowers in about four to five weeks. And the fragrance is heavenly. To enjoy the blooms for months to come, keep some extra bulbs in the refrigerator and stagger your plantings every two weeks.
Amaryllis bulbs are also great for forcing indoors. Plant one bulb in a container with topsoil up to the shoulder of the bulb and place it in a warm window. To keep the bulb from rotting, don't water it until you see some growth. In about six weeks, you'll have dramatic colorful blooms.
Homemade Meals
There's nothing that makes your home feel more cozy and warm than the smell of a homemade meal. Fall is my favorite time to entertain, and I love cooking with pumpkin. One way to put a fall twist on a classic comfort food is to toss a little pumpkin into traditional macaroni and cheese. Try this recipe: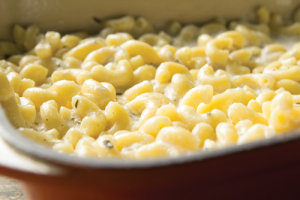 Pumpkin Mac and Cheese
1 cup pumpkin puree (homemade or canned)
3 cups macaroni pasta
4 tablespoons unsalted butter
5 tablespoons all-purpose flour
1 tablespoon fresh thyme, minced (1 teaspoon dried)
½ teaspoon salt
black pepper to taste
1 ½ cups milk
1 ½ cups shredded sharp cheddar cheese
½ cup shredded Swiss cheese
3 tablespoons breadcrumbs
2 tablespoons cheddar and Swiss cheese mix
Directions:
Homemade pumpkin puree isn't essential for this recipe, but it does make the dish more flavorful. And it's pretty simple to prepare. Poke holes in the pumpkin with a fork. Bake the pumpkin in a pre-heated 375° oven until softened. (A five pound pumpkin will take about an hour.) Remove the pumpkin from the oven and set aside to cool. Once cooled cut the pumpkin in half and scoop out the flesh, discarding the seeds.
While the pumpkin is baking, cook the pasta according to the package directions, drain and set aside.
Combine the pumpkin puree and milk in a blender and mix until smooth. Set aside.
Melt the butter in a large sauce pan. Whisk in the flour, thyme, salt and pepper and continue to cook for another minute. Add the pumpkin mixture. Whisk and cook until thickened.
Removed from the sauce pan from the stove. Fold in the cheese and stir until the cheese melts and everything is well blended.
Pour the cheese sauce over the cooked macaroni. Stir to combine then transfer to a  9" x 9" baking dish. Top with bread crumbs and 2 tablespoons of shredded cheese.
Bake in a pre-heated 400° oven for 20-25 minutes until golden.
I hope you'll give some of these decorating options a try, and you'll find comfort in this wonderful fall recipe.
P. Allen Smith
P. Allen Smith is an award-winning designer, gardening and lifestyle expert and host of two public television programs, Garden Home and Garden to Table, and the syndicated 30-minute show P. Allen Smith's Garden Style. Smith is one of America's most recognized and respected design experts, providing ideas and inspiration through multiple media venues. He is the author of the best-selling Garden Home series of books. Allen is also very active on social media such as Twitter, Facebook and Instagram. Learn more at www.pallensmith.com.