Life in Motion
By Melanie Moffett
Feb 25th, 2015
0 Comments
900 Views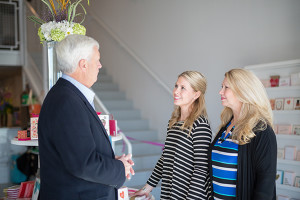 From Making the Town More Business Friendly to Diversifying the City's Economy, Ruston Mayor Ronny Walker is Pushing To Transform His Community
article by Michael DeVault | photo by Martin G Meyers
Situated on North Trenton Street, one of Ruston's busiest thoroughfares, City Hall lies at almost the exact center of the town. Hundreds of cars scurry by each hour, an indicator of the vibrant, thriving community that is modern Ruston. From a quiet second floor office overlooking a verdant, tree-shaded lawn, Ronny Walker is quietly going about the business of transforming his city.
Walker assumed office Jan. 5 after winning a two-man race to replace long-time mayor Dan Hollingsworth. His platform centers on making Ruston more business friendly and diversifying the city's economy. But first, Walker needs to get the computers working.
"On Oct. 28, the City of Ruston started to have problems with our computer systems," Walker told BayouLife. "On Dec. 13, every computer in our city's government collapsed."
From that point on, city business was frozen. Unable to perform vital tasks such as produce and mail utility bills, work ground to a halt. By any measure, Walker's first days in office were challenging. "We had no email. You could not call the mayor's office," Walker said. "We lost six weeks of data from Oct. 28 to Dec. 13 that we had to manually rebuild. And it had to all be in sequence, in every department in our city."
But Walker was undeterred and took the challenges in stride. He recalled to Mayor Hollingsworth that on Hollingsworth's first day as mayor in 1999, 60 percent of Ruston was without power due to an ice storm. "And he went on to be an absolutely fabulous mayor," Walker said.
By mid-February, Walker estimated that the computers were 70 percent functional, and there is still a long way to go before city government is back, firing on all cylinders. But for Walker, it's just one more opportunity for improvement. "We'll be stronger in the end, because we're going to take the steps, to put in whatever we need to put in, to prevent it from ever happening again," Walker said.
That's unsurprising to anyone who knows Walker, who at 63 seems to have the boundless energy and enthusiasm of a man half his age. Part of that enthusiasm is no doubt why he was a successful youth minister for more than 10 years at Temple Baptist Church. It's also at the root of the charisma that helped him succeed in banking at First National Bank of Ruston. But there's something more, deeper. Just ask First National senior vice president Sam Ponder, who worked with Walker at the bank for more than 20 years. According to Ponder, Walker is a consummate multitasker, who is constantly looking forward to the next enterprise on the horizon.
"He is constant motion," Ponder said of Walker. "He's personable, approachable, and he's always trying to please the people around him." That is a winning combination in a town where everyone knows everyone else and where southern hospitality is elevated to an almost sacred position. "We couldn't have asked for a better choice for mayor. He has a lot of initiative to see Ruston grow, and he has the enthusiasm to make it happen," Ponder added.
The kind of growth Walker is seeking, though, requires an optimism and tenacity that's rare in today's world of retail politics. Walker credits his vision and his hyperkinetic lifestyle to his upbringing.
A native of Flora, MS, Walker grew up in a sleepy country town, where his father was a Southern Baptist minister and his mother worked retail. Even at a young age, Walker was driven. "You could start working as soon as your parents would let you. So I started really early in life. And I always had a lot of things going on," Walker said.
He attended elementary school, junior high and high school in Flora, ultimately graduating as one of a class of 10 students, each of whom he had known his entire life. Even though they were few in numbers, Flora residents valued diverse experiences, and they appreciated competitive sports. There was just one problem.
""You couldn't have a football team, basketball team and a baseball team unless everybody played every sport," Walker said. "Oh, and by the way you had to be in the band, too."
Maybe that's why, at 63, he still has so many irons in the fire. While juggling a major computer and data crisis, Walker hasn't held back on his agenda of bringing in new businesses to Ruston. Specifically, he's on the hunt for a light manufacturer to come to town. As with the other aspects of his life, Walker didn't take time to catch his breath.
On his third day in office, Walker heard of a Chinese firm that had selected a site in Texas to build a new facility. Unfazed, Walker waded in. "I begged and pleaded for them to give us a shot. We had them here last Thursday and Friday to sell our city."
Whatever Walker said apparently made an impression. The company is now seriously reconsidering its Texas decision in favor of a Ruston facility. "We've got a really good shot at them," Walker said. "But we've got to be doing more of that."
If the firm, which Walker has declined to name, ultimately chooses Ruston, it will be the second such project to come to the town in 15 years. So, for the immediate future, Walker's sights are fixed on attracting at least one potential new employer to visit Ruston each month. ""We're really going out and searching for new businesses to come here," Walker said. "My dad used to say rising water raises all the ships. That's true."
Even though he wants to find new economic development opportunities, Walker isn't wholly fixed on moving into the future. Ruston is, after all, a college town at heart, and Walker intends to remain true to that. "We want this to be a college town, not just a town with a college in it," he said. Part of that identity means forging stronger connections between the campus of Louisiana Tech and the bustle of downtown Ruston.
Projects on the horizon include new sidewalks connecting campus to commercial, retail and entertainment venues. Also, the Public Works department is exploring deployment of a citywide Wi-Fi Internet service to help entice students downtown. In addition, Walker wants to make sure Tech knows how committed Ruston is to the school's continued success.
"A perfect example is that Tech is about to build a 110,000 sq. foot, $37 million engineering building," Walker said. "We've been meeting with them on the infrastructure needs. As a city, we're trying to find grants and money available for $2.5 million to meet those infrastructure needs."
Walker is quick to point out, too, that it's not just about Tech. In a very real way, Ruston is a two-college town. After all, Grambling residents and students come to Ruston daily to conduct commerce, to dine, to shop or to catch a movie. To Walker, Grambling is as much a part of the Ruston landscape as Tech. Strengthening those ties is equally important, which is why his administration is in the final stages of pushing through an interchange on I-20 at Tar Button Road.
Walker describes the new interchange as a collaboration between Ruston, Grambling, Tech, GSU and the Lincoln Parish Police Jury. Some 17 years in the making, this project has at times bordered on a fable. But if Walker has his way, that's all going to change quickly.
"The money is there. We've got the funding," Walker said. "Now, we just need to get it to bid, to build the project. That's going to tie the two cities together even more."
This is the kind of dynamic action Ponder points to when he talks about Walker's ability to lead. He describes his friend and colleague as "a force for growth," which is something Ponder believes Ruston is primed for. "We all have families. We want something for our kids, and you're either growing or dying," Ponder said.
Yet, both Ponder and Walker note that growth should be pursued with a measure of caution. As Ponder stated it, "He's a citizen and he wants the best growth for the people."
That could mean pursuing opportunities as they arise, but not at the expense of the community at large or at other, established presences in the community. How does Walker intend to gauge such matters? He points back to the community that elected him. "We need more people involved in government," Walker said.
Though Walker is surprised he is the mayor, he says a life in politics had always appealed to him. From a very young age, he had hoped to one day run for office, and for a time in his youth, it looked like a career in law would be his path. "But, I felt God's call to go into the ministry, and I followed that path, instead," Walker said.
He earned a Bachelor of Science in Education from Mississippi State University before receiving a Masters of Religious Education from Southwestern Seminary. After life at Temple, a banking career, and a sojourn as the director of fundraising for Louisiana Tech Athletics, Walker felt he was ready to lead his city. And after more than 30 years, Ruston is definitely his city.
"I've loved this city ever since we've been here," Walker said. That's what happens when people put down roots. And Walker's roots in the community are deep, indeed.
His wife, Heather, has taken over running the various family businesses, from rental properties to Laundromats. Walker's son Bradley operates a chain of Smoothie King franchises and, most recently, opened Parish Press, a coffee house in Ruston. Walker and his wife continue to raise two children in the community, and what of Walker's seat on the Lincoln Parish Police Jury?
"My Police Jury colleages selected Heather to serve out the remaining year of my term," Walker said.
Looking back on a long career and a life of constant motion, Walker said he has just one regret about his entrés into the political arena. "I think the biggest thing I would have done differently is that I would have started being involved in politics at a much younger age," Walker said.
Yet, had he done so, he wonders how he might have become a different person. In spite of his kinetic career, the constant movement of a life from the ministry to business to politics, Walker is a man of planning, reflection and contemplation. "I think the fact that I have had a diverse career–which in today's world is not unusual–helped me, because I've seen so many different avenues and so many different ways people do things," Walker said. "I think all of that led me to this point."