Life is a Peach
By Melanie Moffett
Jul 6th, 2017
0 Comments
2329 Views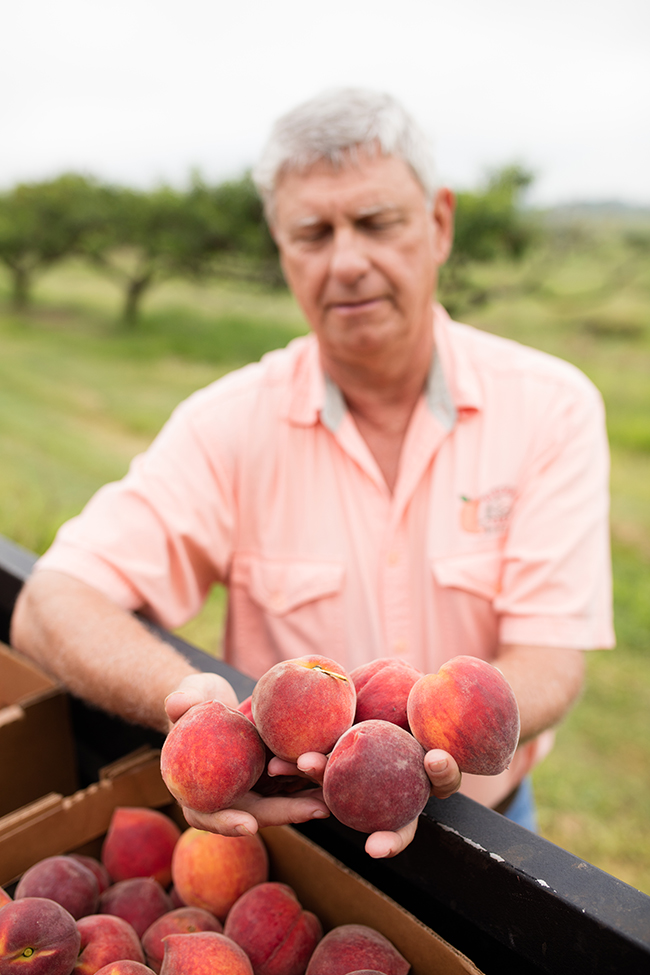 Mitcham Farms' owner Joe Mitcham Jr. grew up amidst the rolling hills of north Louisiana where his parents Marzee and J.E. Mitcham, both school teachers, decided to try their hand at growing peaches. After a successful beginning, Joe joined his parents shortly after finishing his pre-medical degree at Louisiana Tech University. Today, he continues their legacy in this "labor of love."
By APRIL CLARK HONAKER  Photography by MARTIN G MEYERS
Mitcham Farms' owner Joe Mitcham Jr. grew up amidst the rolling hills of north Louisiana where his parents Marzee and J.E. Mitcham, both school teachers, decided to try their hand at growing peaches. After successfully growing their first peaches in Claiborne Parish, the couple set their sights on a 500-acre estate in Lincoln Parish where they intended to grow peaches on a larger scale. A few commercial peach orchards had already been established in the region, and the Mitchams saw opportunity.
Given their meagre school-teacher salaries, the bank would only loan them the money for 300 acres, but the Mitchams graciously took it. And in 1946, they purchased the land that would become Mitcham Farms. Within a year, they had planted their first trees on the new land, and within three to four years, they were harvesting their first Ruston peaches.
During this time, the Louisiana Fruit Growers Association was established, and in June of 1951, J.E., who was president of the association, along with Walter Smith, who was chairman of the festival board, orchestrated the first Louisiana Peach Festival. The event led to a great deal of recognition for the industry, and by 1953, a box of Ruston peaches had even made its way to the White House.
For several years, the peach farming industry rocked steady, and for more than 20 years, all of the peach processing at Mitcham Farms happened in a small, hand-built wooden building on the property. Then, in 1968, when Joe was 13 years old, this building burned to the ground. At the time, the fire seemed like a tragedy, but Joe said it turned out to be one of the best things that ever happened to them. After the fire, the Mitchams replaced the small, wooden building with a much bigger, more modern building, full of steel equipment and 200 times more cooler space. This space made the Mitchams capable of processing more peaches.
As the farm grew, J.E. continued to teach math and science at Ruston High School, where he also served as band director. Eventually, he earned himself a position as principal at Ruston Elementary and remained there until his retirement in 1973. Joe said his dad loved teaching and giving the local kids jobs at the orchard. In fact, he recalls one particular summer when most of the RHS football team was working in the fields.
In the same year his dad retired, Joe graduated from high school and decided to continue his education at Louisiana Tech University. During the mid '70s while Joe was in school, J.E. leased an additional plot of land nearby, which brought the farm's total number of trees to roughly 34,000, including 32 different varieties. According to Joe, several varieties are required to maintain a continuous supply of peaches from May through August because they mature at different times.
In 1978, when Mitcham Farms was at the height of its production, Joe completed his pre-medical degree at Tech and was faced with a decision: go on to medical school or stay in Ruston and join his dad in running the farm. Because Joe enjoyed working outdoors and had seen how demanding a doctor's on-call lifestyle could be, he chose to forgo medical school and take his place in the field.
At its peak in the late '70s and early '80s, Mitcham Farms provided jobs for 75 people and provided wholesale peaches to grocery stores in several major cities, including Houston, Nashville, Baton Rouge and Shreveport. During this time, the Mitchams were grossing a profit, but they were also competing against farms with over 1,000 acres of peach trees in Georgia and other states. As a result, they decided to focus more on the retail market and scaled back their operation from 340 to 100 acres.
This decision allowed them to manage their peaches and their local customers more intensely. They enhanced both the size and flavor of the peaches while fulfilling large orders for local businesses such as Davison Transportation Services (now part of Genesis Energy) and T.L. James & Company (now part of James Construction Group).
Then, in the late '80s, bad weather took a toll on the peach farms in our region, driving several of the small farms out of business. Freezes in 1986, 1987 and 1989 essentially resulted in zero marketable crops during those years. Fortunately, Joe's parents had no debt and were able to restore the farm despite Mother Nature's blows.
However, Mother Nature was relentless. After another major freeze in 1996, the farm endured a disastrous hailstorm in 1997 that cut up many of the peaches and knocked others off the trees. In a sense, the storm turned those peaches into lemons, and the Mitchams needed to find the peachy equivalent of lemonade. "That's how we decided to make preserves," Joe said. During the late '90s, with the help of two local processing companies, the Mitchams began producing products made from peaches as a way to salvage more of the ones that might otherwise be discarded, especially those that were overly ripe. Their experiments with peach-based products soon led to ice cream, salsa, syrup, jellies and more.
To share these products with the public, the Mitchams constructed a rustic, country store adjacent to the peach shed. The products have since been well-received, allowing the Mitchams to expand their inventory even further over the last 15 years. The Peach Store now not only includes a variety of edible treats. It also includes unique gifts, as well as local arts and crafts. But, according to Joe, the peach ice cream has become especially popular. In fact, they sell over 6,000 cups each summer and more than 600 cups during the annual Peach Festival weekend.
Kristy Garsee, one of the farm's most loyal employees, started making and selling peach ice cream for the store shortly after it opened. Kristy, who now teaches health, PE and sports medicine at Northwood High School in Shreveport, was a freshman in college during her first summer on the farm. Over the years, she's worked skeleton crews and performed a variety of jobs, but she's also grown close to the Mitchams. "They've become like family to me," she said. Kristy's mom, sister and now her nephew, a student at RHS, have all worked at the farm. "I love peaches," she said, "but it's more about the people."
Kristy sees the same customers every year and has become "the peach lady" to many of them. She said working at Mitcham's is fun, stress free, comes with a beautiful view and of course, peaches. The peaches are so addictive that she once ate 17 of them in one day and said there's nothing better than a fresh peach from Mitcham's.
After The Peach Store opened, everything continued normally until 2005 when the Mitchams began to notice that Armillaria (a fungus also known as oak root rot) was attacking and killing their trees. Although they had been using a chemical called methyl bromide to control nematodes, they didn't realize the role it played in controlling Armillaria until the Environmental Protection Agency banned its use. When the Mitchams' trees began to succumb to root rot ten years earlier than normal, their outlook for the future of the farm grew grim. When they realized they were losing 10 percent of their trees every year, they prepared themselves and the community for the worst.
Unfortunately, in the last two years, Mother Nature has taken a toll in other ways as well. According to Joe, most peach varieties need at least 850 chill hours, during which temperatures are below 45 degrees Fahrenheit. In the last two years, the chill hours have fallen far below the needed number, which has resulted in fruit that is small, misshapen or shed before maturity. Given the impact of these problems, Joe has had to bring in peaches from Alabama and South Carolina for the last few years to meet demand in Ruston and to compensate for the decline in his own production. However, this year the lack of chill hours has affected the whole south.
Joe has been open and honest about bringing in the outside peaches, because one of the most important lessons his dad taught him was the value of honesty. "I give the best product I can," he said, "and if the customer isn't happy, I do my best to make it right."
In the face of the hardships wrought by Mother Nature, hope for a long-term solution has recently crossed the horizon for Mitcham Farms. Since hearing of the rising Armillaria problem, universities have been researching potential solutions. As a result, Joe has had the privilege of participating in some of this research. He described one study conducted by Louisiana State University that involved a new chemical and helped some of the trees. Unfortunately, research on this chemical was abandoned, when they realized it would be too expensive.
The most promising solution from Joe's perspective has come from the University of Georgia. He said they have given him a small number of trees with Armillaria-resistant rootstock, and the trees are doing well. They're even producing full-sized fruit, which was not the case in some of their earlier studies. Despite the success, researchers need to study these trees for eight years before making them available to the public.
In the meantime, implementing windmills to avert the impact of freezes has helped Mitcham Farms combat some of Mother Nature's behavior. But, because of Armillaria, Joe said his farm is down to about 1,000 of the original 10,000 trees planted on the 100 acres still in use. The number of trees has shrunk so small that he said, "It's become a hobby instead of a living at this point." But for Joe, keeping the farm alive is a labor of love. "It's everything to me," he said. Joe's name is on the list to receive more trees from the University of Georgia when they're released, and he intends to keep the Ruston peach tradition alive for as long as he can.