Life of Service
By Melanie Moffett
Oct 28th, 2014
0 Comments
1553 Views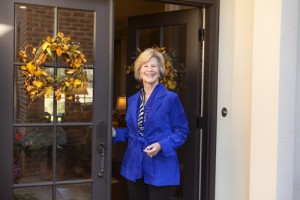 Corre Stegall is a role model to young women across the United States. She's smart, charming, giving and humble. She's this month's Bayou Icon.
by Michael DeVault | photography by Brad Arender
Corre Stegall's home sits on a quiet, tucked away corner of Squire Creek, a comfortable walking distance from the golf course. Like virtually all facets of her life, the location of Stegall's home was driven by a passion–in this case, for the sport of golf, of which Stegall describes herself as an avid player. "Golf is my great passion, outside of the other things I do," she told BayouLife Magazine. Golfing and the promise of being near to one of the newest and most challenging golf courses in northeastern Louisiana is what first drew her to Squire Creek and to the "smallest house in the neighborhood," as she describes her home.
It was one flash of the humility and graciousness that marks Stegall's character, the desire to downplay her accomplishments and the many accolades she's received–and there are many–in exchange for highlighting the accomplishments or services provided by others. In fact, essentially every part of Stegall's life, from her career at Louisiana Tech University to her volunteer work on behalf of improving the medical community in Lincoln Parish, has been marked by both leadership and service. Even with golfing, Stegall approaches the sport with a sense of service. She is co-chairing the committee that will host the U.S. Golf Association's 2015 National Women's Mid-Amateur Championship next year, the first time the USGA will hold a championship event in Louisiana in more than 50 years.
"These are national and international golfers," Stegall says, and she gushes about the excitement the event will bring to the community, with more than 130 of the best female golfers in the world converging on Squire Creek for the tournament. "It's going to be a terrific opportunity for us to showcase our area."
This is the kind of visionary leadership and ambitious foresight that has been a constant driving force in Stegall's life and career. At almost every step of the way, she has been at the forefront of creating something special, beginning with one of her first jobs out of college. She was married, a young wife in need of a job, and she had just graduated with an English degree. But, in northern Louisiana, she could find no jobs for English teachers. So she improvised.
After a visit with the principal at West Monroe High School, she learned there was an opening in the Journalism department. The principal was willing to give it a shot, if she was interested. "I wasn't certified in journalism, but I told him I could figure it out." She began working in earnest to build up the department, advising the yearbook and student newspaper. She even established a student-led creative writing booklet. It's important to recall that, at the time, West Monroe High School was not the athletic and academic powerhouse it is today. "At that point, it was quite frankly a tough school. But to me, it was a great opportunity."
hen Stegall left West Monroe High School, she was chairman of the Journalism department. For the next twenty years, she spent time in Dallas and Houston, raising her family and following her husband's career. Eventually, though, she felt the tug of home and, in 1993, she returned to Louisiana Tech. Over the years at the school, she worked as an assistant professor of English, director of Alumni Relations, and as the executive director of development. Presently, Stegall is the vice president for University Advancement, the first female vice president in the university's history–something she learned only after she had been in the job for some time. "It didn't even occur to me that I was the first woman, I didn't even think of it, until someone put it in a book somewhere," she says.
With more than forty years of educational experience as a student, a teacher, and an administrator, Stegall sits in a position to have plotted the many changes to higher education. For her, it's a time of tremendous optimism and excitement. "One of the most exciting trends is the interdisciplinary aspect," she says. "The art professor and the biology professor work together. The art professor and the nanotechnology professor work together." Stegall has watched as engineering students worked with business students on projects that, eventually, led to the creation of new businesses. Learning has become experiential. "When I was teaching English, you taught out of a book. You don't do that anymore."
Like many career academics, Stegall's work at the university has become an extension of her own college career. When she was a student at Louisiana Tech, she pledged Kappa Delta–KD for short–as had her mother and many other women in her family. Stegall credits her time in the sorority with helping her "major in leadership and campus organizations," as she was involved in every group she could join. While she never served as a leader in the sorority itself, Stegall is quick to pass her success on that front on to her sorority sisters. "I wouldn't have been a leader in campus organizations if it weren't for my sisters in KD. So any kind of leadership ability I have, I attribute to KD."
Apparently, the women at Kappa Delta agreed. She served as the faculty advisor for the Louisiana Tech chapter, which led to a spot on the KD advisory board. From 1971 through 1976, Stegall was national director of chapter education. In 1977, she was elected national vice president of Kappa Delta. By 1983, Stegall was such a known figure in the national body she became national president, a position she held until 1989.
Traditionally, sororities reserve their national officer positions for elder stateswomen, those individuals who have marked decades of service and support of the sorority and its mission. Frequently, sorority presidents are in their sixties or seventies. At the time Stegall became president, she was barely in her thirties. Stegall says she didn't know that, at the time, she had the ability or the experience to lead the organization. "I guess I was just young enough to think I could do it," she says.
Stegall succeeded, and in 1989, Kappa Delta bestowed on her the Order of the Emerald for service to the sorority. They also named the top leadership award the Corre Anding Stegall Leadership Award, which is given annually to the top collegiate leaders of Kappa Delta. In 2013, Kappa Delta installed Stegall in the National Hall of Honor. And, as icing on the cake, Stegall's family isn't done with Kappa Delta yet. The clan is set to induct another of her immediate family into Kappa Delta this year.
Even with these successes, Stegall is quick to slough off any attention or accolades and, instead, deflects the praise to those around her. At the KD national council, she says an extraordinary national council staff made her successful. "I've made a life out of surrounding myself with outstanding people," Stegall says. "Sometimes, I get the credit, but it's never about me."
It would be too easy and wrong to dismiss Stegall as "just another sorority girl." Her work has taken her far from campus life, and she's served as director on the executive board of the United Way of Northeast Louisiana, on the executive committee of the North Louisiana Race for the Cure, and as president of the Board of Trustees for the Northern Louisiana Medical Center. She even chaired the Board of Trustees at Trinity United Methodist Church, where she, her son Christopher and daughter-in-law Amy attend services. Amy is on staff at the church. Over time, Stegall says she's become a bit more selective about the causes she supports, and it's paid dividends.
"I look at those things where I can make the most impact and the things I have a passion for," Stegall says. Her credentials and her track record show she has many, many passions.
Still, she encourages the young women coming to school at Louisiana Tech to consider the sorority system as one of their activities. And she's an equal supporter of them all. "Although KD is my sorority, I believe so absolutely in the sorority system," she says. "It's just a wonderful way for those who want to embrace those things to really enhance their lives." That enhancement comes not only in student leadership. It also shows in the classroom, where the 130 active members of Louisiana Tech's KD chapter boast an average GPA north of 3.4–well above the average of the full student body. "That's 130 girls who are active in everything else," Stegall says. "I don't have much trouble selling that to parents."
As she looks back, Stegall is sometimes surprised at the trajectory her life is following. Capable people and remarkable opportunities converged with perfect timing to place her where she is today. She laughs off any mention of her own capabilities and demurs from any hint of praise. "I'm just a gal from Delhi who just happened to fall into some wonderful opportunities," Stegall says.