Local Social: Floral Workshop with Fine Folks
By Melanie Moffett
Jun 5th, 2017
0 Comments
286 Views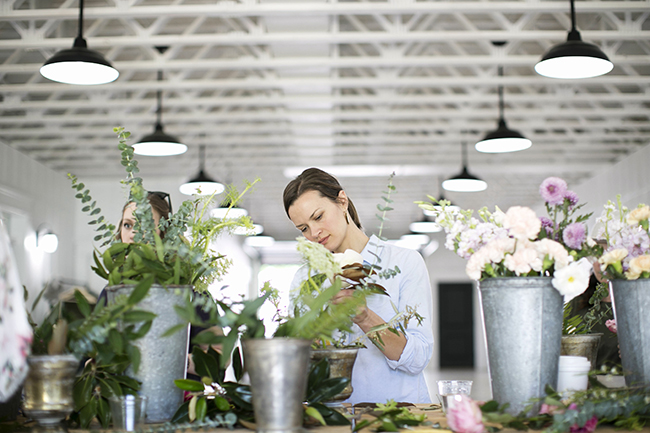 photography by KELLY MOORE CLARK | article by CASSIE LIVINGSTON
People often ask me what I love the most about my job. The truth is, it's hard to find something I don't love about BayouLife. But, my favorite part is the people I get to meet. Recently, we decided that we'd start hosting local events to benefit non-profit organizations. It was a natural fit for us to partner with our friends Taylor Bennett and Lindsey Lowe at Fine Folks for this first Local Social: A Floral Workshop to benefit Shade Tree Missions.
The goal of the event was to bring a group of people together who were interested in flower arranging in a fun, relaxing environment for something uniquely creative. The home of Kelly Moore Clark provided the perfect backdrop for a spring gathering. An open breezeway in the center of her beautiful, newly constructed barnhouse created an inviting atmosphere for attendees. Mimosas and wine were served, along with a expertly composed cheese tray, fruit and an assortment of delectable pastries and snacks. Containers of fresh flowers and foliage lined tables, and allowed for a complete sensory experience to begin.
Creativity and fun combined seamlessley as Taylor and Lindsey guided attendees through some of their basic principles of floral arranging. As someone who has never bragged to have a green thumb, or has even dared to create a floral arrangement, I wasn't sure that my finished product wouldn't look like something my three-year-old would have stuck together in a vase. I was really thrilled to learn the basic skills to help me master the art of simple arrangements in just one afternoon of instruction.
With ranunculas, carnations, roses, magnolia, eucalyptus, sage and more available for those in attendance – it was easy to pull together a beautiful bouquet without feeling intimidated. But, the workshop wasn't just about getting in touch with nature, uncovering our creative side, or gathering for soul-feeding friendship – it was also about coming together for a greater purpose. Thankfully, we were able to walk away with lovely arrangements while also benefitting a local non-profit organization, Shade Tree Missions. Shade Tree Missions has the simple goal of showing the love of God in practical ways by 'seeing' needs, then meeting them. With the donation from this Local Social workshop, Shade Tree Missions will be planting a community garden in Rayville that will help feed the less fortunate.
We are so thankful for our great friends at Fine Folks that instructed our fearless floral enthusiasts, the Clark family for opening the doors to their amazing home, to Kelly Moore Clark for capturing this special day and to all of those who attended. For more information on Shade Tree Missions, visit their Facebook page or email shadetreemissions@gmail.com
---
How to create a simple garden arrangement:
1. Choose a container. This could be a vase, bowl, wooden box, goblet or whatever you fancy.
2. Add oasis grid. Depending on the container you use, add an oasis grid to the top of your container to keep flowers in place.
3. Pick out your color scheme. We love a good monochromatic arrangement, but also love an arrangement full of color. We've found it's best to not use more than three colors because it makes your arrangement seem very busy. It's often easy to choose the color scheme based on the season of your dinner party or event.
4. Add your foliage to give yourself a base. It's honestly one of our favorite parts of the arrangement. You can add some many shades of green, different textures and fragrances with foliage.
5. Find your focal flower. Trim the bottom if needed and find the perfect place for it in your arrangement. Don't be afraid to get it out of the center. We very rarely have a perfectly symmetrical arrangement. The focal flower may contain more than one flower (we use the 3's rule) based on your container size.
6. You're at the final step (and one of our favorites). It's time to add your filler flowers and out lying flowers. These give your arrangement texture and movement.