Local Style
By Katie Sloan
Aug 28th, 2017
0 Comments
416 Views
Northeast Louisiana is teeming with talented people. BayouLife Magazine sat down with these creative creatures to find out what influenced them to start their burgeoning t-shirt companies.
Photography by Martin G Meyers.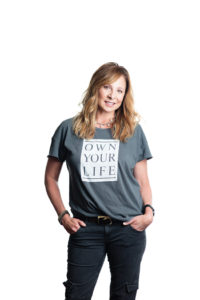 Arthur Nolan
Arthur Nolan was a dream of Mamie Nelson's for several years before she stepped out on faith and followed the steps to making this apparel line a reality in 2015. The idea to start a line of shirts came from her time studying Scripture. God's word provides so much strength and encouragement to Mamie that she has to share that hope and purpose with others. She would read and all of sudden think, "That would be a great message on a t-shirt!" Fortunately her good friend Cindy Lofton, owner of First Impression Graphics, is one of the best graphic artists. She confided in Cindy her thoughts and fears. Cindy encouraged Mamie to step out on faith and trust God's lead. Mamie read her devotional that day, Jeremiah 29:11 "For I know the plans I have for you," declares the Lord, "plans to prosper you and not to harm you, plans to give you hope and a future." Thankfully, her husband Tim came on board and helped Mamie launch Arthur Nolan.
Mamie's vision for Arthur Nolan has always been to make God and His unrelenting love and abounding grace known to others by displaying messages of encouragement and hope on high quality garments that are extremely soft and comfortable. Each message has been pored over in Scripture. Each font style has been meticulously selected or drawn. She visually examines each design on every tee, tank and pullover prior to printing. Through this journey of Arthur Nolan, Mamie has grown in discernment: her ability to think Biblically in all areas of her life including each design. One of her newest designs: OWN YOUR LIFE means to take responsibility for your decisions, words, actions, consequences, and attitudes and also to be intentional throughout your day. Bring order to your chaos.
The overall theme of Arthur Nolan is to "Love one another as I have loved you," John 13:34. That verse is printed on every Arthur Nolan garment tag and tote bag. Love is more than a feeling. Love is an attitude revealed through action. Arthur Nolan is taking action by giving a portion of sales to Grace Place Ministries, Inc. Grace Place Ministries physically and spiritually feeds the hungry in our community. Personally, Mamie has partnered with Grace Place for over 15 years and totally believes in the goodness of Rhonda Grace's heart for the broken.
Arthur Nolan's designs are in several boutiques throughout the state as well as on the website arthurnolan.com. Arthur Nolan's complete collection (16+ designs) is located inside First Impression Graphics, 898 Thomas Rd, West Monroe, past Duck Commander on the right. You can shop there Monday – Friday from 10 to 5.  Arthur Nolan has Facebook and Instagram pages thanks to marketing guru and local resident Cheyenne Little. Arthur Nolan is a beautiful vision that the Lord placed in her heart and encouraged her to share. Each design comes from specific moments in Mamie's life.
The name "Arthur Nolan" was a no-brainer. They are the middle names of Mamie's two sons, John Arthur and Spencer Nolan, the most precious gifts she ever received. The day her oldest son was born, God revealed Mamie's purpose: to be a strong Christian mother who would teach her children to be compassionate and live authentic lives for His glory. While Mamie admits that is a daily challenge, she assures us, "Gratefully, I live in a sea of grace."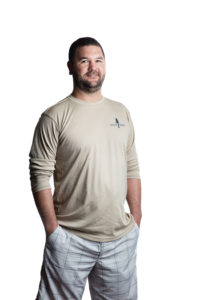 Bayou Light
Chris Hendrix remembers the day Bayou Light started. He was on a boat, fishing with his fiancée, Melissa. The idea of starting a business had been on his mind for a while, but there, on the water, the concept took shape."The sun happened to be shining a certain way through the trees," he recalls. "It was something about the sun, the trees, the moss and the water that got me thinking about the name Bayou Light."
They both agreed then and there that it was the perfect name for an apparel line, and he contacted a friend in Baton Rouge about developing a logo and beginning branding efforts. Chris wasn't a graphic designer, but he knew what he was looking for – a lone cypress, rising from the water.
Meanwhile, Chris and Melissa got started on creating the lines they wanted to introduce. Just a few months into their endeavor, Bayou Light is gaining momentum as one of the new "it" brands in the region. The clothing and accessories line produces high-quality tee-shirts, fishing shirts and women's accessories. Each creation conjures images of the bayous that make Louisiana."If you were raised in Louisiana, lived near the water – a swamp, or river anywhere in the Bayou State – then you understand Bayou Light," he says. "Close your eyes and picture this. It can happen anywhere, any time, and without warning."
Like the clothing his company creates, Chris paints an image of tranquil bayous, Spanish moss, and the warm glow of sun bathing the water. He calls it "God's masterpiece, splashed vividly across the canvas in front of you."
Bayou Light is a company born of the bayous, bred in Louisiana and spreading out to all points beyond, and for Chris, he's never been more enthusiastic. It makes sense that an outdoor apparel and accessories line would be his passion. After all, it's in his blood. Chris grew up in the sporting goods business. His father is the "H" in D&H Sports, a company his grandfather started with his dad more than 40 years ago. He credits this upbringing with the rapid growth of Bayou Light."I've been around the sporting goods/sports apparel business all my life," Chris says. "It's just a business I know and have been around forever. But I've always felt the pull to do something else, something related to our business, but something I attach my own name to."
That's Bayou Light, and it's clear that Chris is proud of his creation. Not only do his eyes flash when he talks about where the company is and the ideas that drive the creations they sell, but he also has big plans for the future, as well. But for now, he's taking things slowly. Everyone involved still has a "day job" and Bayou Light is what they're pursuing around busy, professional schedules. He points out it's not just a side job, though. Bayou Light has been placed in three area retail stores, with lines rolling out throughout August and September. Other stores have also expressed interest.The ultimate goal is for Bayou Light to become a predominately online retail outlet – a goal Matt has been helping with. Their site features an online store where customers can order the latest designs.
Having watched his parents, Chris knows a thing or two about growing a business. He says they're his biggest influence. "My dad has taught me everything – how to play sports and be successful as a young person, then how to take responsibility as an adult, how to run a business and become a businessman, but most importantly he's taught me how to be a good dad," Chris says. "My mom, like my dad, is a huge influence in my life in that she sets an example that everyone should live by."
As the endeavor grows, Chris relies on his family and his fiancée. It's clear that Bayou Light is going to be a family affair. "Melissa is my rock. She's my inspiration and, most importantly, she believes in me, in what we're doing, and supports me in every way," he says.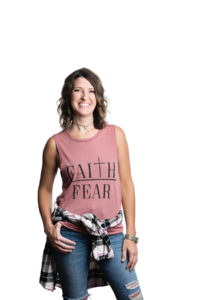 Believe Tees
For Brittany Streetman, it was in the midst of personal tribulation that God showed her an outlet. It was through faith that she and her family pulled through the struggle, and after finally coming out the other side; she is able to bless others. Two years ago in Cincinnati, Ohio, her three-year-old son was awaiting a bone marrow transplant. At that point they had already been away from home with him for a year, first at the children's hospital in Arkansas, and then in Cincinnati where he finally received a diagnosis, DKC. Believe Tees was inspired by this special little boy named Braylon, "B" for short, and his mom who want to share encouragement through Scriptures.
The 13 months spent in Cincinnati gave Brittany a lot of time to think. The transplant would only be viable if Braylon wasn't sick. A virus would prevent the transplant. After a treatment plan and prep plans were specifically catered for Braylon, he was able to receive the transplant. During that time, Brittany was playing on an app one day where you can create shirts. She had the idea to put the Scriptures that had inspired her through this process on the shirt. The idea of using the shirts as a fundraiser came to her, and Believe Tees was born. With Brittany's degree in marketing and her love of design, it just made sense. When considering what to call the company, Brittany looked up and saw a card from a friend that simply said, "Believe." The response was overwhelming in Cincinnati. Working out of the Ronald McDonald house, packages would arrive every day. They started off with three designs and sold the shirts on Facebook. It provided Brittany a distraction with a purpose during the rough time.
When they returned home, they wanted to keep the business going. Both parents had to stay home with Braylon, as he needed to travel to Arkansas weekly for infusions. Braylon also couldn't attend daycare with his weakened immune system. They started setting up the shirt displays at craft shows, sometimes every weekend. A website was launched as well. The first shirt stated: "Perhaps this is the moment for which you have been created, Esther 4:14." It felt fitting for what Brittany, her husband and Braylon were going through. Another popular design early on was Mark 9:23 "All things are possible to him who believes." Braylon has come so far since his transplant. He took his first steps at 5 ½ years old. As of May, Braylon was still 100% engrafted with the donor's cells. His immune system is not back at 100 percent yet, but it is definitely improving. He will finally be able to attend school, and he is getting to experience the milestones of a little boy. It is because of his progress that Brittany is a firm believer in what they do, sharing their message of hope with others.
Aside from the shows and the website, Believe Tees can be found in If the Crown Fits and This House, along with Cara's and HerringStone's. Mainly what Brittany wants to convey to the public is they are not just a Scripture T-shirt company. There's a story behind each creation that helped her get through a hard time. Customers have contacted Brittany personally simply saying, "I needed this." They share their stories and how certain shirts touched them. Touching one person is enough. She believes very much in being open about our struggles to grow as a community and help one another. It's what we're called to do. She knows some people are hesitant to share, but she wants everyone to know this is real life, and together we can carry the burden.
Cotton Top Print Shop
Cotton Top Print Shop is a family business, comprised of Brittany Drewry, her husband Steven, his mom Cyndy, and Cyndy's other son Michael Drewry. In business since September of 2015, the Drewrys have been bringing the Ruston vintage vibe to customers, often calling itself Ruston's gift shop. Cyndy Drewry had a T-shirt business 35 years ago, but after a few deaths in the family, the Drewrys wanted a new operation where they could all be together. People always need T-shirts, but the designs are always changing. Brittany says, "It's something fresh to do, but also reliable." The retail floor currently consists of Ruston-themed shirts featuring old maps with the vintage Ruston feel.
Brittany and Steven are both Ruston natives. And though Cyndy was born in Monroe, she has called Ruston home for many years. With Brittany and Steven both having attended Louisiana Tech University, they have fallen in love with that Ruston sense of community that so many graduates speak about. It's home for them, a small community that is growing, and a beautiful place to live where businesses seem to thrive.
Cotton Top offers custom screen-printing for big groups and custom vinyl for smaller order shirts. They feature photography and offer a photography class hosted by Shawn Hood at least twice a year, depending on demand. Steven's Granny, Deanna Coleman makes handmade jewelry that is also sold in the store. She creates all types of unique jewelry, often from stones or gems she finds. The retail floor T-shirts showcase various fun designs created by the team. The styles feature a blend of sayings and graphics, often relying on humor to convey the messages. For instance, a popular design is the Ski Mount Driskill Tee. Mount Driskill is located in Arcadia, and many residents visit, as it is the highest peak in Louisiana. The graphic features a man skiing this small peak of a mountain, and is meant to be comical. People come into the shop and laugh, saying, "I know where that is, and that's funny because it is a very small mountain to climb." The Drewrys enjoy making customers laugh.
Cyndy is the graphic designer along with her son Michael. With only family members working at Cotton Top, Brittany says it is easy. They all know and love each other. Many customers come in with an idea for a shirt in their heads, chat with Cyndy, and soon a design is born. Brittany acts as the manager in the store, supervising everything, while Steven is the printer. The shop is located in downtown Ruston at 118 West Park Avenue. .
The client base is college students and foot traffic downtown for the retail store, while the T-shirt clients consist of mostly schools and organizations. They also host Print Your Own field trips where clients can come in for en event, such as a birthday, and can set up a design, and the kids can print their own T-shirts. They also allow the public to print their own during art crawls and holiday events. People love hands-on activities, and the parties have been a growing success. The Cotton Top Print Shop can be found on Instagram, Facebook and Twitter.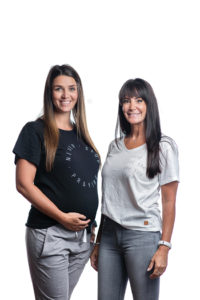 Kee Kee Tees
Stroll through the mall or browse the racks at the River Market, and chances are you'll see more than a few tee-shirts with powerful, positive Christian messages. In addition to inspirational messages that promote faith, the tees have another thing in common.They're all casual. Simple prints in plain colors on solid shirts may be good for kicking around town on a Tuesday afternoon, but what about a dressier shirt? The market was lacking, and that's when Kelly Block and Caitlyn Bamburg decided to step up."Kelly and I wanted tees that were inspirational and promoted our faith," Caitlyn says. "We decided to go more for a fashion tee, something you could dress up a little more."
Kee Kee Tees was born. The girls launched their Christian-based fashion forward tee-shirt brand in spring 2015. Since then, they've grown into a tee shirt powerhouse, and their brands are featured in more than 30 stores nationwide."We have our tees in two stores here, locally," Caitlyn says. They're at K-Sera Boutique and If the Crown fits. "Also, we have an online store at www.shopkeekeetees.com"
Each tee features a simple graphic and an inspirational, scripture-based message. The design allows them to focus more on the message the girls hope to share with the world around them.
"Our main mission is to spread the Word of God through our fashion line," she says. "Kelly and I design every single tee from the style and fit to the color and scripture or graphic, and we print everything locally."
In just two and a half years, Kee Kee Tees has grown far beyond their initial, simple roots. It's now an established brand with a loyal following, and new designs are coming out on a regular basis. "We currently carry women, youth, toddler, and baby apparel," Caitlyn notes, adding Kee Kee is more than just tees. "We also sell women's hats and jogging pants, short sleeve tees, long sleeves, and sweatshirts."
At the same time, they're continually expanding the lines they're offering, branching into new markets as they emerge. Caitlyn and Kelly feel blessed that their venture has taken flight, and they've got big plans for the future, too.
First, though, they'll continue pursuing doors as they open. They recently partnered with Project 41, a non-profit that helps women escape sex trafficking. Kee Kee Tees designs, manufactures and prints tee-shirts for the organization. That's not the only relationship they've developed, either. "In the last year, we've also been blessed with an amazing opportunity to manufacture and print tees and sweatshirts for Mercy Multiplied, a nonprofit organization that helps women break free from life-controlling issues and behaviors, such as addiction, self-harm, depression and eating disorders," Caitlyn says.
In the coming months, they're getting geared up for sports season and rolling out new product lines. Caitlyn and Kelly's tee-shirt company is on the move, and they're excited to see where their journey leads them.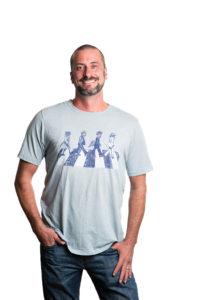 Mr. P's Tees
It all started when an artist married a hunter…and had a baby. Lissy Sanders Compton has always been an artist and obtained her Bachelors of Fine Arts from Louisiana Tech in 2001. Her husband Brent has worked in construction and design practically his entire life, and just like any good ol' North Louisiana boy, has always loved the outdoors and hunting.  In 2012, the two welcomed their first child, Pearson, affectionately referred to as "P." They quickly discovered that there were limited options for clothing for boys. They were looking for something that wasn't girly, was good quality, and simply, was cool. So Lissy got to work and hand painted some designs to put on a onesie and posted on Facebook. They got great feedback and interest in people wanting clothes for their kids. And Mr. P's Tees was born. "It was important to us that we had quality tees, not the cheap junk that tears up," said Brent Compton. "And an original design that was never clip art."
Just like in life, Brent and Lissy are partners in the business. "We literally shook hands in our kitchen and both put up equal amounts of money to start the business," recalls Lissy. The first design was a zebra and then a Louisiana yard dog. "At the time, I was only thinking of onesies," says Lissy. "As Pearson got bigger, naturally, the shirts we designed got bigger. And people always said that they wished we had shirts in adult sizes. So we have expanded over the years." Their family has also expanded as they welcomed daughter Phoebe, now 4 years old. Most of the shirts are influenced by their love of animals, outdoors and patriotism. They have a big release each spring and fall and then release shirts throughout the year, usually a different design a month.
While all of the shirts have a fun and creative flair, some serve a great purpose. From the beginning, the Comptons knew they wanted to give back to their community. So they created shirts that do just that. Over the years, they have created shirts that raise both awareness and funds for various organizations and groups like Pilots for Patients, PAWS, the Zoological Society and more. Just in the last 5 years, Mr. P's Tees has raised over $50,000 with their shirts that give back.
Mr. P's Tees truly is a family business and that is evident if you see them at their booth at the Junior League's Spring Market or hit up their annual box sale. Brent's brother Robby is always around to lend a helping hand and Lissy's mom, Anne, helps out from time to time as well. "We have this core group of girls that have always helped us from the beginning," said Lissy. "They are our friends so its fun to be able to hang out together." Since Lissy works full time as a talented art teacher in the Ouachita Parish School System and Brent in the construction business, they have hired someone to help out. "BreAnne Bearden is a ULM college student who has been with us for over a year," said Lissy. "She helps us stock stores, fill orders and make deliveries. We would be lost without her."
Mr. P's Tees can be found at local retailers throughout North Louisiana including Monroe, West Monroe, Ruston, Winnsboro, Rayville and Bossier, as well as on their website. They have always had a goal of building their family business to teach their kids to work hard, go for their dreams and give back. And they aren't just learning about t-shirts. The Comptons have recently ventured into a new endeavor and are trying their hands at pumpkin farming. So look for them at some upcoming farmers markets in the fall where they will have pumpkins of all sizes and colors, gourds, and of course, Mr. P's Tees.