Lofty Ideals
By Admin
Sep 19th, 2016
0 Comments
570 Views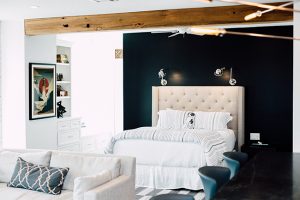 Tim McIlveene's Pied À Terre In Downtown Monroe
article by Maré Brennan
photography by Abbi Berry, Light+Free Folk Photography
interior design by Chris Allums
general contracting by Phillip Sheppard
Tim McIlveene might be one of the nicest guys in the world. Easy to meet and quick to put others at ease, it's no wonder he's worked for a US Congressman and one of the most savvy businesswomen at a Fortune 150 company, as well as embraced living in far away places with strange sounding names. So in 2015, when he had gone through some self described "pretty big life changes," he knew it was time to start fresh with a new home.
"At the time, I was traveling a lot for work, and even though I love flowers and landscaping, it was difficult to keep up with a yard. I knew I wanted something low maintenance. Also, I didn't want to have to keep up a big house for just me. It was time for a change and a chance to do something different," says McIlveene, who now works with CenturyLink to improve economic development and quality of life issues for the company and our community. "I had always thought it would be cool to live in downtown Monroe. I love all the revitalization and potential. So when I started looking, I noticed there was a condo available at RiverScape. Of course, being from Monroe, I was familiar with the building and had always been fascinated by the house on top."
"When I toured the unit, I fell in love with the balconies, the views and all the natural light." he adds.
"I really wanted a downtown loft space or a pied à terre reminiscent of something you might see in New York or San Francisco." McIlveene knew just who to call. Local designer, his good friend, Chris Allums, had collaborated with McIlveene on numerous projects, including his old house. "I love Chris' style and vision," says McIlveene.
For Mcilveene's project, Allums called on general contractor Phillip Sheppard and his talented crew to execute his vision. Because Sheppard and his crew were tied up on other jobs, the Riverscape renovation was on hold for about 4 months, just long enough for McIlveene to get a sense of what life was like in the space.
Designer Allums, taking a cue from Mcilveene's love of art and desire for open, uncrowded and uncluttered spaces, kept the color palette simple. And the palette doesn't get any simpler or more chic than black and white with touches of grey, which lets Mcilveene's colorful collections and art be the star of the show.
Initially McIlveene wanted to expose the bricks in the living area for a more industrial feeling in the apartment. However, once the sheetrock came down, the effect was lost due to an abundance of plaster. Allums came to the design rescue with the idea to create texture and interest using white painted shiplap in the living area. The negative space between the boards translates as horizontal stripes for visual interest. Plus "it would stand up over time to the millions of picture frame nails I would put in it," says McIlveene.
"I have to admit I was hesitant on the shiplap. When it first went up, it felt like this was a rustic cabin, but with each coat of white paint it grew on me, and I loved it after the final coats were applied."
Smaller spaces call for masterful editing. The designer removed a faux fireplace and opened up the sheetrock wall that separated the living area from the bedroom and installed a large cypress beam overhead that runs the width of the space, delineating the transition from public to private space. The result is an open concept for living that keeps the petite apartment for one from feeling cramped or claustrophobic. Explains McIlveene, "It's incredible how much larger and lighter the space felt after that. We also decided to use the kitchen bar as the dining room table, extending the bar out to accommodate seating for six." Comfortable, upholstered counter height stools are from Crate and Barrel. Electrical outlets were added to the island, adding to its practicality. "I can sit there, plug in my laptop and work," adds McIlveene.
When a previously picked out slab of white granite with grey veins was accidentally sold before the project got under way, the designer and homeowner made lemonade out of lemons and found a solution in a beautiful honed black Nero granite with lovely and subtle grey veining. "I love its matte finish that reads like soapstone and like it much better than the original granite we chose. Chris calls this a 'God wink,' when the unexpected second choice is so much better than the first choice." The large, rectangular modular sink is stainless steel and has multiple attachments like a strainer and cutting board that transform a regular sink into so much more. Guests of all ages are enthralled by the modern Delta touch faucet. New recessed lighting with soft LED bulbs were installed to add brightness and task lighting. Large, white glass subway tiles add life to the backsplash behind the oven and range. A cypress beam was added to hide the oven exhaust and fan.
A wall leading to the ample pantry and laundry room is where McIlveene has placed an eagle embellished plaster bullseye mirror. In its reflection, you can see the darling tongue-in-cheek "Elvis Dog" painting. The gilded mirror was a gift from the homeowner's grandmother who had saved up Greenstamps in order to buy the mirror long ago.
Since the space is open, McIlveene says he wanted a strong statement piece for lighting over the bar/dining area. The polished nickel Kinetic chandelier from Restoration Hardware was just the ticket. The fixture's Edison bulbs give off a warm and flattering glow at night. Open shelving handcrafted by Sheppard of reclaimed cypress and industrial pipe replaces bulky upper cabinetry. The same custom open shelving is repeated in the living room, where Mcilveene's collections from his travels are artfully curated. A Chinese birdcage of intricately carved wood shaped like a little pagoda temple was purchased in the Hong Kong bird market. An array of arrowheads found on his Great-Great-Great Uncle's East Texas farm and given to McIlveene by his Great-Great Aunt are mixed in with a treasured Chinese porcelain bowl from the foothills of the Himalayas, vintage books and prints.
Above a painted Chinese Qing Dynasty chest, which McIlveene brought back from his time spent working in Hong Kong, are vintage postcards from the 1900s to the 1930s from Penang, Malaysia. "I love these postcards so much, because this is the neighborhood where I lived. I loved Penang; it was the very first British settlement in Southeast Asia, so there is a lot of colonial architecture mixed with Chinese, Malay and Indian cultures. It is truly exotic and completely intoxicating," says McIlveene as he points out some of his favorite images. These hand-tinted postcards are among the prints McIlveene offers on his website, BristishMalay.com.
McIlveene's recently launched framed art print company came into existence because of his vast collection of hand-tinted, vintage postcards and maps gathered during his time in the Far East. Portions of the sale of each print go to fund Aimee's Heart Foundation, set up in memory of McIlveene's late sister and will go to help fund ministries that serve migrant workers and their families in Southeast Asia. His sister, Aimee, was known for her love of traveling the world and had dedicated her life to helping women and children in need.
A sisal rug anchors the living room space where conversational areas abound.  A generous, oversized ottoman in grey plaid from Sleepy Hollow pulls double duty as both seating and coffee table. The neutral linen sofa is from Restoration Hardware, and the leather club chair was sourced from Burney's in Monroe. A flat screen television is well-positioned for maximum viewing above a mirrored console which houses audio visual components. The shiplap walls are a genius way to conceal wires, as well. The whimsical portrait of the stork was sourced from Material Things. A drainpipe in the corner of the living room was painted white to match the walls. When rain showers hit the area, the drain creates a symphony of soothing water sounds.
In the bedroom area, simplicity rules. The Bassett headboard in tufted, oatmeal linen with nailhead trim is from Sleepy Hollow, and the modern nickel reading lamp sconces are from Restoration Hardware. The wall behind the upholstered bed is painted a rich black and contrasts with the otherwise stark white walls. The corner where the black paint meets the white is knife-edge crisp. A striped Scandinavian rug from RugStudio.com is a nod to the graphic lines of the whitewashed shiplap of the adjacent living space. The dog pillow created by an Etsy artist to look like McIlveene's beloved rescue dog, Dottie, sits at attention amid the striped bedding. Eight leather shadow puppets, found in a small market in Xi'an China, home to the famed terra-cotta soldiers, were framed individually by McIlveene's father and create a dramatic and colorful conversation wall.
More built-in shelving creates an opportunity for McIlveene to display his collection of boxes; a custom portrait of his four-legged friend, Dottie; interesting cowbells, each with a different sound, from the same Great-Great-Great Uncle's farm in East Texas; as well as a piece of wormwood driftwood he found in an Alaskan bay while traveling with his grandparents at age 12. "We drove from El Dorado to Alaska that summer," he explains of his souvenir.  McIlveene, pointing to a vintage abacus complete with Chinese numbers on it, describes buying from a man using it in a Chinese market.
Directly above the door to McIlveene's Hermès-orange painted walk-in closet, he has placed an antique carved panel from an old Chinese Temple door. At a small bedside table, a marble elephant inlaid with semi-precious stones is a reminder of a trip taken to explore India's Taj Mahal. The craftsmen, who built the Taj Mahal, were artisans from the Muslim world, including Egypt and Persia, who established a village near the Taj and brought their families. The craftspeople who created the elephant are descendants of those who built the palace.
A large George Rodrigue Blue Dog print, a gift from the homeowner's parents and also framed by his dad, adds bright color to the hallway leading to the foyer and newly renovated bathroom, which was reconfigured from a tub and shower to a large shower with multiple Kohler showerheads. The bathroom floor was replaced with 2-inch black hexagon tiles with a stain resistant white grout. White subway tiles cover the walls of the shower area. An Asian-inspired teak bench seat is positioned in the shower beneath the rain shower head. The reclaimed wood and carrara marble topped vanity and sconces are from Restoration Hardware. The Asian black lacquer mirror over the vanity was a previous acquisition.
The apartment is blessed with two balconies, both with distinctive curved wrought iron railings. A small covered balcony looks out toward the First Baptist Church and St. Matthew's Catholic Church. A larger, decked space affords views of the sunsets over the river and the recent renovation of the old Virginia Hotel.
"Chris made my Asian garage sale work in the space and I think that really validates Chris' creativity that we could do that," explains McIlveene.
The foyer sets the tone for the apartment and is painted the same enveloping black as the bedroom area. The mirrored ceiling was installed by the previous owner. "I love how it reflects light," says McIlveene. A flushmount metal chandelier was sourced from Restoration Hardware. The perfect sized Chinese altar table was a purchase from McIlveene's time spent in Hong Kong. Above the table is a triptych painted in the manner of Jackson Pollock by Chris Allums. "When I worked as Chief of Staff for the Chief Operating Officer of CenturyLink, she redecorated our offices and personally purchased these for the office I occupied. I just loved them, and when she left the company, she gave them to me. They are perfect for this space and add so much," says McIlveene of the colorful paintings.
Says McIlveene of his loft, "I love my home and living in downtown Monroe. It's special and unique and perfect for me and this time of my life."