Mad Faith: MadTunes Owner Jason Madden On God, Family & MadFest
By Melanie Moffett
Oct 26th, 2015
0 Comments
718 Views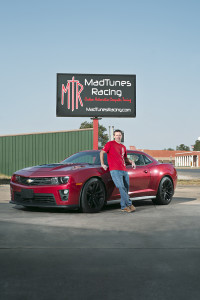 With a vision for growth and a belief in God's power, Jason Madden turned divine blessings into a noteworthy profession based on a simple passion for automobiles.
article by Meredith McKinnie | photography by Martin G Meyers
It wasn't so much a dream turned reality, as it was a passion turned profession. For Jason Madden, owner and creator of MadTunes Racing in Oak Grove, Louisiana, the car and truck culture has blossomed into not only a thriving business, but also an opportunity to give back to his community, both spiritually and financially. In the heart of the small town on E Main St, MadTunes serves a primary customer base from outside the area, gradually putting Oak Grove on the map for other automotive culture enthusiasts. What started as a small hobby has been transformed into not only a way for Jason to work near his family, but a means to grow his faith, God's ministry and the economy of West Carroll Parish.
Having worked in the natural gas pipeline industry since 1995, Jason and his wife Heather, college sweethearts from the University of Louisiana at Monroe, longed for him to provide from home. After many jobs across the country pipelining, Jason remembers being in Washington State praying "God, send me home." And soon after, God answered. In 2008, Jason began MadTunes as a side business working on his own vehicles at his home. He found he could take factory vehicles and reprogram them to run faster and better, and even significantly improve fuel economy. So with a reputation that began with word of mouth and a racing presence at the Twin City dragway, Jason's hobby morphed into a small business. And by 2010, his pipelining days far from home were behind him, and MadTunes took off. Having now served literally thousands of customers, Jason sees the success as a testament noting, "Man can make something out of something, but only God can make something out of nothing."
MadTunes Racing is a custom speed shop and computer-tuning outlet.  MadTunes builds and modifies gas and diesel trucks and cars, installs custom exhaust systems, camshafts, cylinder heads, headers, intakes, superchargers, turbos, nitrous and more.  They specialize in truck accessories, lift kits, lowering kits, custom bumpers, winches, bed covers, towing hitches and equipment, and also install custom wheels and tires.  They have an in-house dyno (basically a treadmill for cars) which is an instrument used to measure horsepower.
With a business card bearing the scripture John 3:16 and a cross in the company logo, Jason puts faith at the center of all his endeavors. And with that faith comes fearless business acumen for growth, expansion and an understanding that God will provide. Jason serves as the children's pastor at Life Church Oak Grove alongside senior pastor Michael Mote. Never one to shy away from potential growth, Jason inquired about renting the old Goodwill Elementary School for a festival for the kids. The school board offered them the "school for a song," and the church has now moved all 200 plus members to the 28,000 square foot facility. Madden has been with the church since the third Sunday the members met.
Since the original goal was for Jason not to travel for work, the family see themselves as blessed, insisting, "God replaced it" with MadTunes. Having always been conservative with money and an avid listener of Dave Ramsey, Jason worked out of his garage with no aspirations of moving anywhere else. He wanted to keep it small, but again, God wouldn't allow it, citing Proverbs 16:9, "Man plans his path, but God directs his footsteps." The building owner on E Main St. approached him about relocating MadTunes, and the operation moved to the 7,500 square foot building with seven bays. Employing six others and him, Jason sees the blessing in providing jobs, opportunities and income for his staff. The company also works in conjunction with outside dealers and representatives in other parts of Louisiana, Texas and Arkansas who create more revenue outside MadTunes' immediate reach. This enhances the MadTunes' brand, opening up the opportunity for continued growth and ministry in the future. God showed the Maddens that they can "grow out, not up. We don't need a skyscraper in Oak Grove." Making use of other companies, God has shown Jason his potential: "If I limited myself to home, I couldn't employ people – by growing out, we're able to expand out."
The automotive culture is booming in America right now with car and truck culture themed events serving as huge attractions across the nation. Movies such as Fast and Furious have exposed the world of vehicle enhancements and modifications to a wider, diverse audience. What was once just a means of transportation has become a passion and livelihood for people like Jason. Within the culture exists "genres" of automotive enthusiasts: southern truck lovers, low riders, mud riders, rock crawlers, sound lovers and speed chasers. Madden's goal is to bring them all together in a local festival he is piloting, appropriately named MadFest. It all began with a vision when God showed Jason the success of Sturgis, South Dakota.
For the last seventy-five years, Sturgis has hosted the Sturgis Motorcycle Rally drawing over a million people to a town half the size of Bastrop, Louisiana. When Raymond Agent, a local pastor from Freedom Worship Center in Oak Grove, went to Sturgis to minister, Jason sought him out and asked him to help make MadFest happen. The local Chamber of Commerce supports the festival idea and is one hundred percent in favor, and Jason has already received support from both the mayor and the chief of police. Madden has this strategy of asking for advice rather than asking permission which has served him well in both his business and his ministry.
If MadFest is approved by the city council soon, the inaugural festival could happen as early as next Fall. The first and only street legal drag race near the heart of town is the primary event and the biggest draw that would bring enthusiasts to Oak Grove. The plan is to have the road blocked off for half a mile, the race covering 1/8 of a mile, with spectators watching from temporary stands along the roadside. Some other events would include: truck tug of war, truck sled pulling, drifting exhibition, car show, tough truck competition, urban rock crawling event, poker run, burnout competition, Dyno competition and the local Fiske theater has agreed to play car themed movies throughout the weekend. Ironically, the Sturgis Motorcycle Rally began 75 years ago with a hill climb, stunt show and race. Modeling after the best, Jason wants the same for Oak Grove. While the festival would take time to reach Sturgis caliber, the turnaround could be quick thanks to social media. A simple video Jason posted of a burnout competition in the parking lot of MadTunes got over 40,000 Facebook views in less than a month. The drag race would be the draw; the cornerstone to bring people from states away, the draw for everything to work. The drag race is just wild enough to "drag" people in. Getting people to come is essential first. Jason believes God can make the seemingly impossible possible, and the revenue potential for the small town of Oak Grove would be astronomical.
Madden promises MadFest to be a family-friendly environment to boost the culture, the town, and ultimately, God. To those concerned about the street legal drag race, Madden insists they will be "setting up a safe environment." He plans on consulting with the city of Sturgis whose festival features racing and jumping motorcycles in the air above  Main St., adjacent to crowds of people. Madden is also being advised by the owner and operator of the Twin City Motorsport Park. The drag race will be limited to 660 feet in length to keep the speeds of the vehicles down. Jersey barriers and temporary fencing will be set up so spectators can watch safely. For added saftey, EMT's, security and police officers would be on site. Jason understands that "with sporting events, we take risks. Without some calculated risk, there's no long-term reward."
Like both his family and his business, MadFest will be a Christian-motivated event, an opportunity to spread the ministry of God via testimony in a culture not necessarily viewed as a religious one. MadFest could change that perception. "Seek first the kingdom and all things shall be provided to you." Jason lives by that statement, as God has provided for him and his family time and again. Like her husband, Heather's faith is rooted in a prophecy she received years ago: "You will always have more than enough, but it will never be guaranteed." The Maddens believe, "If priorities are right, everything will be alright": God first, spouse second, children third, then job and church. They have always abided by that order and have been blessed.
Every MadTunes customer is an opportunity for Jason and his staff to share the Lord's message following two simple rules: "Love God with everything you are and love your neighbor." With the business platform, ministry meets opportunity. One example was in May of 2014 when Jason wanted to have a bigger sign made for the shop on Main St. The guy charged with making the sign kept putting off the visit, but it worked because God inspired Jason to change the logo to include a cross. What was before simply "MTR" became MR with a cross resting in between. The cross sits above the two letters, seemingly holding them together, much how God holds together the business, its success and the Madden family ministry. What seemed to be procrastination turned into a "sign" from the Lord, literally.
As a family, the Maddens are reveling in Jason being home every night. His wife Heather is working on her Masters Degree in occupational therapy and is expected to graduate in 2016. She has plans to start a children's therapy business using horses, again combining her passion for animals and people, and helping others through therapy and ministry. The initials and logo would be the same, MTR, for the Madden Therapy Ranch sitting on twenty acres, recently purchased right outside of town. The couple has a daughter appropriately named Faith, who came into the world at only 26 weeks weighing one pound and nine ounces. Jason is grateful that when she flat lined early on, God chose to "give her back." Their son Nathan is nine, and Heather claims he always had his hands moving. So in order to give Nathan something constructive to do, they put drumsticks in his hands, and he's been playing the drums alongside Jason who plays guitar and piano. They praise God through song and their shared love of music. With God being the cornerstone of both family and business, the Maddens have found a means to share the glory of God. And in return, God has blessed them. With their faith, the Maddens believe anything is possible, and that vision paired with spiritual guidance has and will continue to serve their family, their businesses and the people of Oak Grove, Louisiana.