Making a Statement
By Katie Sloan
Aug 28th, 2017
0 Comments
136 Views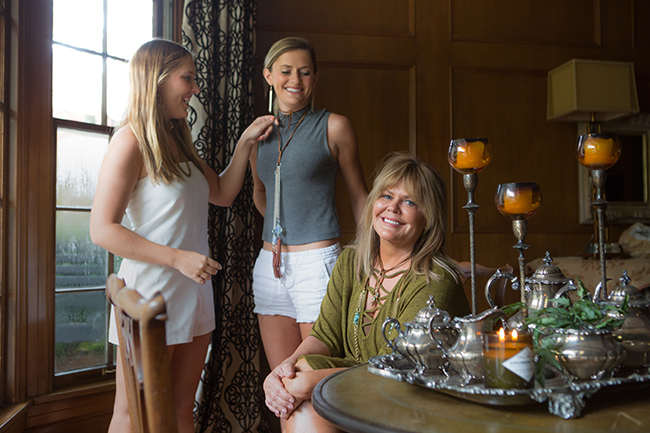 Along with her girls, Cynthia Bailey Ryan is crafting fashionable, one-of-a-kind jewelry. Her designs are anything but ordinary and her unique style shines in each piece.
Pablo Picasso famously said, "Every child is an artist. The problem is how to remain an artist once we grow up." Cynthia Bailey Ryan grew up in Monroe, Louisiana, surrounded by a family of artists, so being creative came naturally to her as a child. She said, "I've always had an eye for things." Although a creative field would have been a good fit for her, Cynthia chose to major in psychology and minor in English while earning her bachelor's degree from the University of Louisiana in Monroe. Now, several years later, she is returning to her creative roots and launching her own jewelry business, CBBR Designs.
As an adult, Cynthia always enjoyed doing creative things for herself. For example, she refurbished furniture or made jewelry for herself and her daughters. But she has only recently begun to take herself seriously as an artist whose work might be of interest to others outside her circle.
Cynthia started making jewelry about eight years ago in support of Hope7, the Trey Altick Foundation. She and her daughters and their friends would gather around the table and string freshwater pearls and crosses to make necklaces and bracelets for the foundation. At the time, Cynthia and her girls knew very little about jewelry making and would tape the ends of each strand for Trey's mother Helena to finish.
During this time, Cynthia and her jewelry roundtables helped fulfill Hope7's vision, which is "to take the tragedy of Trey's loss of life and wrap it in layers of love, presenting it back to the world as a gem of hope to those in need." The jewelry that Cynthia, her girls and others  made for the foundation has been sold to raise money for freshwater wells in impoverished areas where having clean, safe drinking water can mean the difference between life and death.
The jewelry making sessions not only helped spread love and light into the world; they also created a space for Cynthia to talk and share with her girls. "It was something for us to focus on," she said, "and when you were finished, you had a sense of accomplishment."After a several-year hiatus from jewelry making, Cynthia decided to revive those roundtables in late 2015 to make jewelry from her own designs. She said, "It brings me closer to my girls. Everyone has an opinion and a thought. We can do it together." Sometimes the girls even design their own jewelry.
In bringing their designs to life, Cynthia was determined to master the whole process from inspiration to finish. Over the last two years, she's experimented with a variety of materials. After a great deal of trial and error, Cynthia has perfected her art and is on her way to a new business centered on handmade statement jewelry. She also plans to hire  assistants to help construct the pieces as her business grows.
Because her jewelry is handmade, it will always have a personal, human touch. "Perfection is not achievable," she said, "but I strive to make it as close to perfect as I can. I think it looks better, when it's handcrafted, because you have more quality control." Plus, a handcrafted piece will be unique. Because her pieces are individually made and often use natural rather than synthetic materials, most are one of a kind. "If a piece is mass manufactured," she said, "it's everywhere, and you're just like everyone else."
For Cynthia, "Style is a personal thing. It's about what you like." Style also provides a way to set yourself apart from the crowd, and for Cynthia, there's beauty in being unique. "Everyone has their own style," she said, "so if you have your own look, that can make you beautiful."
In the beginning, Cynthia was motivated to create something special and unique for herself, but she also wanted to solve some of the problems she'd experienced when shopping for jewelry. She often liked the colors of pieces but disliked how they were put together. Quality was also an issue. "Using inexpensive things to make a statement just seemed 'off,'" she said. She wanted to create something more versatile from higher quality materials.
To achieve versatility, she creates necklaces with adjustable lengths, so they can be easily worn long or short and layered with other pieces if desired. To ensure quality, Cynthia takes care in choosing the stones, chains, leather and other materials. "I want it to feel good," she said, "and it's got to be something I would wear or my children would wear that I like and could see a multitude of people wearing."
Cynthia likes classic lines and classic pieces, so the majority of her pieces have a simple, polished look. She even considers how her pieces look from behind and beads the necklace tails to create "a little surprise" in back. Although most of her pieces have a clean, polished look, they often have a distinctive flair as well, and they are purposefully made to complement any outfit. Cynthia said the same necklace could be worn with a t-shirt and jeans one day and a cocktail dress that night.
A frequent buyer of Cynthia's jewelry, Kristin Brown, echoes that sentiment, "Cynthia has a core understanding of design, scale and material. She's taking natural elements, such as leather, metal and stone, and giving them a fresh, modern twist, while playing with scale and texture. The best part – her pieces easily transition  from day to night. I love them!"
According to Cynthia, her pieces can dress up a simple, casual outfit or just create a unique look. "I truly believe you can wear anything and change your jewelry and shoes, and it will look different every time," she said. With her jewelry, Cynthia tries to make pieces anyone can wear in a variety of ways. "I want older people to be able to wear the pieces and still feel the youth in them," she said. "I want people to know they'll always have something to put on, and I hope they'll love it and feel comfortable enough to give me suggestions."
Cynthia loves interacting with her customers and creating custom pieces. She also enjoys following and incorporating trends and trying new things. "There's so much I want to try and do," she said, "and I'm sure there are still some lessons I need to learn." Although years of practice have given her confidence, Cynthia admits that she might not have branched out beyond her circle if it weren't for the support of her friends and family. "It's nerve-wracking to put stuff out there," she said.
Fortunately, her sisters Robin and Tish have been very encouraging, and her friends Sue Sartor and Polly Spence have helped her connect with customers. She said Sue has signed her up to have booths at events, so she's had to go. The response at these events has only fueled her creative fire. "People started buying my jewelry and ordering things and asking for things," she said, "so I had to start producing." Now Cynthia is motivated equally by her customers. "If they love it and they're excited, it excites me," she said. One of her favorite parts of launching her business has been seeing customers wear her jewelry. "I appreciate it even more when I see it out," she said.
Cynthia's longtime friend and co-owner of Sue*Anu, Sue Sartor explains, "Cynthia has always had an innate taste level and eye for design that is outstanding. I am in love with all of her pieces but especially the  jewelry where she merges modern design elements with antiquity by incorporating vintage chain, brooches and other interesting textural elements. She makes stunning statement pieces which are new and fresh, complete the outfit and take it to the next level.  Cynthia is a detail girl with an eye for the extraordinary. I am thrilled she is sharing this gift with the world!"
Along with her daughters, Cynthia's friends have also been a huge part of her artistic development and creative process. They've helped her grow, and they've added to the fun and excitement of what she does. When the enthusiasm is shared, it's amplified. Cynthia gets together with her friends Christy LeBlanc and Julie Davenport to brainstorm and put the jewelry together. They also like to discuss trends. She said, "It's interesting to try to predict what will happen in the future and what direction to go in."
Cynthia prefers to change things up and said she would get bored if she didn't. Following trends helps generate fresh and new ideas. "The rules change all the time," she said, "and I like to try to figure out why we like things." When she notices a trend in jewelry design, she looks for ways to integrate it with materials she likes. If she notices a trend in materials, she looks for ways to integrate them into her own designs.
Some of her most successful pieces have been lariats and tasseled necklaces. Statement pieces featuring geodes, agate and other stones have also been customer favorites. She is now making a new choker with a long chain that elongates the body, and she's trying something she said is "a little more messy," but even these messier pieces will have a focal point. Cynthia calls her style "upscale boho" but said some of the pieces are cleaner and more classic while others have a more luxe, hippy vibe. Variety and versatility are definitely important because she wants to appeal to a variety of people and keep the designs interesting.
"The materials I use are things I love," she said, "and I love natural things—stones, rocks, logs, things I find outside." When it comes to creating a piece of jewelry, she incorporates natural materials directly into the design or allows them to inspire the shape in a more subtle way.
Cynthia also likes to mix materials in unconventional ways. For example, she might add rhinestones or crystals to a natural, neutral piece to make it sparkle. "I like to combine what hasn't been combined," she said. Another way Cynthia likes to combine materials is by adding vintage elements. "There's so much beauty in natural elements and history," she said.
Scouring vintage shops for interesting pieces is like a treasure hunt. When she finds something she likes, she then deconstructs and recreates it to infuse new life. "I think it's awesome to take something at the end of its lifespan and bring it back in style," she said.
She also loves the nostalgia created by adding these authentic vintage elements. "It reminds me of the jewelry our grandparents or parents wore," she said, "and it can be passed down for generations if someone keeps bringing it up to date." Because she loves using vintage pieces in her designs, she'd love to work with clients to revive their old jewelry and create something that can be worn again and kept in the family for years to come.
Thinking up the designs and creating the jewelry are the best parts of what she does, but Cynthia also loves the connections, deepened relationships and sense of community that come with being an artist. "I hope to ride this out as long as I'm enjoying it and having fun," she said. Creating jewelry and starting her own business have brought her full circle. They've made her feel genuine childlike joy and excitement. To remain an artist when we grow up, maybe all we need is a little encouragement and a willingness to feel that childlike joy again.
Article by April Clark Honaker and Photography by Brad Arender