Marcia Scott
By Melanie Moffett
Oct 28th, 2014
0 Comments
1041 Views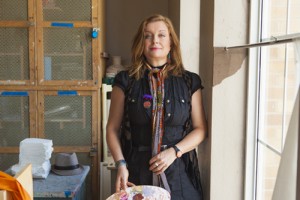 MARCIA SCOTT, IS A FAR JOURNEY FROM HER SOUTH LONDON STUDIO WHERE SHE NORMALLY SPENDS HER DAYS EXPLORING ABSTRACTION
article by Maré Brennan | photo by Brad Arender
She is here as a visiting guest artist at the University of Louisiana Monroe at the behest of friend and fellow artist, Joni Noble, who met Scott four years ago while exploring galleries in London. Says Noble, "Marcia and I struck up a conversation and became fast friends. Every year when I take a new group of students to London, we always get together. Marcia will do a lecture and studio tour for the students that they always enjoy." And now they don't have to travel to London to learn from Scott, who will conduct lectures and display her work on ULM's campus. "I want to take students across the line to be able to see themselves as creative beings, no matter what the medium," says Scott, whose boundless creativity is outwardly  expressed in her wardrobe of cut velvet kimono and dashing fedora.
In addition to ULM students, Scott was able to encourage Ouachita Parish Art Teachers through an in-service in West Monroe to help encourage their students to go beyond the figurative and make use of color to express themselves creatively beyond realism. "I started working in realism, and now I am drawn to abstraction," expressed Scott. "Painting is about self-discovery. Teachers should offer encouragement as art connects people."
Scott's most recent paintings which will be on display at ULM's Bry Gallery illustrate the continuity and flow of life. The oils work like watercolors, creating layers of veils of color on canvas.
Originally an interior designer by trade, Scott began seriously painting about five years ago, traveling to Spain and immersing herself in the work. "I dove in and made a commitment to the creativity," says the effusive artist. "My stepfather, the artist Frank Bowling, is my inspiration. America has been very supportive of his work. (He had a solo show at the Whitney during the 1960s.) And I am inspired by the color field work of Mark Rothko.'"
On Thursday, October 30th, Scott will give a Gallery Talk about her work 'We Are All Related' at the Bry Art Gallery at 2 pm, and the University of Louisiana at Monroe will host an opening reception for the solo show of Scott's work from 6-8 pm at the Bry Art Gallery located in Bry Hall on the University Campus. 'We Are All Related' will run at the gallery from October 27th – November 26th, 2014. The public is invited to attend.