Mediterranean Muse in the Heart of the City
By Melanie Moffett
Mar 2nd, 2017
0 Comments
365 Views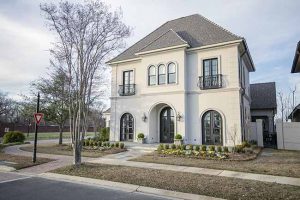 The Home of Cathy and Ronnie Myrick
article by Maré Brennan | photography by Martin G Meyers
At their core, everything that Cathy and Ronnie Myrick have done in their lives' work and philanthropy has been about building a stronger community. Cathy has long served the Northeast Louisiana Arts Council, creating an atmosphere of success for our area's artists and arts organizations. Ronnie, through his community banking leadership, has influenced and strengthened our area's infrastructure and empowering businesses and families to reach beyond and achieve the American dream. While the couple loves spending downtime at their condo on the shores of the Gulf and enjoying a "Sportsman's Paradise" at their camp near Columbia since Ronnie's retirement, nothing could replace having a home base central to family and friends.
The couple secured a lot in June of last year in Maison Orleans, the gated community designed by Eddie Hakim with a decidedly European flair located just off Tower Drive in the heart of Monroe. Cathy immediately sought the services of noted area home designer, Larry James, to draft plans. "I knew exactly what I wanted for this home," says the homeowner, who adores Italy and its Mediterranean architecture. "The design had to be symmetrical, and because I'm claustrophobic, every room had to be open and airy with lots of natural light…even my closet." James did not disappoint, designing voluminous spaces with soaring 12 foot ceilings, incredibly balanced detailing and built-ins and acres of windows to illuminate interiors, even on the grayest of days — all with a contemporary Tuscan ambience.
To make James' renderings come to life, the Myricks hired accomplished contractor, Robbie Smith and his team, who began work like clockwork, pouring the foundation in late September with completion for a May move-in. Says Cathy, "It was such a pleasure to work with Robbie. He was here every day, ensuring a smooth building process. I would see something in a magazine like a bookshelf on one side of a tub and a fireplace on the other end, and Robbie and his workmen would make it happen." The two perfectionists worked well together, with the builder anticipating his clients' wishes.
The two-story, stucco home is sited at the end of a long boulevard that runs central to the overall planned community of Maison Orleans. The three graceful, yet substantial arched iron double doors on the first floor façade and the distinctive railings on the second story balconies were custom fabricated by iron craftsman, Shane Wallace. The stucco detail that creates a faux limestone block design was crafted onsite by Robbie Smith and his carpenters, adding another layer of Italian Old World detail to the design of the home.
A parterre of clipped boxwoods and colorful annual flowers greet visitors at the entry to the Myrick home. Stone planters filled with spheres of manicured boxwoods are placed beneath copper gas lanterns at either side of the arched entryway, emphasizing the symmetry of the home's design. Past the front door, large arched openings lead guests into an intimate conversational area on the right, the welcoming dining room to the left or beyond the central staircase to the home's grand, open-concept living and kitchen area.
Cool hues throughout the first floor are unified through the use of a light and creamy, veined marble flooring, sourced from Turkey and laid in a Versailles pattern using varying sizes of tiles. Chosen for its ability to withstand the test of children and dogs, the flooring is an elegant and  understated foil for the shimmering wall coverings and furnishings throughout the home's gleaming public spaces. Working with local designer Chris Allums, who described the Myricks as his dream clients, Cathy developed a rapport that translated into interiors that reflect the couple's new, more contemporary vision of life in Monroe. Cathy described her incredible working relationship with Allums, "I told him I like creamy whites, light blue and gold and nothing really busy. He would usually bring me three choices, and when he would see my eyes light up, he instinctively knew it was the right one for me. He really knew how to read my reactions." In addition, Cathy and her good friends and designing women Sara Holley and Shiela Dickson would make the pilgrimage to Dallas Market frequently to find just the right lighting fixtures, rugs and accessories. Says Cathy, "Sara is so good at finding lighting, and we had such a great time finding things for this home together!"
Sun-soaked interiors are illuminated by windows and glass paned doors that stretch from floor to ceiling, reaching for the light and pulling it indoors. The more formal living area is a study in elegant symmetry, making this room one of Cathy's favorite respites for reading. A pair of gilded French bergère chairs with a shell motif are gathered with a skirted, rolled-arm sofa upholstered in light crocodile embossed velvet and accented with icy blue velvet and pearl sequined accent pillows. An Imperial French-style clock with tiny satyrs is placed atop a mirrored and gilt credenza. A grouping of four French garden folly architectural etchings are standouts with a Tiffany blue matte and delicate fluted gilt frames. Floor to ceiling luxurious silk shantung drapery, created by Holly Richard of Fabulous Fabric, accent tall windows and are hung from gilded drapery rods.
Blending the couple's previous home with their current desire for more contemporary surroundings was an easy task for designer Allums, who is well-versed in an easy transitional-style that mixes traditional with more modern elements. The shimmering silk shantung drapery continue in the dining room as well creating a textural continuity throughout the front of the home's more public rooms. The couple's more traditional furnishings look equally at home in this space. A burled wood china cabinet with gothic detailing creates a focal point along one wall. A large demilune buffet with inlaid doors takes its place beneath an ornate gilded mirror. The long French dining table and chairs can easily accommodate a host of family and friends.
A bold and graphic golden Greek key-inspired metallic wall covering from Sherwin Williams was selected for the center hall just beyond the foyer. A large concentric circle mirror is placed above a gilded and mirrored chest A large gilded, six-light lantern provides illumination for the central staircase. Stair railings with repetitive arches were custom crafted locally by Kelly Ironworks. Walnut stained oak treads on the stairs add a rich warmth to the palette. A small guest half bath utilizes a bombé chest that Cathy had converted into a vanity.
The L-shaped Great Room includes an inviting den with "his and hers" sofas upholstered in a creamy-hued velvet with nailhead trim. Cathy laughs as she points to "Ronnie's sofa," his favorite perch, and says that she made sure to include two so that she would have a place to land as well. The sofas are positioned to take full advantage of the gas, remote controlled fireplace with carved stone mantle. Concealed behind a piece of abstract art in a wide gilded frame is a flat-screen television. With the touch of a button, the artwork disappears to reveal the day's news or latest sporting event. On either side of the fireplace are arched, built-in bookcases, artfully arranged by Gregory Hudgins. A pair of lucite side tables are topped with tall gold-leafed table lamps. The entire conversational area is pulled together by a large Oushak rug in muted tones of cream, gold and blue.
A spacious breakfast area is located beside a bank of sunny windows looking out onto the neighborhood park. A gold-leafed Moroccan-inspired iron trellis base topped with a round glass table top is surrounded by four comfortably-upholstered, high-backed chairs. Tall windows are dressed in a tone-on-tone fabric drapery with a braided pattern. A soft, shaggy rug adds textural detail and defines the space. A six-light gilded chandelier adds soft lighting above the table.
At the edge of the home's porte-cochère, a gurgling sugar kettle fountain overflows its aged copper edges, spilling water onto a river rock bed and creating soft water sounds like the lapping of waves against the shore. The corner lot has been planted with Louisiana natives, magnolia, crepe myrtle, iris, azalea and more in a landscape designed by Lori Schween and installed by Trey's Landscaping. A designated green space and playground for the subdivision offers just-across-the-street access for the couple's grandchildren and four-legged companions, labradors Princess and Maggie. Beside the side door, French planters are filled with topiaried boxwood.
Working with Sandy Sartor at Key Millwork, Cathy says the two just sat down and started sketching out what was to become her amazing kitchen, which is loaded with extras and handy tools and tricks to keep counters sleek and uncluttered. Within crisp, white cabinetry under a cream colored quartzite counter, Sartor devised pull out drawers that reveal a hidden bar as well as a tall pull out pantry that is perfect for storing cans and spices. A T-shaped center island ensures there's plenty of seating at the heart of the kitchen. A golden pendant light with dual lighted drums provides task lighting for the island. Counter-height stools are upholstered in a light blue suede which picks up on the hushed tone of the crystal-blue glass tile backsplash that Allums sourced for the kitchen. Double ovens and Wolf gas burners are the culinary centerpieces and get this kitchen cooking — and everyone loves the "Sonic" icemaker. The walk-in pantry with its adjustable shelving is, like Cathy herself, extremely organized.
Downstairs, the master bedroom is an oasis with cool blue walls and luxe bed coverings in hues of velvety blue and creamy whites. An abstract, contemporary canvas creates a dramatic focal point above the velvet upholstered button-tufted headboard. Painted bedside chests with gilded accents are topped with tall clear glass lamps and treasured family photos. At the foot of the couple's bed is a curly lamb covered lucite bench adding softness. Double doors lead to the en suite master bathroom, a spa-like retreat with an oversized glass and marble shower and step-up soaking tub beneath a large arch. The shower features marble tiles, two built-in corner seats and a rain shower, while the oval soaking tub area includes an electric, remote controlled fireplace to warm the area on cooler days and a flat screen television on one end and recessed shelving built-in to the other end. The little "water closet" room is papered in a Gracie-like wallpaper with birds and flowers on a metallic background sourced through Sherwin Williams. Two of the seriously ingenious features of this bathroom include an under-cabinet heater beneath the bathroom vanity for warming cold feet and a Sandy Sartor-designed cabinet drawer for hairdryers and electric appliances that keep the appliance plugged in and off countertops — permanently! A large Louis Philippe-style gilt mirror creates a glamorous area for the homeowner to dress.
The master closet is a study in detailed perfection. "Sandy (Sartor) asked me to count my shoes and boots," says Cathy. The result is a custom closet with adjustable shelving for shoes and specific areas for luggage and purses. Natural light abounds with windows placed high above clothing rods and shelves. A central island provides ample storage for foldable items.
"Everything I did in this house was for my grandkids," says Cathy of the home's upstairs guest rooms, designed with her children and grandchildren in mind. "Michael's Room" is decorated in shades of grey with cream and silver accents. The headboard is a silvery grey with lush bedding fabricated in chic cream and grey hues which are echoed in the floor to ceiling drapery. At the bedside, silver-leafed John Richard chests were a find from Malouf Furniture in Foley, Alabama.  The attached bathroom features a combined tub and shower with double glass doors. Lucite sconces reflect light against a mirror the homeowner found at Malouf as well.
"Megan's Room" features a cream upholstered headboard with nailhead trim, sumptuous bedding with a fluffy blue accent pillow, a blue-hued contemporary rug and gold patterned curtains on a cream background. The attached guest bathroom features a doorless, open shower similar to the master. Serendipitously, the mirror with attached sconces was found at Material Things in Monroe and coordinates perfectly with the wallpaper which was sourced at Sherwin Williams.
Because the Myrick's grandchildren range in age from 9 months and up, Cathy, or Cacky as her grandchildren call her, is prepared for any and all to spend the night. The baby room is completely outfitted with a blue and pink chandelier, a cherry wood crib and oversized blue lounge chair and ottoman. "I bought this chandelier when Michael's first child, Amelia, was born, and I wanted to move it to this house," says Cathy.
During the construction phase, Ronnie told Cathy, "Let's not waste this attic space." The result is Ronnie's media room — an amazing, loft like space with a vaulted ceiling with a designated indoor play area for grandchildren above the porte-cochère. Comfortable seating offers big screen viewing from any vantage point. During this year's Super Bowl celebration, the Myricks' media room was filled with a virtual "Who's Who in NELA" with some of the most recognizable names and heavy hitters in attendance.
One of the couple's favorite spaces lies just beyond the arched door of the open Great Room. The covered outdoor living area with stainless grill and food preparation area is a relaxing spot for grilling dinner and enjoying a glass of wine, a roaring fire and a little television. A pair of verdigris fountains provide Zen-like water sounds, which remind the couple of their beloved beach condo.
Of building their Maison Orleans home, Cathy says, "I dreaded it initially, but every experience was so pleasant. I love our home, because everyone can be comfortable here – adults, children and our dogs, who get to enjoy a heated and cooled garage with their own special doggy door to the enclosed back yard."