Meet the Truckers
By Admin
Aug 1st, 2016
0 Comments
982 Views
The food truck scene is quickly growing across the nation and north Louisiana isn't missing out on this growing trend. From an eclectic, gourmet meal to a casual, quick bite to eat, these food trucks are sure to provide something for everyone.

---
article by Meredith McKinnie
2 DUDES CATERING

photos by Martin G Meyers and 2 Dudes Catering
Chris Brown and Kevin Meredith combined friendship and business starting 2 Dudes Catering in February of this year. Barbeque is what they do, bringing the fun to food. Currently focusing primarily on special events and operating on weekends, 2 Dudes is heavily involved with the Downtown River Market, the Franklin Parish Chamber of Commerce, Governors Cigar & Pipe, and local nightlife. Starting as simply catering, the food truck fell in their lap and rolled for the first time in April at Governors Block Party. Chris and Kevin love the food truck, bringing their good product to great people in the community.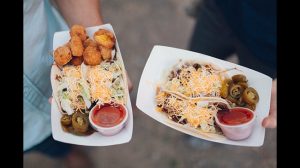 The truck menu includes: brisket soft tacos, pulled pork "sammich," barbecue chili pie (made with brisket meat in the chili), Nacho Mama's pizza roll (a deep-fried nugget of deliciousness), barbecue nachos, barbecue quesadillas, and a homemade jalapeño barbecue sauce (which is the delicious brain-child of the 3rd Dude, Ronnie Milsap). While their menu may be short, they focus on what they do well. With five hours prep and a cook time of 8-15 hours, you can taste the fun in each bite.
Chris claims "barbecue is an art, but forgiving," serving as the "chief pitmaster" alongside Kevo, the chief flavor engineer, the brains behind many of the "creative, inventive recipes." The men insist you'll "laugh hard and walk away full." They also collaborate weekly on a podcast fittingly titled 2DudesRadio. It's sports heavy, where they talk about anything men love, outside of politics or religion. And it also includes a "Beverage of the Week" segment that no one would want to miss.
318-232-2818
Info@2dudescatering.com
@2dudescatering on Twitter & Instagram
Facebook.com/2dudescatering
www.2dudescatering.com
---

CASTER & CHICORY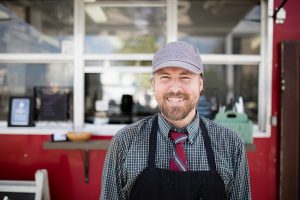 photos by Martin G Meyers

It's all about the beignets at Caster & Chicory. Joel and Jordan Myers started selling beignets at the Downtown River Market in Monroe just shy of one year ago. Under a white canopy tent, they served their delicious pastries to eager consumers. In January, they started selling their popular King Cakes. Looking to expand, Jordan raised money via a funding website called Generosity to purchase the red trailer so they could take their operation mobile. Now setting up in places such as: Cross Keys Bank on Hudson Lane, Petals and Pearls Flower Shop, Downtown Monroe, and the West Monroe Farmer's Market, the couple is broadening their s cope and their menu.
The couple toured NewOrleans and sampled all of the great and famous beignets they had to offer. From this, they created their recipe – the most authentic and delicious beignets in Northeast Louisiana. The recipe stands out among others that are more like a biscuit or a sopapilla, not a true southern beignet. The staple sauces for dipping are chocolate and salted caramel. Some seasonal sauces are peach, made from the fruit of Thompson's Peach Farm in Calhoun, and blueberry from Butler Blueberry Farm in West Monroe. Soon they will offer holiday flavors like eggnog and perhaps bourbon. And while beignets are the focus, coffee is also served to enrich the experience.
The coffee is a Café du Monde chicory medium roast, served both hot with steamed milk and an iced café au lait. In the winter they'll add a mocha and hot chocolate to their menu, again both hot and iced. The Myers put the passion in pastries.
Caster & Chicory Pop Up Food Trailer, Events, Parties
Joel & Jordan Myers, Owners
208-669-0107
Monroe, Louisiana
casterandchicory@gmail.com
facebook.com/casterandchicory
---
RHODA BROWN'S HOGWASH CABOOSE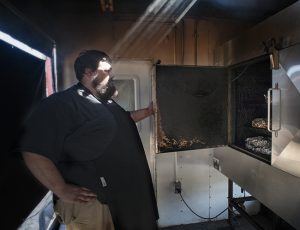 photos by Martin G Meyers and Joli Livaudais
The self-proclaimed Duke of Ribs, Rhoda Brown, has been perfecting his quality barbecue for over a decade. The Memphis in May cook off named him the world champ of pulled pork twice. He converted the trailer to roadside sales five years ago and still caters events. Rhoda uses the knowledge he gained on the competition circuit. He started cooking for two other teams. Experimenting and being around good cooks is the best practice. He learned which rubs to use, the importance of time taken, wood to use, temperature variations and the influence of humidity on the outcome of the meat.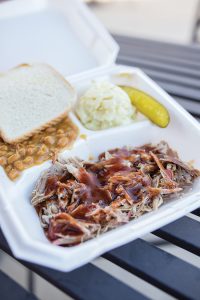 The Hog Wash Caboose offers: barbecue nachos with brisket, pork and/or sausage; sammies also made with brisket, pork or sausage; and one, two or three meat plates of chicken, pulled pork, brisket, sausage, and ribs. Rhoda enthusiasts call it the best "Q" around and claim his ribs are so tender, you can't really pick them up. They simply melt in your mouth. The barbecue nachos tend to be the most popular item, though customers rave about all the meats, and even the potato salad.
You can find Rhoda's truck on Thursdays and Fridays 11-3 at Cross Keys Bank on Hudson Lane in Monroe. On Saturdays 11-3 and Sundays 11-2, it's set up at Cold Desert Tattoo on Cypress Street in West Monroe. Always "100% dolphin friendly," Rhoda Brown "appreciates his customers and strives to bring them the best product he can." Woohoo Barbecue!
Rhoda Brown's Hog Wash Caboose
318-801-8123
@hogwashcaboose on Facebook
rhoda.brown@gmail.com
---
WAYNE VS. THE WINNEBAGO
photos by Martin G Meyers

The truck named itself. Owner Mark Smith, after hours of reconstructing an old motor home and a sizable accident of the truck falling on his dad Wayne (who is fine now), "embraced his inner food truck" dubbing the mobile bistro Wayne VS the Winnebago (#waynebago). Being born in the South and spending a decade in the Midwest, Mark has been able to pick up on culinary fields across the country while still staying true to his roots. Feeding soldiers coast-to-coast and providing food for disaster relief has allowed him to "experience the power of food," which Mark claims, "sustains the body and the soul." He invites other local chefs to come on the truck and cook together in an effort to cross-promote local businesses and continue to revive the area.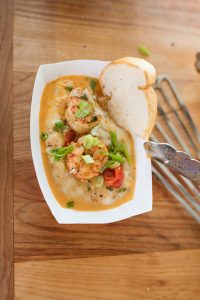 The gumbeaux cheese fries remains his most popular dish filled with fresh okra, smoked chicken, and double smoked sausage. He claims real gumbo starts at least the day before. He also serves up beer cheese fries with roasted garlic and stout cheddar. The catfish ceviche tacos are made up of Mississippi catfish strips marinated in citrus juice, onions, jalapenos, ginger and lemon grass, served with a chimichurri slaw. The barbacoa nachos with queso fresco consists of Mexican shredded beef, cumin and chipotle. The shrimp and grits blends Gulf or South American shrimp, Delta Blues grits, cheeses, bacon, corn, creole mix, thyme, etc. Mark believes in "letting the flavors speak for themselves." Wayne VS the Winnebago provides "gourmet-inspired dishes" which take hours to make but only seconds to serve.
318-884-0004
facebook.com/waynevsthewinnebago
@waynevsthewinnebago
on Twitter & Instagram
waynevswinny@gmail.com