Memories of Shipley's Donuts
By Melanie Moffett
Aug 28th, 2015
0 Comments
1024 Views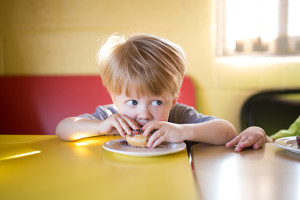 As a family tradition comes to an end, the memories of happy times spent in Shipley's Donuts will always remain in the hearts of the community.
article by Mary Napoli | photography by Martin G Meyers
"It's bittersweet," says Melissa Freeman Hoover.  She takes a deep breath and looks at her sister, Beth Freeman Risinger.  "But it's time."
After 64 years and four generations in the Freeman family, Shipley's Donuts is for sale. It's an idea that will shock, surprise and sadden much of the Monroe and West Monroe community.  After all, the business means much more to locals than the place to find their favorite donuts.  It's an iconic place within our region that holds sweet memories for nearly everyone who has enjoyed the sugary treats the Freeman family still makes by hand.  The family will continue business as usual until a new owner is found.  It was an achingly difficult decision to put the business on the market and has not been shared publicly until now.  The breakfast spot has been a part of the Freeman family and a landmark of Monroe for over six decades, and they plan to savor every moment that is left.
­­­Hoover and Risinger have managed every detail of the business for the past ten years and are the lovely faces that customers instantly recognize as they enter.   Shipley's has always been a part of life for the sisters.  Some of their first memories are from a time when they weren't even tall enough to see over the counter.  The shop was something of a playground for them as little girls, where they could enjoy an endless amount of sugary, sweet delights while watching their father expertly cut the donuts with incredible precision and speed.  Hoover recalls watching her grandmother, Ethel, who owned the business with her husband, L.E. Freeman, run the shop as through it was an extension of her own home.
"She ran this place, and she made it a success.  The people who worked for her became part of her family, and she treated her customers like they were coming into her home.  She wanted them to be comfortable and happy, and she knew them all by name.  She would call this booth her "visiting booth" or "the family booth," because it's where she sat to talk to friends who came in," says Hoover motioning to the yellow booth she sits in.  "I remember sitting in this booth as a child and watching her work.  She always kept a big, glass jar of Juicy Fruit gum on the counter.  I thought that was so neat, when I was little."
Ethel Freeman ran her business with the same kind of love a mother instinctively bestows upon her child.  When she passed away in 2005, her son, David Freeman, who is the father of Melissa and Beth, inherited the business.  David had also grown up in the shop and learned the skill of preparing the dough, cutting donuts and cooking them at a young age.  He has since trained his son-in-law, musician and artist Gray Risinger, and grandson, Cole Risinger, to use the same methods.  If customers arrive early enough, they can watch the impressive process through the glass that separates the kitchen from the dining area.  Anyone who has caught a glimpse will remember watching David cut the donuts, flip them into the air and catch them on his fingers with such speed, he appears to be something of a juggler or an acrobat.  When he has an audience, David tosses pieces of scrap dough at the glass, teasing out the laughter of the youngest customers as they jump and giggle.
After the men of the family have constructed the donuts, the women take over.
"We have a special glaze that we use.  It's a family secret that we'll never let go of," says Hoover. "We glaze all of our donuts, before we get them ready for the showcase, even the ones that we dip in chocolate or sprinkles or fill with fruit or cream cheese.  We use donut dough for the kolaches, too.  We make sure everything looks good for the display case.  It's all done by hand."
Preparing the heavenly, melt-in-your-mouth pastries is a lengthy process, much more so than one might expect.  It takes nearly two and a half hours to prepare the donuts from start to finish, depending on how they might be decorated.  There are no preservatives of any kind, so each batch is made from scratch in the early morning hours.  The day begins around 3:00 a.m. each morning for the family so that they may open at 5:00 a.m.  Hoover and Risinger begin welcoming customers as soon as the doors open.
"We took over ten years ago when our grandmother passed on," says Risinger.  "But, we have worked here to some extent, since we were teenagers.  We started working summers, when we were 14 or 15 years old.  In high school, I paid for all my cheerleading uniforms with money I had earned here.  She (Hoover) bought her first car with donut money.  It was the first job either of us ever had, and it's the first job any of our children have had."
Hoover and her husband, Dan, and Risinger and her husband, Gray, have five children between them, all of whom lend a hand in the family business.  The Hoover children are twins Morgan and Rachel and younger sister, Madison.  The Risinger children are Cole and Lindsay Adams, who is now married and preparing to graduate in nursing from LA Tech.  Their faces are familiar to the regular diners of the establishment.
"We grew up here," says Adams, speaking of her sibling and cousins. "The customers have watched us grow up from babies.  When I graduated high school and when I got married, most of the presents I got were from customers that have known me since I was a little girl. I don't know life without this place.  It has been the only job I've ever had," she says with emotion.  Then, she smiles and rolls her eyes her mother's way. "I've smelled like flour my whole life!" she says with a laugh.
"You aren't the only one!" responds her mother with sarcasm.
Shipley's Donuts has been such a long-standing landmark in Monroe, that many people don't realize that the business is actually a chain that originated in Texas.
"People ask us all the time why our last name isn't Shipley," say Risinger.  "They automatically think that this is the only one, and it's not.  But it is the only one like this.  We learned that when the corporate office paid us a visit."
When the family began to entertain the idea of selling the business, representatives from the corporate office in Texas came to inspect the location.  When they arrived several weeks ago, they were completely flabbergasted.
"Oh, they were completely shocked," says Risinger.  "They told us that no other Shipley's still operates this way.  We are the only one left that still hand-makes our products.  No one else cuts their donuts by hand.  Just us.  No one hand glazes, dips them in toppings or hand pumps the fillings.  We still melt our own chocolate and mix our own fillings.  We mix our own dough and flour.  We are the only Shipley's that does that.  Everything is done by machine now, but we do it the way we know how–the same way our grandparents did.  The corporate guys couldn't believe it."
Hoover nods her head and adds, "We are also the only one left that still offers table service.  At all the other locations, people make their order and take it to their seat.  No one even offers them a glass of water.  He didn't know what to say, when we explained to him that nothing has changed here since we were children."
The corporate suit was right.  The place is something of a time capsule from a time when personal service and home-cooking were not as hard to come by.  Shipley's very much the same as it was since the day that Ethel and L.E. Freeman took ownership.  Customers still make their choices from the same glass display case that Ethel once filled with handmade creations.  They sit at the same window booths and counter stools that have been there for ages.  Memorabilia and eye-catching artwork painted by Gray Risinger, husband to Beth, now adorn the walls, but the service and pastries that locals love remain unchanged.  This is partly due to the family's commitment to quality and service and partly out of love and respect for the family members who made the business their life's work.  One thing is certain, it's the lack of change and the dependable consistency that locals appreciate at Shipley's.
"We know everyone from garbage men to judges," says Hoover.  "This place is special to a lot of people from all walks of life.  And it brings out the good in people.  We hear so many stories and get pictures from people from all over.  It has always amazed me how something so simple, could mean so much to people.  It's a special place, and people come from a long way to have breakfast with us."
One August Saturday morning, a family of four filled a booth and began to sing, "Happy Birthday."  It is a tradition for the Jefcoat family to celebrate the birthdays of their children, Molly and Magnolia, with breakfast at Shipley's.  Young Molly and Magnolia, still dressed in their pajamas, smile brightly as the candle flickers in little Magnolia's sprinkle covered donut.  The family sweetly sings "Happy Birthday" to the delighted two-year old, who can hardly wait to blow out the candle and have a bite.
We began celebrating their birthdays on their very first one," says Mitchell Jefcoat smiling at this daughters. "Today is Magnolia's second birthday, and Molly will celebrate hers here in a few weeks.  It's a tradition for us."
The scene touches the hearts of Hoover and Risinger.  They thank the family for coming and wish Magnolia a happy birthday.
"It's things like that that make this all worth it," says Risinger. "Our customers mean so much to us.  We have stuck with it all these years for them, really.  We want this place to continue on, but our children are growing, and they all have other career plans.  It's time for us to enjoy this part of our life with our kids. One of the last things our grandmother told us is that she never wanted us to let it close.  This place is our baby.  We hope we can find someone to love it and love our customers the way we have all these years."
Until the fate of the future of Shipley's reveals itself, Hoover and Risinger will continue to offer the delicate, sugary delights that locals love. Regardless of what lies ahead, the delicious memories of happy times spent in the restaurant will always remain in the hearts of the community.  Nothing will change that.
"Some families and faces are different, but nothing else has changed," says Hoover.  "I think our grandmother would be proud."