Mid-Century Made Modern
By Melanie Moffett
Oct 26th, 2015
0 Comments
1298 Views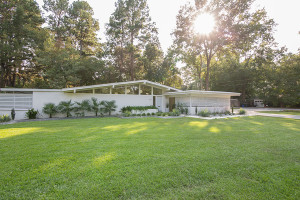 The Home of Danna and Hud Braud
article by Maré Brennan | photography by Martin G Meyers
While an overgrowth of trees had hidden the home from passersby, Danna and Hud Braud knew that attention to detail and a little love would bring the little house on Loop more into focus. "You wouldn't have even known a house was here," says Hud. Patti Morris with John Rea Realty initially showed the Brauds the home for their realtor Nancy Inabnett. But the house was already under contract. Undeterred and understanding how real estate can be a game of cat and mouse, Hud offered a back up offer on this diamond in the rough, and what do you know, the Brauds seized the opportunity to create a dramatic change when the first offer fell though. fun A treat that needed a few tricks, this little Mid-Century modern gem on Loop Road became the Brauds project on Halloween of 2014 and by January 2015, the major parts of the renovation were complete. That's not to say that the couple is finished adding their contemporary flair to the home and its grounds.
When they first bought the house, every wall was covered in stained 1 x 6 panels of tongue in groove, which made the demolition early on a challenge. After 15 years of neglect and sitting vacant, one can imagine the issues they faced – a hole in the roof had caused water damage and the yard was so overgrown that few passersby even knew there was a home hidden behind all the trees.
The original house was a "crazy stupid maze" of a structure with the washer and dryer located just within the front door in the home's tiny kitchen. The Brauds changed the floorplan within the footprint of the existing slab to make the home more functional for a modern family. Local draftsman, Larry James drew the plans for the renovation utilizing the existing footprint of the home's slab, yet adding heated square footage by incorporating an unheated or cooled sunporch, creating additional living space and an extra bedroom. The plans also up the central living space to revolve around the existing central fireplace and creating a dining area. A hall bathroom got a modern update with a sleek IKEA vanity and sink.
Inspiration for this spectacular remodel came from the family's life adventures, living in California and Calabasas in particular, where xeriscaping and modern homes are the norm rather than the exception. Hud and Danna, originally from Monroe, are known for their adventurous spirits, which has led them to relocate to West Coast and to Mandeville, where the couple and their three children, Briston, Breland and Bric, experienced a true cultural melting pot of a community. The couple have parlayed their expertise in rehabilitating properties into a thriving rental property business.
Time spent in Calabasas was where the couple developed a taste for modern, airy home design. "We knew with this home we would have to jump out of the box," says Hud of the renovation. Adds Danna, "My tastes have changed the older I get and have become more streamlined. I am so glad we made this house our home."
Even as the Brauds were knee deep in the project, the couple started getting offers to buy the house. "We love building and renovating homes," says Danna. "It's our deal that we both love. And when you do enough houses, you live and you learn." You might call them 'vagabonds' with 16 or 17 moves under their belts, but this latest project has the Brauds stopped in their tracks. "I can say that neither of us have been feeling like moving since we have settled in to this house," laughs Danna, "but that hasn't stopped realtors from asking if we'll sell!"
No strangers to new construction or renovations, the Brauds had built a $1.1 million home in Mandeville. "It's our favorite thing to do together," explains Danna of their penchant for home improvement projects. Adds Hud, "We watch all the home improvement shows. We love bringing modern into homes. Everything in California is so contemporary and clean lined."
The renovations the Loop Road home included an energy efficient, solar air conditioning system. "We put it on 72 degrees and never have to touch it," says Danna, "and the bill was $135." Agrees Hud, "A lot of our houses, especially the two-story homes, were hard to regulate the temperature, but this house is perfect."
"We had accumulated lots of traditional furnishings and antiques before our first move to California," says Danna of how they transitioned to a more contemporary look for their home, updating to a more modernist palette and lifestyle. The living room's sofa and love seat with contemporary lines were a Craigslist find. While the large sofa in the informal living room space was an original Mid-Century masterpiece that came with the house. "It is still in its original condition with its original upholstery," says Danna.
"We took out major walls throughout this space," says Hud, "surveying the open plan that incorporates living, dining and kitchen spaces under a soaring vaulted ceiling," explains Hud of the renovation.The family was able to add another bedroom and enlarge the master suite and create much needed storage throughout the home by carefully reapportioning the space under roof.
Ever trying new techniques and pushing himself to learn new tricks of the trade, Hud's positive mantra is that "anybody can do anything. You just have to jump out there and do it." Hud taught himself the basics of construction watching VHS tapes of Bob Vila's "Home Again" series of home improvement programs. To get seed money for a start in the rental property business, Hud planted all the azaleas in Barry Erwin's yard for a $1 a piece.
Kitchen cabinets were a chic steal from IKEA and are finished with a glossy foil in grey and illuminated at the toe-kick and underneath top cabinets. Easy-close, gull-wing doors on upper cabinets add to the contemporary feel. The island cabinets are glossy white in contrast. The LED pendant light in the kitchen is a whimsical piece of lighted sculpture that brightens the space. The micro-mosaic backsplash is a mix of greys and white. Danna chose white appliances that push the envelope on cool. The freestanding range features a top drawer that is an extra spacious microwave with a conventional oven beneath. The countertops are a sleek, thin layer of granite fabricated with a simple, clean edge that Hud found at Surplus Warehouse.
The landscaping around the home takes a cue from the family's time in sunny and arid California. With this past summer's dry conditions, the couple was spot on with their choices in landscaping plant material, including foxtail fern, aspidistra, sky pencil holly, mondo grass, muhly grass, creeping rosemary with cool blue flowers, big blue liriope, oleander, yuccas, fantail palms and so much more.
"We spent days researching the unique grass and rock driveway, incorporating modern design into the landscaping with geometric shapes, clean edges and cool grass. We were going for different," says Hud with a smile. "This house and landscaping is definitely not the status quo around here."
utdoor living is important to the homeowners, who plan to add a 6' x 30' pool and an outdoor kitchen in the Spring. Hud defined the outdoor living area and created a pleasing counterbalance with the addition of a contemporary slatted wall that mirrors the open shutters of the carport. Lush tropical foliage from banana plants, elephant ears, fatsia and palms keep the vibe very Cali-style. The outdoor all-weather rattan furniture were imported by the Brauds and add to the thoroughly modern West Coast atmosphere. Under foot, Hud poured rectangular concrete pads on a large grid that is interspersed with the same crushed grey granite that creates a unique "mulch" for the landscaping and the basis for the unusual driveway.
Throughout the home, lighting takes on a transformative, mood altering role. Says Danna, "Lighting is an easy way to add lots of flair to a home without blowing tons of money." The IKEA fixtures that you can see from Loop through the transom windows are economical, stylish and reminiscent of more pricey designer lighting. Hud added interest at the peak of the vaulted ceiling with detail lighting that creates a wow glow factor within the home. The same effect is created in the kitchen with lighting that illuminates the toe-kick beneath the glossy cabinets with a dreamy glow, as well as lighting underneath the upper cabinets. Remarks Hud, "At night, the house takes on a whole new life because of the LED lighting. All of Bric's friends say our house is 'futuristic.'"
Even the baseboards got a modern update with cool angles that draw the eye to the neutral, porcelain flooring. Polished nickel door hardware throughout the home adds graphic continuity.
Resourcefulness in the face of a challenge is nothing new for the Brauds. When Hud was faced with an awkward door that opens into the attic crawl space in one of the bedrooms, he created a framework to hide the door and upholstered it with a graphic fabric that adds visual interest and punch to the room. Says Hud, "It's fun to think about what's not normal and push ourselves to do things differently."
Anyone who has ever painted a room white knows that white isn't always white. You might get a tinge of pink or a hint of blue. "Ellen at Sherwin Williams helped me find the perfect timeless and classic true white, Oxford White, that we used throughout our home," says Danna. On the exterior of the home, Danna chose  "Alabaster White" with "Passive," a subtle, light grey on the doors.
In the master bedroom, the couple added a walk-in closet and updated the master bath with sleek, contemporary tile and an IKEA double sink vanity that seems to float on the wall.
As of now, the couple are working on several building projects, including new house construction in the Garden District in Monroe at the corner of Speed and 4th Street.
Danna, a retired teacher with Monroe City Schools, now works with about 80 schools from Caddo and Bossier to Monroe City Schools and Ouachita Parish, training teachers to help students improve their ACT and SAT scores. While Hud, who describes himself as "hopelessly unemployable" enjoys his life as a real estate entrepreneur and constantly challenges himself to learn new building techniques in order to channel his boundless energy in a positive way.
Currently, Hud and Danna are building tiny houses in Sterlington along with partner Larry James and his wife, as well as James' niece and her husband. "It's amazing how a really small home, when designed correctly, can meet all your needs. We are doing six homes to start," explains Hud. Tiny houses, by their very nature, take only 30 days from start to finish for build-out. No stranger to the tiny house movement, the Brauds have already built tiny houses with high end finishes at 18th and DeSiard in Monroe. Because your space is small, you can add really high quality finishes, like porcelain tile and granite counters and energy efficient choices with little added costs.
Says Hud emphatically about his profession, "I am never going to build any more boring houses. Seriously, there is so much more to design." And living responsibly within the environment is a good place to start, whether that means planting drought tolerant plants, reclaiming and renovating existing properties or building tiny houses that are eco- and budget-friendly.
"If we can't live in California, at least we can bring the California to us and live in a house that inspires us like our time on the West Coast," says Hud.